Review: URC Total Control 2.0

Advance Audio recently signed on as Australian distributor of URC. Here, Stephen Dawson looks at what it offers.
Most home entertainment gear dealt with by an installer has all manner of control systems and connections, from the now-ancient RS-232C interface to WiFi. The home owner, though, is typically uninterested in all that stuff. What they want is smart, intuitive control over the gear. That's where the URC Total Control system comes in, now rebooted into the Australian market with development support from distributor, Advance Audio.
What it is
URC stands for Universal Remote Control, Inc, which is based in the United States. It started way back in 1991. The first version of Total Control was introduced in 2011, but a whole new version, Total Control 2.0, was launched in September 2017.
A Total Control 2.0 system consists of:
one or more remote controllers, or user interfaces;
one or more system controllers;
network infrastructure; and,
control software.
Now, if you're a consumer reading this, be warned: the URC Total Control 2.0 is not something intended for purchase by you to set up yourself. Oh, no doubt you could buy a system if you want, but then you'll need to be prepared to settle down and learn to use the programming facilities to make all the various bits do what you want them to. This kind of work is worth the investment by a professional, since they will be repeating it regularly. Not so much the regular consumer.
Go to the URC Total Control 2.0 website and you'll see that all the products are labelled 'Professional programming required'.
Remote controls
The Total Control remote controllers are one of the two pivotal items when it comes to user satisfaction. (The other is reliable operation.) There are four types of controller available in the Total Control 2.0 system.
The centre piece controllers are the touch screens. There are three variations of these. There's a 7" tabletop model. It comes with a tilted base which features inductive charging. That is, it charges the battery in the panel controller without it having to be plugged in. It just rests on the base. In addition to controlling stuff, this unit works with integrated surveillance cameras and AV intercom facilities. It is fully customisable. We'll return to that below.
A variation of this is the TKP-7600, an in-wall touch screen controller. This performs basically the same functions as the tabletop model, but being fixed it runs from power. That power is Power-over-Ethernet. So either a PoE network (or at least a PoE switch on that part of the network) is required, or PoE injector will need to be added for this. The TKP-5600 is a 5" version of this. It has similar requirements.
Then there are two traditional looking hand-held remote controls. Both of these have lots of buttons, and tend to be welcome by many users, simply because of familiarity. They of course have volume and channel keys, along with transport control keys (for Blu-ray players or CD players) and number keys.
Indeed, they also have the keys that cheap 'universal' remotes often omit. Menu keys, setup keys, menu navigation keys and so on. A replacement remote control is not all that effective if you have to dig around for the original to perform certain functions.
On these remotes, some functions are relegated to semi-soft keys. Both remotes have a 3cm wide by 4cm tall colour backlit LCD display at the top. Neither is touch-sensitive (they would be too small to effectively use that way). Instead each has nine physical keys arrayed around it that invoke the various functions shown on the display. When you pick up the remote, the display automatically switches on.
In addition to providing control functions, the displays can show video feeds from intercoms and surveillance cameras integrated into the system.
Both remotes are powered by 1960mAh rechargeable Li-Ion batteries. The lower cost unit, the TRC-820, comes with a power pack which you plug in via the Micro-B USB socket at its base. This unit is rated to last for four to five days between charges with normal usage. The TRC-1080 is rated to last for three to four days, but it comes with a desktop cradle, so it will typically be continually charged.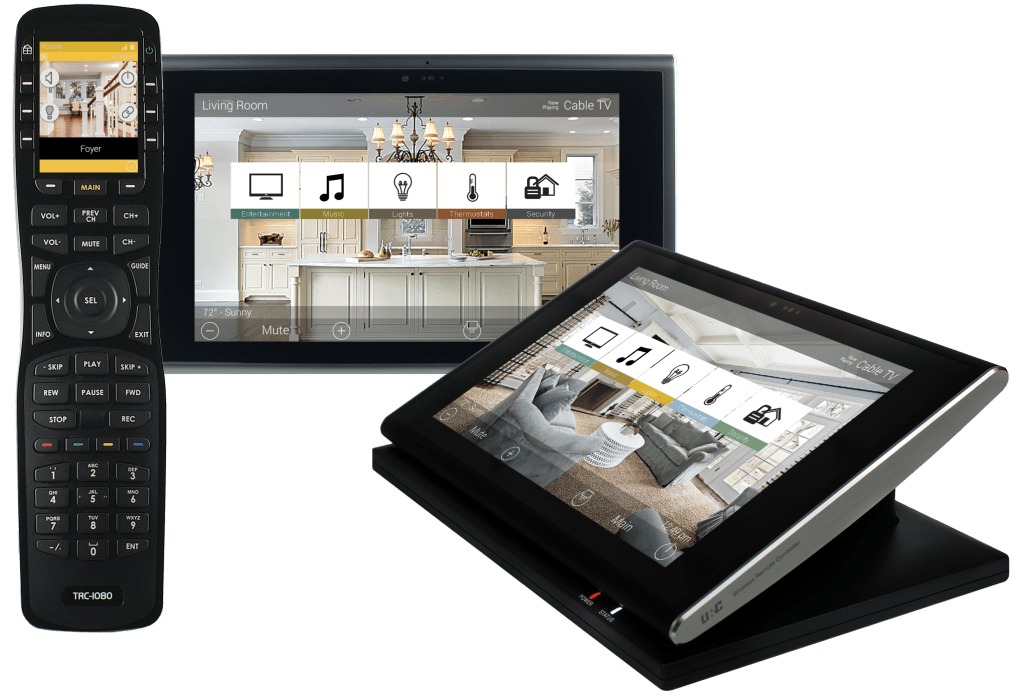 Of course, everyone has all manner of smart devices in their homes these days. So another control interface option is via the URC Total Control 2.0 app which can be installed on iOS or Android phones or tablets. That makes it easy to add additional control points. One useful thing I noticed within the apps is that they can work with more than one Total Control 2.0 installation. You just switch between them. That might be a useful feature for the occasional customer, but I can see it being very useful for the installer who may be maintaining several systems.
Also available are the TKP-100 keypads, which can be fitted with custom control keys, but generally provide on and off, volume up and down, and three group settings.
Finally, the user may be able to interact with the system using voice. The Total Control 2.0 system is compatible with both Amazon Alexa and Google Home. URC says that "virtually any Total Control function that can be performed with a button press can be activated via voice control."
System controllers
The main job of all those different interfaces is to interact via the user's home network with a system controller. There are two main units available here. The MRX-8 is likely to be the most commonly used one.
The main job of the MRX-8 Advanced System Controller is to accept commands from the various interfaces – remotes, tablets, wall controls and so on – and send the right signals to the various devices being controlled. It stores all the necessary codes, along with programmed automation sequences.
The MRX-8 has six ports for IR blasters, two RS-232C ports, Ethernet (capable of control), a relay control and two input sensor ports.
Not enough control? Then the MRX-10 is designed to control things in up to 32 rooms. It adds a couple more IR ports, a couple more RS-232C ports and a couple more sensor ports. There are two relay controls rather than one, plus two 12V trigger ports. This model is standard rack width (17") for mounting.
Network infrastructure
URC has many of the bits and pieces to set up a home network suitable for use with Total Control 2.0 if the customer doesn't already have a suitable network installed.
Control Software
The final – and vital – part of a URC Total Control 2.0 system is the setup. This is where skills are required. The 'Professional programming required' label is just a little misleading. The system doesn't, at the installation level, involve getting down and dirty with C++ or some other arcane language. The installer won't be writing recursive routines or even designing screen layouts at the pixel level.
But the installer can build or customise an installation so that it provides precise and sensible control relevant to the customer's needs. The program-build software runs on Windows and is largely used by selecting options from menus, building tables of functions. These of course include screen layouts for the different displays on the remote controls and touch pad controllers. And the ability to structure menu systems according to clients' requirements and installed equipment.
In addition, distributor Advance Audio has written the drivers required to makes sure the URC Total Control 2.0 system works properly with all the main power control systems in common use in Australia.