Review: Legrand NuVo multi-room audio system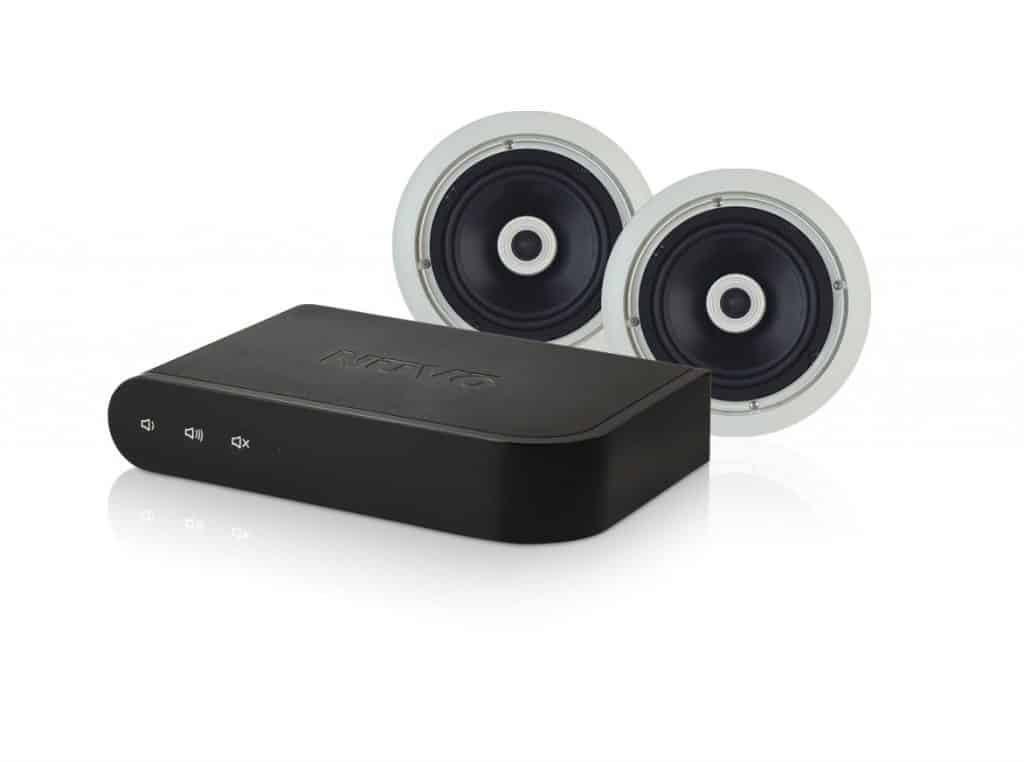 Stephen Dawson has reviewed several 'over-the-counter' MRA systems but here, he looks at an integrator-specific offering from NuVo – the P100 and P200.
We've covered several multi-room audio systems in this magazine that are firmly targeted at the consumer market: Heos and Yamaha MusicCast specifically spring to mind. But what about companies that focus primarily on the installation market?
Very long-standing French firm Legrand is in that space, along with a wide range of other home infrastructure control solutions.
(The Legrand business started way back in 1865 as a porcelain product maker. Legrand took it over in 1904. So how did it get here from there? In the early 20th century, in the early decades of electrification, an associated business started making porcelain-bodied light switches. The electrical business grew year on year for ever, so it came to dominate Legrand's activities.)
Here, I'm looking at two of the Legrand NuVo systems.
What are they?
They are both essentially compact smart, networked amplifiers. There are two models of amplifier. The P100 is the smaller one. Just 187mm wide, this stereo amplifier produces 20W per channel at 0.5% THD. It supports speakers with impedances of 6Ω to 8Ω. It seems to rely on passive cooling, drawing air in from slots on the right hand side, expelling it through slots at the left. On the front are three touch sensitive keys: volume down, volume up and mute. The mute key is configurable in the NuVo app. It can be left in the default mode, which just stops the sound, or it can be set to act as a play/pause key.
On the back is a hardwired power switch and a two-prong 240V power input, a 3.5mm analogue input, a 3.5mm line level output, a USB input (for memory sticks) and four speaker binding posts that would not seem out of place on an audiophile amplifier.
Indeed, Legrand makes much of the audiophile credentials of the NuVo line. The amplifiers are apparently efficient Class D units.
You select the input to be used within the NuVo app. Likewise, within the app you can set the line level output to be fixed, for use with some other amplifier with volume control. Or to be variable as a source device for a power amplifier.
All that also applies to the P200, except that it offers a bit more. It's wider and deeper but the same mere 43mm in height. It produces 60W per channel at 0.5% THD and supports loudspeakers from 4 to 8Ω. It adds to the P100's inputs Bluetooth connectivity with support for the higher quality aptX codec.
It also has an intriguing 3.5mm connection on the back labelled 'Setup Mic'. The brochures say that both the P100 and P200 use "Audyssey music technology [to optimise] your listening experience with Dynamic Volume." The specifications for the NuVo P200 label the 'Setup Mic' connection 'Audyssey'.
But there were no settings in the app that I could find that related to this, nor any manual online to study. That left me wondering. I dislike Audyssey Dynamic Volume on principle. It does two separate jobs. One is the innocuous, even helpful, task of equalising levels between inputs. The other is compressing the dynamic range of program material. That can be useful occasionally, as when you're watching a movie late at night. But with music it is generally highly objectionable.
Setting Up
To set the NuVo systems up, you plug everything in (although I left the power switched off at this point) and then download your app to an Android or iOS device from the relevant official store. Fire it up, tell it you want to set up a new system, select your country and then decide whether you're going wired or wireless. I chose wireless because it's more fun. More importantly, that's usually the harder case.
Then you tell the app whether you're using the NuVo Gateway, which seems to be the company's own WiFi access point. I wasn't. At that point it informed me that, in that case, I had to plug the players in via Ethernet to set them up. So, out with the loose Ethernet cable, and into the Ethernet port of the P100 it went. I switched it on and followed the instructions to press two of the front panel buttons at the same time. A second later, the app informed me it was connecting. Within five seconds after than it said 'Connected' and asked me to choose a name and icon.
So, 'Guest Room'? 'Nursery'? 'Wine Cellar'? 'Nook'? I saved 'Office' for other unit and used an edit button to turn 'Room' into 'Computer', and thus the NuVo had a name. The next step gave three options: to finish up, to add an additional zone, or to perform the wireless setup. So back to Plan A. I tapped the last option. The app scanned for WiFi access points – or rather, I expect it told the NuVo P100 to scan for WiFi access points. It reported back all three available in my office: one is dual band, one works at 2.4GHz and one works at 5GHz. That confirms the system is dual band.
At a couple of points in this process I was informed that there was a new 'NuVo version' available, so after that I let it update the firmware. On my horribly slow, NBN-caused 6Mbps connection, the firmware download took about four minutes. And then it was installed straight away. So I started some music playing through the P100 and then added the P200 to the system.
The process was similar, although slightly more comprehensive (this time it told me to switch the unit on) and it insisted on installing the firmware update straight away, even before I'd set up the WiFi. I didn't time this one, but it certainly seemed to take longer to install the firmware.
Incidentally, I happened on a review of what appear to be the same products from five years ago – an earlier version perhaps – which said that the P200 could not be used with a WiFi connection without the NuVo Gateway. If that was then the case, it is no longer so. I used my D-Link Cobra WiFi/Modem/Router and it all worked fine.
In Use
First things first: the sound quality was excellent. I coupled both units with high quality loudspeakers and started sending music to them. Legrand aimed at high fidelity sound, and that's what it achieved. Particularly impressive was the bass control over the larger set of speakers I employed with the P200. It was tight and strong and sounded like some muscular, thick-metal-chassised audiophile amp was driving them. Not a little thing with a plastic case and a total weight of less than 1.25kg.
I used the P100 mostly with my passive computer speakers, models that are priced at around $2K a pair. Since they were only a metre away from me, there was no issue with regard to insufficient power. Again, their transparency was first glass. The sound was dynamic and accurate.
Which makes me suspect that Audyssey Dynamic Volume, if it is available in these systems, was not engaged.
The app was simply excellent. It was very easy to use and rather more intuitive to me, at least, than these multi-room apps usually are. The speakers can easily be separated or grouped with a simple slide of an icon. Music can be selected just as easily.
And the inputs aren't limited to the connections. I have just had a Samsung Tab A feeding music via Bluetooth, through its connection to the P200, to the P100. And at the exact same time, I've had music from a memory stick plugged into the P100 being played on the P200. Whatever's on one device is available to all the others.
They also worked well with Spotify, and you can also use Deezer and iHeart Radio. With Spotify, you just select the speaker/zone by name from the list from within Spotify in the usual way. If you have two speakers, they'll be shown as combined in the list.
You can adjust the volume of the sound within the app. If two speakers are linked, whenever you use the slider control individual sliders for the grouped speakers are also shown at the top so you can adjust the relative level of the sound between zones. It all works. It all works well.
Conclusion
The Legrand NuVo system is an excellent implementation of multi-room network audio. There really isn't anything to add to that.