Review: Extron SF 3PT pendant speakers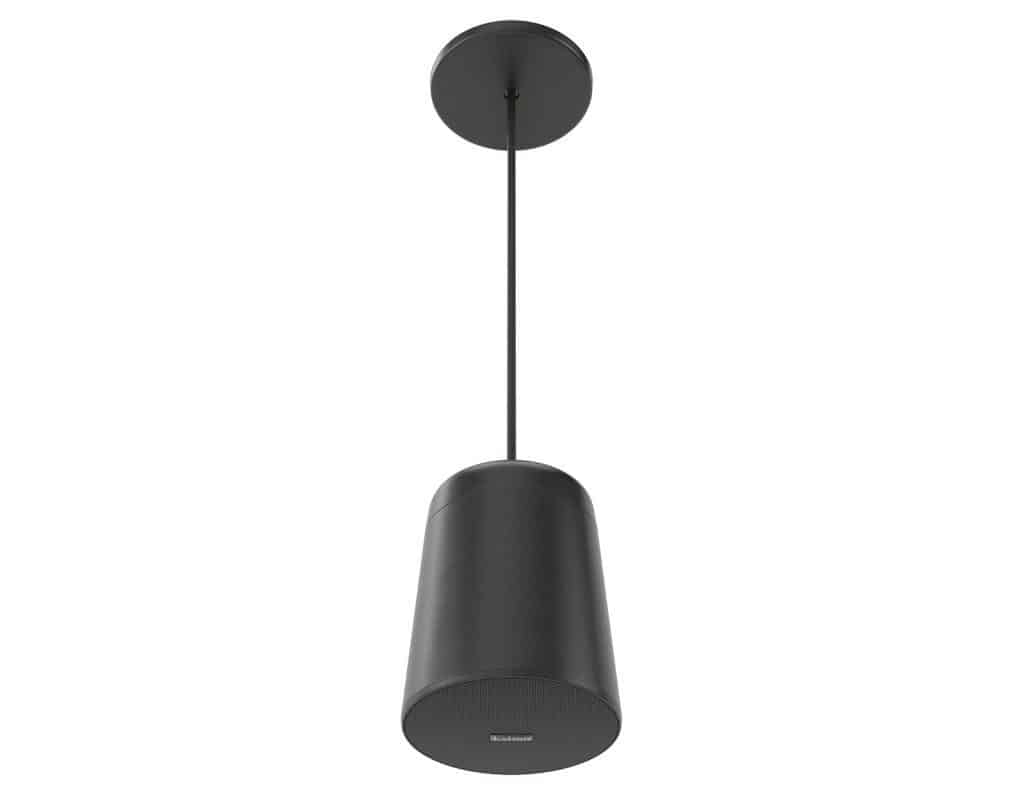 Extron has released a new range of pendant loudspeakers. Here, Stephen Dawson looks at how they stack up to the competition.
There are plenty of pendant speakers around; but, many of them share one unfortunate characteristic: they need some kind of chain or steel cable to suspend them from the ceiling. The Extron SF 3PT Pendant Speakers don't.
What it is
No, I don't mean that they hover unsuspended. They still hang, but they hang by the signal cable rather than a separate chain. Of course, that imposes design constraints and limitations of its own.
Specifically, the speaker can't be too heavy, and you must use Extron's PendantConnect speaker cable, designed for the purpose. Well, you only need that cable from speaker to ceiling mount. Beyond that you can use any other cable.
Each pair of pendant speakers comes with 6.1m (20') of cable. Additional 6.1m lengths are available, as are 152m spools.
Like the pendants themselves, they come in both black and white finishes. The pendants are paintable. I suppose the cables would be too.
The effect is very clean. Just one simple cable down from the centre of the round 130mm ceiling mount. It passes through the centre of the dust cap on the rear (or top, if the speaker is orientated normally) pendant speaker.
With the dust cap on, each pendant is 174mm tall, and the face containing the driver is 135mm in diameter. That face is the widest part. The enclosure gently tapers down to 105mm at the top.
The dust cap is easily removable. Underneath is the mounting system, connections and tap selection switch. To secure the cable there's a plastic clamp, rather like the clamp used on nylon garden hose fittings. You loosen the plastic nut and feed the cable through the hole. The speaker cable is moderately stiff and it has to be negotiate a sharp turn between the clamp and the speaker body. Extron has built in a channel to guide the cable through that turn, making it fairly easy to insert.
Then it's just a matter of stripping the cable and joining it to the existing cables using the Wago spring clips already attached to those cables. I rather like the Wago clips. The conducting portions are quite deep so there's little chance of shorting, and they seem to clip firmly and securely. The speaker comes with four extra Wago spring clips to join the other end of the speaker wires to the ceiling cabling.
The attachment arrangement is more or less replicated in the ceiling bracket, albeit without the curved channel, since that isn't required. This consists of a 127mm circular metal plate with four slots for mounting screws, and the cable clamp. The clean plastic cover is secured to this by means of two magnets. A rectangular ceiling hole of 65mm by 25mm is needed to accommodate the cable clamp.
Inside each pendant is a single full range 75mm driver. It's rated at supporting up to 32W of continuous program material, or 16W of pink noise. The enclosure is sealed and made of high impact, fire resistant plastic, except for the grille with is made of steel. Each weighs 1.2kg, plus the weight of whatever length of cable you choose.
The speakers can be run in low impedance mode, or from higher voltage transformer driven lines. In the former mode the speakers are an easy load. Rated at 8Ω nominal, they don't get below 7Ω according to published graphs. For transformer operation they have marked taps for 16W, 8W, 4W, 2W and 1W at 70V, and 16W, 8W, 4W and 2W at 100V.
They have a 'full range power limiter' built in for protection. With a small driver in a small sealed enclosure, they are not particularly efficient. Their rated sensitivity is 82dB SPL for 1W of input, measured at 1m. (That works out to an efficiency of 0.1%. That is, 99.9% of the power fed into these speakers is wasted as heat, rather than producing sound. For comparison, a typical high fidelity loudspeaker would have a sensitivity of around 89dB SPL for 1W at 1m. That's 0.5% efficient. 'Only' 99.5% of the power is wasted. Perhaps the most sensitive high fidelity loudspeaker available, the Klipschorn, with 105dB sensitivity manages 20% efficiency.)
Extron says that the speakers are capable of producing 92dB at 1m, based on the maximum rated input voltage of 10V.
Extron rates the frequency response at 110Hz to 20,000Hz at the -10dB points. The use of a full range driver means that high frequencies are going to be 'beamed' more than had a tweeter also been used. How much affect that will have depends on the angle between pendant and ears. And that will largely depend on pendant height and spacing. Even at 40° off axis, judging from Extron's graphs, there's a loss of only 5-6dB at 10,000Hz. This system isn't really designed for high fidelity music listening (although as we'll see shortly, it really wasn't too bad for that) so losing stuff above 10kHz isn't all that important.
Testing
Extron publishes detailed performance data on its speakers, including frequency response. The graph for this was interesting. It is fairly even from 200Hz to 700Hz, and then it starts rising to a new plateau some 8dB higher at 1.5kHz, maintaining this to 4kHz. Then it descends the 8dB again to 10kHz, bumps up again around 16kHz and back down to 20kHz. Below 200Hz it commences a gradual roll-off to be around 8dB down at 100Hz.
That step up in the upper midrange, lower treble helps clarity and coherence with announcements and such. The graph doesn't suggest much useful bass.
And indeed, that was my listening experience at the outset. Clear and clean and surprisingly loud when I advanced the volume control. Even at quite low volumes words were easily understood. Music was pleasant and absent of any significant distortion at a low levels.
Then I decided to give the speakers a bit of a caning to see how they might hold up under high volume use. If you're going to cane some speakers, what better than Rage Against the Machine's self titled debut album? I put that on a loop with the output averaging the low- to mid-80s of decibels, frequently pushing over 90dB (that's subjectively very loud). And left it running overnight. I'm happy to report that the next morning the speakers still sounded the same, apparently undamaged by the experience.
I can't say I was surprised. What did surprise me was the impact delivered by these speakers. The rhythm was forcefully delivered, and there was a surprisingly amount of upper bass, and even a sketching of mid bass. When I was near room boundaries, there was even a sense that the kick drum was being delivered.
Really, the bass was at ridiculously high levels for 75mm speakers in very small enclosures. Extron has clearly developed some very competent speaker drivers.
Conclusion
So, the Extron SF 3PT speakers are strong on announcements, respectable on music, easy to install and stylish. Well worth considering for installation works.