Review: ClickShare CSE-200+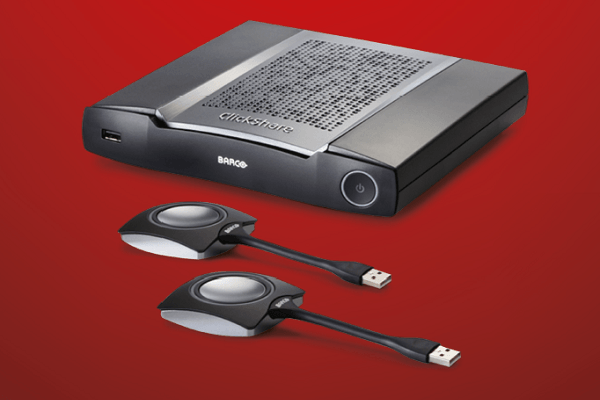 Despite keeping an eye to the future, the CLickshare CSE-200+ today surpasses most its competitors. Stephen Dawson reports.
We've been doing a bit of screen-sharing equipment lately, but not much of it comes close to the simplicity and ease of use of the ClickShare CSE-200+.
What it is
The ClickShare CSE-200+ is a system from Barco that allows one screen to be wirelessly shared with two devices at a time. Two at a time, but up to 16 devices can be connected, so as one device surrenders the connection, another device can quickly take its place.
There are three bits of hardware in each kit: a Base Unit that connects to the display via HDMI and two 'Buttons'. Think of the Buttons as sender units. Each of these looks a little like a Chromecast device. But as transmitters rather than receivers, they have a USB plug on the end of their short cable rather than a HDMI plug.
They speak to the Base Unit wirelessly. They support both the 2.4GHz and 5GHz bands and the 802.11a/b/g/n WiFi protocols.
They also have a little built-in storage – around 30MB – which looks to the computer like USB storage. Contained in that storage are apps for Windows and Mac that permit their screens to be mirrored by the Buttons.
You don't necessarily need Buttons. You can install the ClickShare app on iOS and Android devices and then connect to the Base Unit with them.
Miracast
Apparently, Miracast is supposed to work. I will jump in here and say that I couldn't make it work properly, if at all. Miracast or WiDi is the system used by Windows and Android (other than Google Pixel phones) to wirelessly project their displays to compatible display devices.
I could not get my Surface Pro 2017 to connect via WiDi/Miracast. It saw the ClickShare Base Unit and tried to connect, and on several occasions it reported that it had connected, but the 'home' display of the Base Unit remained in place. After a while, the Base Unit unexpectedly rebooted. That happened a couple of times, so I gave up.
I could get my Huawei P30 Pro phone to connect via WiDi/Miracast (it took a couple of goes), but then the Buttons started flashing their lights because they'd lost their connections. Then the phone seemed to forget it was connected and after a couple of minutes, the Base Unit spontaneously rebooted.
Clearly the hardware can support Miracast. I'd expect that it will be properly sorted out in a future firmware upgrade.
But that's really an extra feature, and the fact that it doesn't seem to work now doesn't detract from how very well the system does work when not using Miracast. When used, in other words, with a focus on its core functionality. I'll return to that shortly, but first…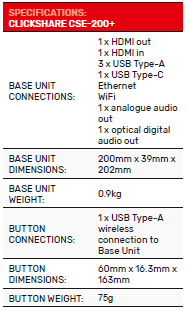 Setting up
As usual I pulled all the bits out of the box and was pleased to note a reasonably substantial manual was included – maybe 50 pages. A little while later I looked more closely at it to discover it was actually a multi-language 'safety guide'.
The instructions for actually using ClickShare were confined to the back cover, and consisted of five illustrations. Fortunately, there's a proper manual downloadable from the ClickShare website. Unfortunately, there's an error in one of the illustrations. I think. It shows that you should connect a HDMI cable to
the ClickShare home unit. But it indicates the HDMI input socket. But what you're really going to do is connect the HDMI output to your TV or display device, not the input to some random source device.
There were a couple of complications for me in setting up the unit, but they were entirely due to a development firmware being installed in the unit. ClickShare was trying to give me a heads up on forthcoming features. But by the time I started the review, all those functions had been included in the production firmware. Anyway, development firmware is notoriously unstable, as this was, with the unit rebooting every 30 seconds or so. But updating the firmware was easy through the web interface provided on the unit.
Forget about the future… what the ClickShare CSE-200+ provides right now is fast and reliable connections with up to two computers or othe rportable devices, speedily and with no fuss.
(Don't know what address it uses? Remember, you access a web interface by typing into a browser the device's IP address. No problems: the ClickShare CSE-200+ displays that prominently on its home setup screen.)
With the proper firmware in place, setting up was easy. Plug in power and Ethernet (I wasn't sure initially if it supported WiFi) and the HDMI output.After a few seconds the ClickShare setup screen appeared on the screen (I was using a projector as the display).This tells you the aforementioned IP address (both for Ethernet and WiFi) and indicates connection methods for Windows and Mac computers and Android and iOS devices.
The Buttons are pre-paired to the Base Unit. But it's worthwhile plugging them into one of the USB sockets on the Base Unit from time to time. That's how they are paired, but it also updates their firmware if necessary.
In use
So, here's what you do to use the ClickShare CSE-200+. If you have a Windows computer, plug one of the Buttons into one of its USB sockets. At least on my Surface Pro 2017, the computer auto-ran the Windows application on its built-in storage. The Button flashed its large white light ring lazily for a while until it made a connection with the Base Unit. There was also some feedback on the computer screen about what the ClickShare App was doing, but this was poorly designed software. The text was almost microscopic on the high resolution display of the Surface Pro 2017.
Anyway, once the pulsing of the ring of light on the Button stops and it becomes steadily lit, you press the Button that the ring surrounds. Almost instantly the screen of the Surface Pro 2017 appeared on my large projection screen.
It really was fast, maybe one second. There were no 'Connecting…' messages. No circles of dots chasing their tails. It just happened.
I plugged the other Button into my Mac Mini. I remain an inexperienced novice on the Mac, I'm afraid, but I think I can confidently say that nothing much happened. The Button's ring of light pulsed slowly, indicating no connection. I went into Finder and opened up the newly-apparent 'ClickShare' storage on the Mac and dragged the 'ClickShare_for_MacOSX. app' file to the 'Applications' folder (I think that's what you do). Then I found the new ClickShare app using Launcher, clicked on it and after a few seconds the Button's ring stopped pulsing.
I pressed the large Button on the Mac's Button. The Windows screen on the projection screen rapidly shrunk and moved to the left half of the projection screen, while the Mac's desktop was shown on the right side. Again, it took around one second.
Again, there was no fuss.
Portable devices
You do not use a Button on your Android or iOS devices. You install the ClickShare app. As I write the Android version has a user rating of 3.2, while the iOS version has a rating of a mere 1.3. That rating was derived from just four obviously disappointed users.
Perhaps they were using older equipment. I found that the apps worked perfectly well.
First, a note on priority. If you can have 16 devices connected but only two showing at a time, how do you get to choose? Well, with the ClickShare system it's definitely a case of 'first in, first served'. If two devices are showing their stuff on the screen, they have priority. Pushing the Button on additional devices, whether a Button or the Button on an app, will get you nowhere. One of the current devices has to break its connection first before someone else can go on.
As seems to be the way with iOS, you can't merely mirror the screen from your iPhone or iPad. You choose what you want to show: an on-device document, a photo, whatever your device's camera is pointing at, or something from Drop Box, Google Drive, iCloud or One Drive. Or whatever you navigate to on the built-in
browser.
Once you have that showing – it's also reflected on your device's display – you can select a 'pen' to draw on the picture or document. You have two pen widths and three colours available. You can use your finger. I used the Logitech Crayon. This is useful for marking up stuff on the big screen, and you can save the picture if you like.
All that also works in the Android version of the app, except for iCloud. But it also adds a Screen Mirror function, so it can show anything on your device.
Both the iPad and the Android phone connected, via the apps, as quickly as the Buttons.
I should note that the display was clear and easily readable. I was using an UltraHD projector, and the ClickShare Base Unit outputs 2160p at 30 hertz, providing effectively full resolution for two sets of FullHD content.
Other stuff
There are more capabilities available from the ClickShare CSE-200+ unit. There are also some claimed capabilities that just wouldn't work for me. For example, can the unit do anything more than simply duplicate your computer's screen? If you're sharing a screen via Miracast with some suitable display device, you can have that screen duplicate the main screen or 'Extend' your display so that you essentially have a superwide display.
This unit simply duplicates. But the on-line manual suggested you could 'Extend'. I found the relevant menu and chose that, and the app told me I had to install some additional stuff from ClickShare to do so. It provided a link to the site. I installed the new stuff and did what it said, but it wouldn't work. I rebooted the computer and it still wouldn't work. It just remained in 'Duplicate' mode.
Again, my experience suggests to me that the ClickShare people will be beavering away at fixing that. I can see more and more capabilities coming on line as time goes on.
Conclusion
But forget about the future. What the ClickShare CSE-200+ package provides right now is fast and reliable connections with up to two computers or other portable devices, speedily and with no fuss.