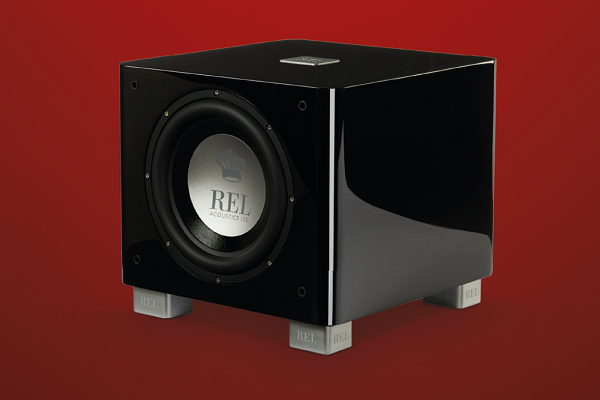 The T/9x subwoofer from REL is a crisp and powerful enhancement of the T/x Series. Liam Power takes the new unit for a test drive. 
The REL T/9x is the flagship model of the T/x series of premium subwoofers from REL Acoustics. It features a front-firing 10" active and 10" down-firing passive woofer. The sub is driven by a Class A/B MOSFET amplifier providing a room-shaking 300W RMS output and ensuring there will be enough bass to alert neighbours in the surrounding area if cranked.
Build and Aesthetics
The REL T/9x features a glossy, piano black finish, which is smooth and impressive (though may gather fingerprints during setup). While subwoofers can sometimes be functional black boxes designed to be hidden away from view, this one would serve proudly on display in a home theatre or audiophile listening setup.
The rounded corners on the subwoofer's enclosure further serve to differentiate the T/9x from a more standard black-box design. The back panel features I/O and a huge heatsink for the power amplifier section, ensuring the unit will stay cool even when pumping room-shaking levels of bass power. Behind the semi-transparent fabric speaker cover sits a large REL Acoustics logo, complete with a distinctive crown icon. There is no mistaking this subwoofer is a REL design, with multiple branding placements adorning the unit.
The T/9x weighs in at a hefty 20.9 kg and is 3370 x 340 x 393 mm WHD, a consequence of packing a 300W amplifier and two 10" drivers into an enclosure. However, in comparison to some 10" subs, the T9/x appears balanced and doesn't overwhelm the room with its design.
Setup and Installation
The REL T/9x has a lot to choose from as far as I/O. The back panel includes controls for high/low level and the all-important knob to set the crossover frequency between 30-120Hz.
Where you set this will be dependent on the bottom range of your main speakers. I set mine to around 80hz to fill out my custom-built speakers with 8" woofers. There's also a .1 LFE input and level, which bypasses the crossover filter and instead introduces a standard fourth-order 120hz filter.
Additionally, there is a low-level input for connecting to a preamplifier's subwoofer outs. Joining the back panel I/O is a standby and phase selection switch which will be set to a different phase whether your speakers are in line with your main speakers or behind you, facing them. This helps to avoid phase cancellation from standing waves caused by the interaction between the low-frequency signals from your subwoofer and the main signals coming from your speaker setup.
The separate Hi/Low LFE inputs allow you to run your home theatre and hi-fi signals independently to the sub, allowing greater flexibility to cater for a variety of setups.
A unique feature of the T/9x is the High-Level Input available via the Speakon connector and included cable on the back panel. This connects in parallel to the main speakers of your power amplifier (or the power amplifier section of your amp if you have an integrated amplifier), using the same binding posts.
This allows the T/9x to be used with a full range output and for as many channels as you have on your amplifier. This increases the versatility of the T/9X in home theatre applications or for use with an amplifier where there is not a dedicated preamp or subwoofer out.
It also allows greater integration with your main speakers, with them receiving an identical signal output to your main speakers, rather than utilising the preamp outs or even the filtered LFE signal from a Hi-fi amplifier. How REL has managed this without causing load on the speaker outputs is truly a feat of design.
Finally, wireless audio comes in the form of an optional REL Arrow wireless system, which attaches to the VGA-style connector above the heatsink. The Arrow system (sold separately) attempts to bypass some limitations of wireless audio by using streaming uncompressed, low latency and high-quality audio to a decoder.
Sound
There would be many reasons to integrate a subwoofer into your home theatre or hi-fi setup. Having a dedicated speaker for reproducing low-frequency content decouples that responsibility from your main speakers, allowing you to push them harder in the low-mid and high frequencies with more headroom and less chance of harmonic distortion.
For this purpose, the T/9X functions transparently and with a surprising amount of detail. Where subs can sometimes sound boomy or overwhelm the soundstage, or require you to turn up the volume of your entire system to be heard, the T/9X remains responsive and in control of dynamic bass content.
I set up the T/9x with the High-Level input connected in parallel to my main speakers. Tweaking the Hi/Low level input knob and with the crossover frequency set at around 80Hz, the bass became precise and detailed, serving to shake the small studio that comprises my listening room with a pleasant rumble.
On Rowland S. Howards' 'Pop Crimes' (2009), the dynamic bass walks and kick drums were fleshed out considerably. Walking, dynamic basslines can be particularly challenging for subs as they tend to have resonances due to cabinet design (and room acoustics) which cause certain frequencies to dip in and out of the soundstage due to standing waves induced by the wavelength of lower frequencies.
The power and versatility of the system came to the fore at higher +83db listening levels, increasing the feel and groove of the music. Muddiness was minimal, and the ringing and resonance that can sometimes come from less powerful subwoofers being driven to their limits were not present with the T/9x.
'Jimmy's Mode', essentially a solo double bass track from John Coltrane's posthumous 1995 release 'Stellar Regions' served well to test the sub's dynamism and how it reacts to varying bass content.
Overall, the bass was fleshed out with minimal boominess or cabinet resonance. It added detail and clarity to the bottom end without overwhelming the content. With the crossover set to the bottom frequency of the main speakers, the bass became tighter, more detailed and controlled. With the inclusion of the T/9x, I found that I could listen at a lower volume overall while still getting a pleasantly meaty low-end.
I conducted frequency response testing of the T/9x using a Sonarworks XREF20 Calibrated Measurement mic connected to a Scarlett 6i6 Soundcard. Frequency response testing verified a lack of peaks and valleys in the subwoofer's response. With the cut-off controls all the way open, the subwoofer showed a fairly gentle roll-off above the crossover frequency, and an even gentler roll-off occurred below 40hz to +- 20hz (close to REL's stated -6b extension at 20hz).
The strongest frequency area occurs between 50-120hz showing that the frequency response has been tuned to slightly emphasise common sub-range frequencies. These gentle, tuned filters explain the smooth sound of the T/9x and I was impressed with REL's obvious tuning of the chassis and speaker design to minimise resonances, leading to an admirable design considering the variety of rooms/setups the T/9x is intended for.
Conclusion
With solid bass performance, good low-level detail and a wide variety of I/O options, the T/9x would suit any home theatre or hi-fi enthusiast looking to up their low-end game.
Enough power is on tap to serve the most demanding of systems, whether in a purpose-built home theatre setup or as an adjunct to your hi-fi separates.
In particular, the High-Level input allows the T/9x to integrate seamlessly with your current setup, with the Speakon cable provided in the box allowing plug-and-play versatility, or opening up the possibility of creating a dual sub configuration for deeper immersion in your audio setup.
ADVERTISEMENT

ADVERTISEMENT
ADVERTISEMENT

ADVERTISEMENT