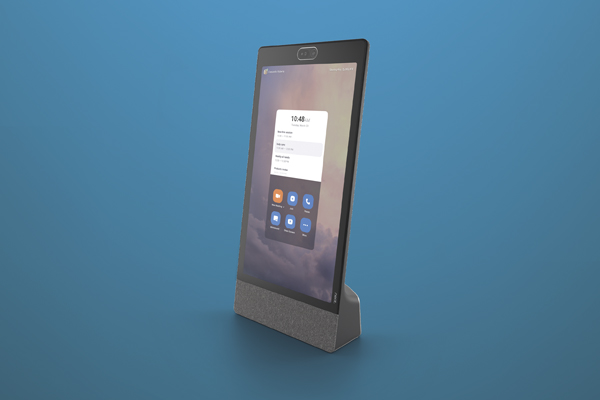 Video conferencing equipment is all the rage nowadays which is why it's nice to see something a little different in the category. Shane Jackson gets to grips with the Neat Frame, a portable all-in-one VC unit.
 Thanks to the pandemic, we have now entered a period whereby you can throw a stone and hit a video conferencing hardware provider. Yes, we all know that VC and UC was a thing pre-pandemic but nothing could have accelerated its growth quite like the 'stay at home' orders that were imparted onto large swathes of the country, and world.
Interesting then, Neat, is a company that has essentially grown up with the pandemic, having shipped its first products just a few weeks before everyone realised that this wasn't going away any time soon.
Neat, which was founded in Norway, is a relatively new name in the Australian AV landscape. While it debuted here in 2020, it announced plans in the first quarter of this year to really drive its growth in the ANZ market and it was one of the new brooms at this year's Integrate Expo.
The company prides itself on having a small range of devices with no immediate intentions to expand upon that as they aim to keep things as simple as possible for users deciding on devices for a particular meeting space. Its solutions provide a 'something for everyone' effect with, the company believes, these solutions catering for up to 95% of meeting rooms you might see in today's hybrid work environment.
Solutions include: the Neat Bar, the Neat Bar Pro, the Neat Board, the Neat Pad, and the subject of this review, the Neat Frame.
The chatter around this brand is good too – the Neat Bar Pro, the Neat Board (which has been spotted in President Joe Biden's Oval Office) and the Neat Frame are all former Red Dot Award winners.
What is is
So, let's take a look at the Frame; it's a pretty Neat device…
Ok, all dad jokes aside, the Neat Frame is a professional video and collaboration device that is perfect for the smaller home office, or smaller work spaces where available space might be a concern but you still want to enable it as a meeting room.
The Frame is, essentially, an all-in-one meeting device combining a camera, microphone and touchscreen display built around either Zoom Rooms or Microsoft Teams at this point in time. It is a well-made and well-designed portable unit, boasting a 15.6" portrait 1080p capacitive multi-touch LED screen, and weighting just under 3.5kg – it's not heavy but there's a heft to it that makes it feel very solid and sturdy.
The Frame boasts a built-in two-way loudspeaker system below its screen along with a tracking microphone. On the top edge of the unit, there are three beam-forming microphones while the top bezel houses the camera which offers a 113˚ field of view and 4x digital zoom at 50MP capture resolution.
At the back of the unit, there is a well indented handle so that you can easily grab and relocate the unit with ease. Input and outputs include: power in, an audio jack and a USB-C port for use with headsets. There is a locking mechanism that allows you to secure the Frame to a desk or specific location.
There's also a trip mount, a feature that I really like; that's right, you can mount the Frame on a tripod and sit it virtually anywhere. Just think, you could be sitting on your comfy couch, smashing out video calls all day!
From a quick search, aside from a couple of much larger, less portable, and more space-consuming desktop options, there's nothing quite like the Neat Frame on the market and its uniqueness is likely to be a big selling point.
As if to emphasise the truly plug-and-play capability of the unit, there's just one other item in the product box – the power cable.
Setup
After unboxing the Frame and setting it up on my test bench for the first time, the unit automatically powered up and loaded into a Teams meeting room with another person's credentials already assigned.
Ah, the curse of the review unit strikes!
I'm more of a Zoom user so it took a few minutes to navigate the user interface and find a factory  reset. On reboot, the Frame advised that it had an automatic update waiting to download and install so I let that run its course. The update must have been sitting on the unit itself as I had not connected to WiFi at this point. It was good to see the auto update rolled through with just the push of a button.
Once the update had gone through, I was back to where I had initially expected to be – the setup screen.
The Frame asks some basic questions like time, date and location and then connects to the WiFi – all pretty straightforward stuff so far. You get the option to launch Teams or Zoom and, given my earlier struggle to escape from a Teams room (a common occurrence for many, I'm sure) I opted for Zoom. The unit then installed and set up Zoom; again, all of this happened briskly with one push of a button.
Overall, the initial setup of the Frame was quick and easy, exactly what you want in a product like this.
In use
When it came to testing, I enlisted the services of my wife, getting her to jump on a couple of Zoom calls with me so that I could test the Frame from a few different scenarios. Overall, the experience was very good and regular Teams or Zoom users would feel right at home using the Frame.
The video quality was good, the 50MP camera doing a fine job of keeping us in focus. The Frame also features an automatic people framing ability, meaning that the camera will find your face in the shot and keep you in focus and in the middle of the display. This gives you some freedom to move around in front of the unit and still stay in shot.
After the past few years, we all know that a meeting is nothing without audio. The picture can look great but if you can't hear or be heard, you have no meeting.
To that end, the Neat Frame works a treat. At all times, I could hear the other end of the call just fine, while that listener could hear me speaking clearly as well. Even when I moved several metres away from the Frame itself, the microphones did a good job of following me and picking up my voice.
Additionally, the Frame has built in Echo Cancellation and Noise Suppression technologies which all enhance audio quality during a call by helping to filter out any unwanted sounds and prevent feedback.
Another nifty feature of the Frame, worthy of more discussion, is the LED touchscreen which, not only lets you navigate around the UI but is also useful if you choose to enter into whiteboard mode. This allows you to scribble away with your finger or take basic notes. The Frame also offers the ability to share content on screen and into a call; that coupled with the aforementioned whiteboarding ability allows for annotation so the user can make their point by highlighting or underlining the work as they go.
Conclusion
Overall, the Frame is an excellent dedicated video conferencing unit, its portable nature making it a really attractive option for workers who find themselves either racking up the miles, or firmly ensconced in a hybrid work model.
The Frame is very easy to set up and install, allowing you to be up and running video conferencing calls within an admirably short period of time. As stated, this is a solidly built unit and the overall experience is great.
However, despite the abundance of positives, the Neat Frame is quite expensive. At well over $2,000, I don't see the Frame going into many solo or small business spaces where a laptop with an extra screen would suffice, at least not for the moment as businesses continue to re-establish themselves after the pandemic disruptions.
But if you have the cash or want zero hassles with a small form factor video conferencing unit then the Frame is just what you are looking for.
ADVERTISEMENT

ADVERTISEMENT
ADVERTISEMENT

ADVERTISEMENT