RealMotion hits right notes at guitar hotel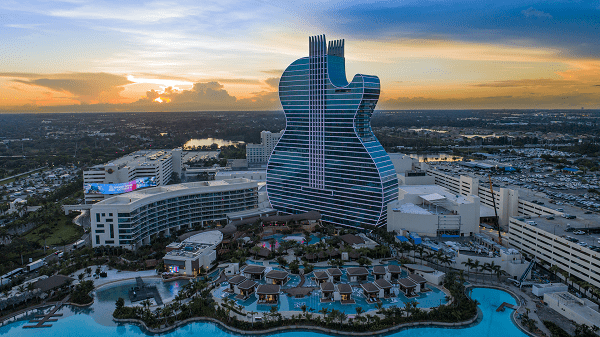 The world's first guitar-shaped hotel, the Seminole Hard Rock Hotel & Casino in Hollywood , Florida was recently launched, boasting a single RealMotion 4 Karat Gold Series server that powers the 400-foot tall structure.
The hotel, which cost US$1.5 billion, is one of the world's most unique digital sculptures, capable of presenting a multitude of digital effects using 2.3 million LED lights, video mapping and lasers.
RealMotion director Geoffrey Platt says: "The front facade of the hotel is both a media system and a dynamic sculpture. Lined with LED products and power systems provided by SACO, the front will serve as a screen and stage to daily musical showcases. The shows will be a testament to how music has been instrumental in defining Hard Rock hotels, restaurants and entertainment properties around the world."
Geoffrey says the 4 Karat server plays a huge role in the technical management of the building and its displays.
"We couldn't be prouder to have been brought onto this project, and to know that a 4 Karat RealMotion Server can manage a spectacle such as this."
The hotel's grand opening proved to be a major spectacle but the goal of the project was to enable a long-term digital sculpture installation that could display new content and themes as the owners desired.
DCL director of creative technologies Jeff Grantz says they needed a media server that would suit a permanent setting and could integrate into a larger network.
"The 4 Karat server from RealMotion's Gold series has a robust architecture setting and required minimum project-based customization. We're well-informed of the server's dexterity for generative content and knew it would be an intuitive tool to pass on to our client for when they begin to facilitate their own programming."