RealMotion gives visitors interactive history at the Statue of Liberty Museum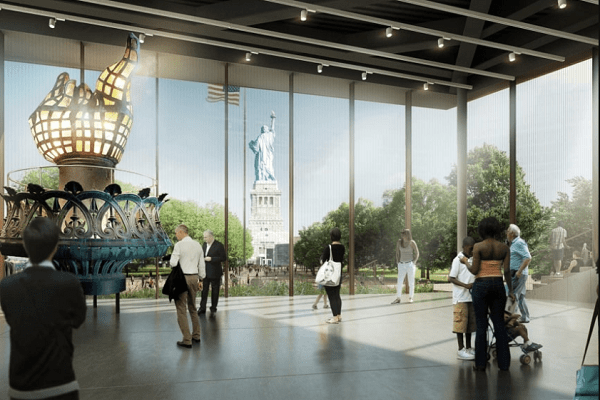 RealMotion, providers of experimental real-time AV production, is powering the Statue of Liberty Museum and giving visitors an immersive interactive exhibition.
The content leverages cutting-edge interactive video technologies that are designed by ESI Design and produced by Float4 integrated with RealMotion servers.
"The 16 RealMotion servers we used for this project are crucial to creating the multi-sensory, multi-room interactive experience that FX Collaborative and ESI Design envisioned for the museum," RealMotion director Geoff Platt says.
"The result is an exciting journey where guests learn about each stage of the statue's life and history through interactive RealMotion experiences that bind emotive interactive content to various sensors within the technology infrastructure."
The museum begins in a theatre where three wall-sized curved projection screens give aerial videos, historical footage and fly through of the statue's interior generated and delivered with three RealMotion servers.
They then walk into the 'Becoming Liberty' experience in which guests are invited to use any of the 20 touch screen kiosks to share their country of origin, a personal photo and their idea of liberty.
This data is then sent off to the RealMotion CMS. From there, the server's are able to automatically consolidate more than 30,000 data points into a cyclically-updated digital mural, displayed on 'The Canvas', a 12m by 3m digital screen.
"In each exhibit, the RealMotion platform is vital to consistent operation and successful guest engagement. As an island-based attraction with minimal on-site support staff, the superior level of reliability RealMotion offers is necessary," Geoff says.
"Reliability in servers is a necessary trait, so that developers, creatives and owners can build successful, long-term interactive experiences. All the installations in the museum have a redundant back-up server, so if an issue ever does arise, all the content, structures and particles are automatically transferred to the backup to ensure that there are no interruptions to daily operation."