PRO.2 HDC6M4K HDMI over CAT5E/6 extender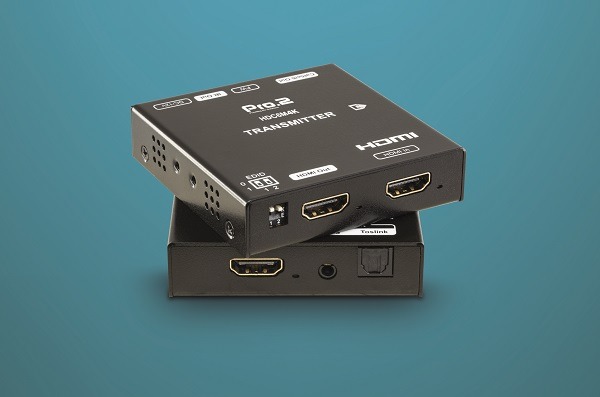 Transporting high quality video over a long distance is a breeze when you've got the right equipment, writes Stephen Dawson.
Getting high quality video from source to sink is a difficult technical problem when they are far from each other given the high bandwidths involved. And with each advance in TV standards, it's getting harder. That's why long HDMI cables are so expensive. Either passive ones must be carefully constructed with the highest quality materials, or active cables which refresh the signal are employed. My current ten metre passive HDMI cable works perfectly for all standards of 4K video, but it was valued at $700 when I bought it.
HDMI cables also have the problem – and the better constructed, the more of a problem it is – of not being very flexible.
So what if there were a way of using cheaper cable to replace HDMI? That's where the Pro.2 HDC6M4K HDMI over Cat5E/6 Extender comes in.
What it is
In brief, the Pro.2 HDC6M4K HDMI over Cat5E/6 Extender consists of two small boxes of electronics – one transmits the video signal over Ethernet cable, while the other receives it. In the box is one power supply, one IR receiver and one IR emitter, and four rack mount ears for the two boxes.
The cable can be up to 70 metres long "under perfect transmission conditions", by which they mean "no bends, kinks, electrical interference, patch panels or wall outlets." And while the title suggests the use of Cat5E cabling, you probably won't be surprised to see that Cat6 is recommended "for best results". We'll return to that performance.
Comply with those requirements, and the system is rated at up to 18Gbps with support for HDMI 2.0, including HDR10. The company says that the signal standards supported are up to 4K at 60 hertz with full 4:4:4 colour resolution. (It suggests it can go to 90 metres with 4K at 30 hertz).
Consider: there's a reason why you want a fifty metre cable run from your electronics to, say, your 4K projector. The electronics could well be in a different room, or an equipment closet. While the Pro.2 HDC6M4K is carrying video from the equipment to the projector, it can also carry IR commands from the receiver unit back to the transmitter unit, where the IR emitter conveys them to your equipment. Nice. I should note that the packaging particularly boasts that the IR system is "Foxtel iQ4 compatible". Presumably this is a little difficult to handle in IR terms.
You may have noticed that I mentioned only one power supply earlier. Both the transmitter and receiver have power sockets. You only need to use the power supply with the unit for which it is most convenient. The power is carried by the CAT cable back to the other unit. Whichever end you choose, the power connection is secure, thanks to a screw collar on the twelve-volt power pack.
Both boxes of electronics are quite tiny: 72mm by 84mm and only 17mm tall. And each weighs just a little over 150 grams. Which means that they're fairly easy to tuck away inconspicuously.
There are a few more functions than merely carrying video one way and IR commands the other. The transmitter unit – the one that's at the source end of things – has a HDMI output as well as the HDMI input. The documentation suggests that this is for a nearby display. I'd suggest that this is for a nearby home theatre receiver. That is, for audio.
The receiver unit has, of course, the HDMI output. But it also strips out audio for delivery via 3.5mm analogue stereo or optical audio. Just in case you have some primitive gear at the other end which needs a suitable signal.
Setup
For the most part, there is very little complication in setting up the Pro.2 HDC6M4K system. Just use a quality HDMI cable at both ends to connect to the source and sink (sink = display device).
But there is one other little, little thing. It's called EDID, which stands for Extended Display Identification Data. When one HDMI device connects to another, it goes through a quite elaborate "handshake" process. That includes asking what the other device is capable of handling. EDID includes all the audio and video standards it can handle. I used to have a PVR which would report the EDID in hexadecimal format, which I could then interpret using various online sources. Sadly, that PVR is no longer operable, so I can't investigate quite as deeply as I would have liked. But here's what's important with the Pro.2 HDC6M4K system. The transmitter has a two DIP switches on the back which allows you to have some control over the EDID. Two switches equals four states.  One – the default – sets the EDID to a video standard of 4K at 60 hertz, with two channel audio. Another selects for the same video but with 5.1 channel audio.
The other two? They "copy" the EDID data from connected devices. One "copies" it from the "far-end display". That is, the display device to which you're primarily sending the video. The other "copies" it from the device connected to the HDMI output on the transmitter unit.
Essentially, those switches allow you to choose the video and audio standards you'll be delivering to your display and audio devices.
In use
I plugged everything in and then plopped a Blu-ray test disc into my UltraHD Blu-ray player to make sure everything was working okay. With regular Blu-ray, picture quality was identical to that delivered by that $700 HDMI cable.
So it was time to work up through the various standards. The next step up was a fairly standard UltraHD Blu-ray disc. This employed, as is the norm, HDR and BT.2020 video. Again, transmission was simply perfect. I should note that I was using a direct connection from an Oppo BDP-203AU UltraHD Blu-ray player to a 2017 LG OLED TV. The LG is able to report the various video standards it is receiving – BT.2020, HDR, Dolby Vision – along with resolution.
The next step up was an otherwise standard UltraHD Blu-ray, except that it was encoded with Dolby Vision. The picture came through okay, but there was no Dolby Vision encoding, nor even HDR. That suggests to me that the Blu-ray player had read the EDID settings as not allowing Dolby Vision. At this point I had the EDID switches set to the default, which mean that the Pro.2 HDC6M4K unit was telling the Blu-ray player what it could handle. So I switched everything off and then flicked one of the EDID switches to the position where the unit copies the LG TV's EDID settings. In other words, the Blu-ray player would see it as though it were the LG TV.
When I fired everything up again and spun the Dolby Vision disc, the results were very colourful, in a bad way. All the colours were mapped entirely wrongly, so the main menu of the movie It was shown in lurid reds and purples (see the picture on this page). I've seen similar things before when I've tried sending Dolby Vision-encoded video over my network to a TV which doesn't recognise it as such. So I'd say that's what's happening here: the HDC6M4K is passing through the video as though it were mapped onto the Dolby Vision colour table, but stripping the Dolby Vision flags so that the TV didn't realise that the signal was Dolby Vision. If indeed it still was, because the other strange thing was that image was extremely posterised to perhaps a dozen or so fixed colours. It looked like instead of the 12 bits per colour provided by Dolby Vision, the TV was showing only two or three bits per colour.
Those diagnoses are merely educated guesses on my part. The main point is, the system is not compatible with Dolby Vision.
The next step up on disc testing was Billy Lynn's Long Halftime Walk, which I think is one of only two 2160p60 UltraHD discs. (The other is Gemini Man, but that's Dolby Vision encoded, so not useful for this test.) It worked perfectly, with the TV reporting 2160p, the motion as smooth as only 60p can make it, and the proper HDR/BT.2020 codes being shown.
To this point I'd been using a twenty metre Cat 6A cable that Radio Parts had included with the unit for review. With that working perfectly, I switched over to another cable they'd included: a sixty metre Cat5E cable. But this was clearly not a cheap and nasty one. It was labelled "SOLID Pro 4". And it also worked perfectly, even though I was using it sub-optimally with the bulk of the cable in one large coil.
The IR receiver and blaster worked effectively. I was able to control the Blu-ray player by pointing the remote at the TV.
What did not work was HDMI CEC, nor did ARC. So as far as audio and video goes, the Pro.2 HDC6M4K HDMI over Cat5E/6 extender is strictly a one-way affair.
Conclusion
The Pro.2 HDC6M4K HDMI over Cat5E/6 Extender is a  relatively low cost and effective way to transport high quality video over relatively long distances. Just bear in mind the Dolby Vision and HDMI CEC limitations.