PPDS releases Philips 6000 Series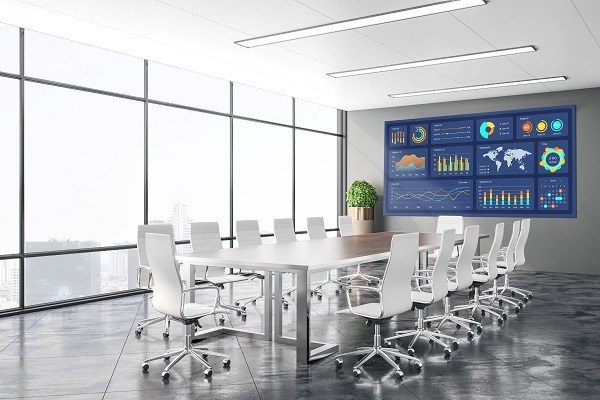 PPDS has launched the Philips 6000 Series – a brand new range of highly flexible, beyond 8K, direct view LED displays, designed exclusively for the creation of 16:9 or 32:9 displays, often used in corporate environments or any place where standard ratio content is being played.
The Philips 6000 Series LED – the latest in a growing line of vertical-specific direct view LED solutions from PPDS – pushes beyond the boundaries of traditional videowall displays, bringing unrivalled performance and effortless bezel-free installations of any shape, size or resolution to meeting rooms, boardrooms, auditoriums and lobbies.
Available in three 27" landscape panels, with a native 16:9 resolution, and across three different pixel pitch variants – 1.26 (27BDL6112L), 1.583 (27BDL6115L), and 1.9 (27BDL6119L) – the series has been designed for 24/7, round-the-clock use and comes equipped with an extensive range of dedicated features and capabilities, supporting a multitude of visual needs and requirements.
Installation times are swift and effortless, simply connecting multiple LED display cabinets to create the resolution that best suits your needs, in 4K, 8K resolutions, or even higher.
Boasting some of the highest refresh rates (1920~3840 Hz) compared to many LCD and LED solutions in the current market, the Philips 6000 Series guarantees uncompromised, smooth and judder-free viewing experiences. Even the smallest (and most important) details – such as blurred or fuzzy words and numbers in presentations – are displayed and delivered with crystal clear sharpness over distances of up to 22 feet, viewable at almost any front facing angle (up to 160 degrees).
Finally, in addition to offering greater energy efficiency when compared to similar displays available on the market, the 6000 Series also benefits from Dynamic and Black screen power saving features, automatically and intelligently powering down when not in use. This helps to further reduce the total cost of ownership, while extending the life of each LED panel (typically 100,000 hours) for a greater RoI.
PPDS global product manager LED displays, Jeroen Brants, says: "The versatility of Philips 6000 Series truly sets itself apart, providing infinite design possibilities to suit a variety of different settings and uses within a corporate environment. Whether it's for hosting the perfect meeting or creating a positive first impression in reception, displaying bright and clear branded content, Philips 6000 Series won't let you down in providing the perfect viewing experience."
Martijn van der Woude, head of global business development and marketing, adds: "With the appetite from the corporate market becoming ever clear, our Philips 6000 Series direct view LED is a highly cost-effective and long-term proposition for companies and organisations that want to maximise the benefits of their digital display investments. Bringing new opportunities to streamline their digital messaging, while maximising their investments for the best possible business outcomes."