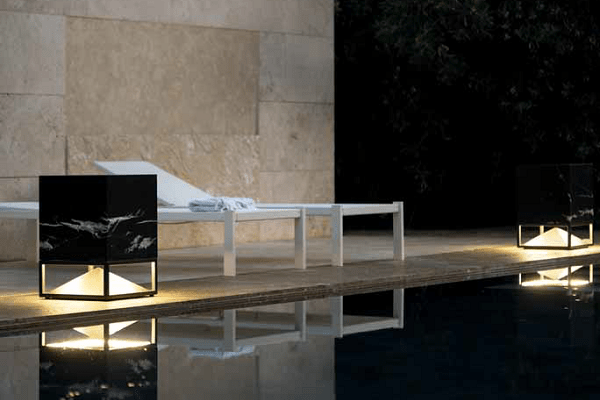 Technology and art are coming together in aesthetic ways to enhance commercial and domestic spaces. Anna Hayes explores the trend.
Domestic technology items such as television sets or tower speakers are instantly recognisable.
But what if you could conceal a TV with some simple framing, or if speakers looked like sculptures that suited the style of the room?
Such home technology has become neater and more integrated with room spaces over the past decade. However, companies have taken up this arty idea, pushing the aesthetic boundaries of their products.
As technology becomes more affordable, the market is expected to grow for products that can slot seamlessly – and perhaps deceptively – into a living space.
Leon Speakers was founded by artist and musician Noah Kaplan on the principle of mixing audio, design, technology and art.
For more than 20 years, the company has been hand crafting suites of customisable speakers and technology concealment products to deliver sound and style in residential and commercial spaces.
Paul Sabbah is the international sales representative for Leon Speakers.
"Great sound is very important to us, and we have the engineering team to achieve that," he says.
"But we also believe that technology should blend into the decor of a home or office, and that has always been a part of our mission."
The Florida-based company Media Décor is a good fit with that approach. Leon Speakers acquired the business about six years ago because of synergies between their product lines.
Media Décor designs products to conceal TVs with moving artwork, offering a chance to expand Leon's range for integrators and subsequently for clients.
Leon is best known for custom soundbars, built to match the exact width of any TV, but in recent years it has branched out with other products.
For example, the Edge Media Frame conceals the borders of a TV with a contemporary frame inspired by mid-century design. It provides a streamlined, design-friendly way to integrate a TV into a room.
The Horizon Interactive soundbar is a big seller for commercial spaces. It integrates sound and video conferencing cameras in one unit, thereby eliminating clutter.
Customisation of speakers is also available – paint matching, custom grille fabrics, materials, etc.
"Consumers are being educated on what is possible now," Paul says.
"They're starting to understand that tech can look great, and they're asking for it. Technology is changing quickly, and we are keeping pace.
"We've noticed a big uptick in the commercial side of our business as design sensibility is becoming more evident in the workplace. Companies are looking to make their workplaces more ergonomic and beautiful."
The Italian audio company Architettura Sonora (AS) was launched in 2009 as a division of B&C Speakers Group, with the mission to get the best possible sound from the best looking speakers.
It started out creating outdoor acoustic experiences and has increasingly moved into the indoor sphere.
Marketing co-ordinator Claudia Stortini says AS was born out of the desire to diversify and create something unique and essentially absent in the market.
"In the past few years, much more attention has been paid to home automation and its value in everyday life.
"Until now, the focus was on lighting. However, lately the importance and value of 'good listening' and how sound represents an important and constant component in our lives has been recognised too.
"The need has arisen to make products visually appealing as well."
The AS range includes outdoor and indoor speakers made from stone, marble, concrete, terracotta and other materials that are excellent for sound.
Claudia says that, rather than striking a balance between design and function, their products create a dialogue between these two aspects.
"Each shape of our speakers corresponds to a function – that is, a different type of emission.
"For instance, the emission of an AS speaker with a circular, cubic or cylindrical shape will be spread 360 degrees (thanks also to their deflectors). Other AS elements with much more shape directives emit sound focusing on certain areas."
Claudia says the company doesn't have an issue with creating pieces of 'art', the products produce high-performance audio with tactile features that are rarely associated with speaker design – it's a full expression of 'bespoke sound'.
Staying with sound but taking a slightly different angle, Berlin-based Senic showcased its Muse Blocks NFC Smart Art at last year's CEDIA expo, highlighting a simple but quirky way of pulling up your favourite smart-home content.
Senic chief executive and co-founder Tobias Eichenwald says gadget lovers may be sceptical, but the product appeals to those who appreciate simplicity and design in their homes.
Although the team at Senic comes from a technical background, its members shared concerns about the direction technology was taking and the amount of time being spent in front of screens.
"Music and lighting can have a tremendous positive effect on our wellbeing, helping us with deepening relationships, becoming more creative or simply relaxing," Tobias says.
"We should be able to enjoy these benefits without side effects. Similar to the organic food movement, we believe in organic tech that is omnipresent but supports us from the background without distracting. That is the future we want to build."
Founded in 2014, Senic's initial focus was to create a great music and lighting experience. The artistry of the product is based on insights from customers.
Tobias says simplicity has proved to be a big winner for the company.
A few years ago, Senic brought out a simple switch for smart speakers and lights. It was received with scepticism as people pointed out the availability of controls on smart phones.
"This question has completely died out," he says.
"People have understood that digging through apps on a screen without clear feedback is not suitable for quickly turning on your lights."
Tobias believes that the next big shift in computer interaction will not just be from one device to the next as has been the case for the past 50 years.
"The next major shift is from a centralised smart phone towards distributed interfaces that address all human senses. Think about communication – the most effective way for us to communicate is to use abilities like our eyes, ears, speech, gestures and facial expressions. That combination is what we're built for."
Smart home solutions have become more readily available and accessible to people, due in a large part to cheaper and easier to use devices.
Tobias feels this has a downside, pointing out that fewer people actually care about the quality, design and experience of the product.
"We believe this is a real differentiator in an overwhelming and complex digital age when people are looking for minimalist solutions that have a positive effect on their wellbeing."
Finally, on the visual side of things, is Blackdove, a personal video art manager for company founder Marc Billings, who had fallen in love with the new media art format and wanted to collect it for his home.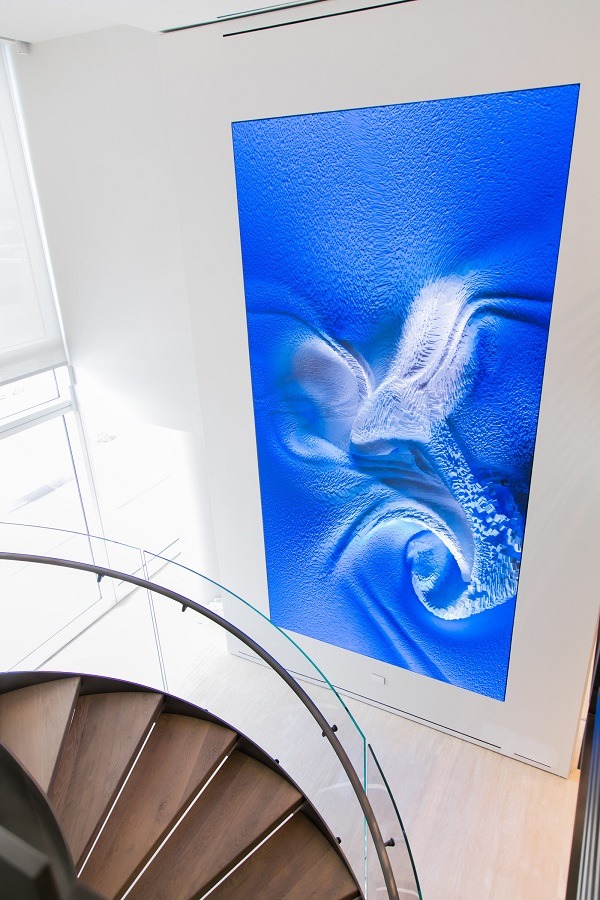 As friends and family started looking for the platform for their homes and businesses, his thoughts turned to developing it.
The platform was launched in 2014 with a Kickstarter campaign for a digital canvas display. It then developed into a more open platform that integrates with all major display platforms on the market.
In the modern home or office, Blackdove integrates with automation systems such as Crestron, Savant, and Control4, with further integration opportunities that will tie together experiences in the home.
Users are presented with a simple interface to choose from curated and artist collections. Once connected to a display, through a downloadable app or media player, the artwork will continue to play as per the selected curation.
Marc Billings says users enjoy the wellness component of the artwork movement, as well as exploring the variety of artwork available.
Unique to this platform is the catalogue of digital artists from around the world.
Marc says they are the key focus and they are given a set of tools to manage their works, including analytics, marketing and pricing controls.
"We want to give digital artists the opportunity to support themselves by providing a customer base interested in exploring their works.
Marc also says there is an international demand for Aboriginal art.
"We pay royalties to artists based on each view of their artwork, with the aim of creating a fully sustainable financial ecosystem for the ongoing health of the market.
"Each artwork played on the platform counts towards the artist's earning for that month."
He says Graphic design in videogames and movie CGI has pushed the boundaries for artists.
"Many artists with 'day jobs' at gaming or video production companies use Blackdove to pursue their artistic careers."
Architects and designers are leading the movement with a view to creating immersive and adaptive environments for corporate and residential clients.
TVs generally represent the largest potential base, but purpose-built installations and LED walls are becoming more widely used in offices and public spaces.
In Australia, Blackdove has partnered with Ci Group for commercial installations using the latter's LED products.
"Blackdove is pursuing its first commercial clients with Ci Group," Marc says.
"We are very excited about the creativity and enthusiasm of the Australian market regarding video art."
He says the market is developing in phases, with indoor LED being the most exciting display technology for this medium.
"The modularity of the displays, which can be designed in any dimensions in landscape and portrait orientations, is an architect's dream product.
"Next will be dedicated art installations with single panel displays from LG and Samsung. TVs with built-in 'art mode' will be a huge new movement to pay attention to."