Parliament of Victoria deploys Exterity's IPTV and digital signage solutions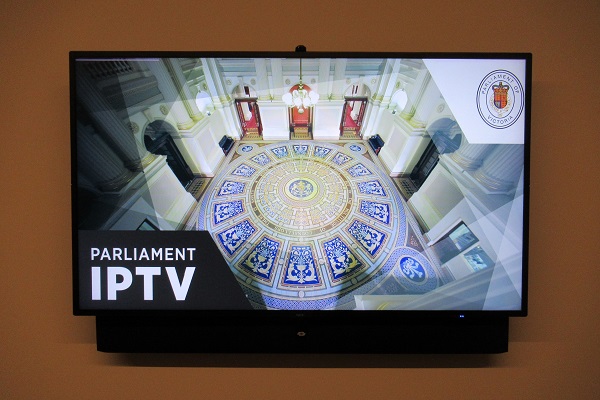 Exterity, distributed in Australia by Midwich, has announced that the Parliament of Victoria has deployed its integrated IPTV and digital signage system to keep Victorian MPs informed of the latest developments in the state.
The deployment is part of a larger project launched in 2016 to expand the legislature's facilities with the construction of a two-storey building for additional office space. Managed by the Department of Parliamentary Services, the latest addition to the 160-year-old Parliament House building wanted an IPTV solution that would enable MPs and their staff to access live video from the Legislative Council, Legislative Assembly and certain committee rooms.
Working alongside Parity, an independent AV and video conferencing consulting firm, Exterity was chosen to develop the system and implement over 190 TV screens within the new building and selected areas of the original buildings.
"The IPTV deployment offers a system that has more than met our expectations and has been delivered on time and within budget," Department of Parliamentary Services manager of Hansard James Scott says.
"Exterity has proven it can be a one-stop shop for delivering, recording, managing and scheduling all our network-based content. The management software is also easy to use, yet powerful enough to allow us to adapt it for our future needs."
Exterity's deployment includes IPTV and Dante extensive audio capabilities to integrate existing audio feeds from both chambers to the IP-based system. It runs across a shared Gigabit Ethernet network that connects to Exterity AvediaPlayer r9300 IPTV PoE media players across 102 offices in the new annexe and 40 in original buildings.
"In today's always-on world, it's crucial that government buildings are equipped with the technology needed to ensure staff are always up-to-date on the latest political debates and legislations," Exterity regional director for Asia-Pacific Jamie Hind says.
"We are proud of Exterity's role in this award winning project which is helping government staff be successful in their work and decision making."