One week to go to Integrate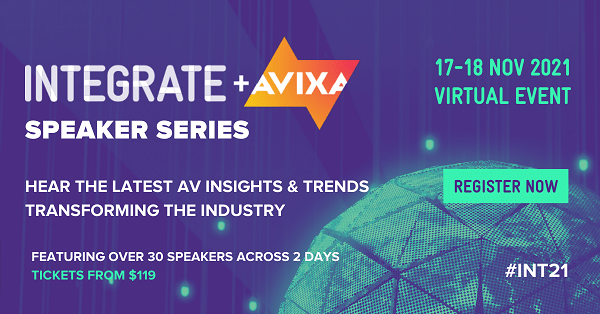 There is only one week to go until Australia's biggest AV trade show, Integrate, goes live in a virtual environment.
This ground-breaking exhibition, education series and meeting hub will launch on November 17th and run over two days.
This year's event is titled 'A World Transformed' and free registration includes access to the virtual exhibition plus two free speaker sessions.
An additional paid ticket provides access to the popular Integrate + AVIXA Speaker Series including two days packed with world-class educational content. The Series includes internationally renowned speakers, as well as the ability to earn CTS points to ensure your training is kept up to date.
While it's been two years since the industry has met face-to-face, the inaugural education series held in 2020, together with this year's virtual event, proves that Integrate continues to be a conduit to connect the AV community.
Below are some key times to tune in during the AVIXA Speaker Series.
The two free speaker sessions included in registration are:
Wednesday 17th November 3:00 – 3:55 PM
Changing the Face for Mental Health
Thursday 18th November 9:50 – 10:50 PM
Women's Conference: Women in leadership in a male dominated industry
The Integrate + AVIXA Speaker Series includes sessions such as:
Wednesday 17th November 11:100 – 11:45 AM
The New Future Blended Workplace
Wednesday 17th November 12:00 – 12:30 PM
The Importance of Acoustic Design Prior to Install
Wednesday 17th November 1:00 – 1:45 PM
User Experience in Technology Design
Wednesday 17th November 2:00 – 2:45 PM
Digital Transformation – The New Normal in Education
Thursday 18th November 11:00 – 11:45 AM
The Digital Classroom Dilemma
Thursday 18th November 1:00 – 1:45 PM
Emerging Technology in Digital Signage
Thursday 18th November 3:00 – 4:00 PM
The State of Conferencing and Collaboration
By purchasing a ticket to Integrate + AVIXA, you will also gain on-demand education access for one month after the Virtual Event.
The Virtual Exhibition features exhibitors such as Madison AV, Corsair, EPOS, Audio Australia and the virtual exhibition space will allow participants to connect with clients, colleagues and peers via a Meeting Hub.
Below are some instructions to give you insight into how the Virtual Meeting Hub will work.
Log in details will be sent this Friday, so keep this handy. On the day you will be able to hear from an impressive line-up of speakers as well as have access to meet with brands and explore the latest technologies and solutions currently transforming the industry.
To enter a session, simply click the 'View' button on the right of the session where you'll be taken to the live stream.
You can enter the virtual exhibition by clicking 'Virtual Exhibition' on the right of the main timeline. From here, you will be redirected to a list of virtual exhibitors to choose from. To speak to one of the brands or get more product information, click the 'View' button on the right of their listing and you'll be taken straight to their virtual profile.
Connect with the AV community through the 'Meeting Hub', located on the right of the timeline. Click 'View' and you will be redirected to the hub page. All you need to do is click on an attendee, and hit 'Connect'. Once you are connected, you'll be able to make calls, schedule meetings, and send messages via live chat.
Integrate was originally set to co-locate with Security Exhibition & Conference, Australia's premier security event for the first time in 2021. The shows will still run concurrently, so virtual attendees will still be able to explore exhibitors from both Integrate and Security show floors and connect with manufacturers in real-time via the web portal.
Access to the virtual exhibition platform and Meeting Hub is FREE, plus 2 free education sessions.
As always, AVIXA & AETM Members will get a discount on ticket prices, with 1 Day Speaker Series Tickets costing $119 and 2 Day Tickets Costing $149. Non AVIXA & AETM Members will pay $139 for 1 Day and $179 for 2 Day tickets.
General registration and ticket sales can be purchased here.
ADVERTISEMENT

ADVERTISEMENT
ADVERTISEMENT

ADVERTISEMENT