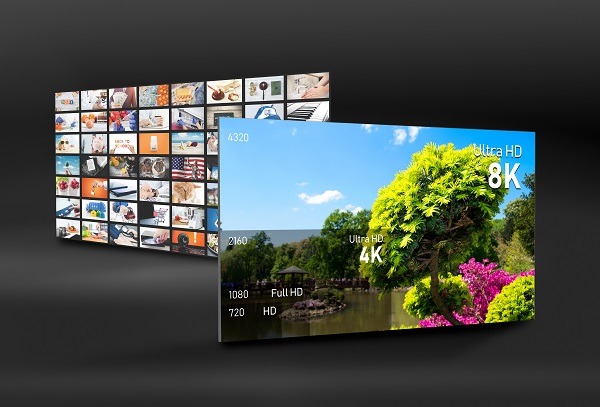 We've been hearing about 8K for quite a while now. But are we any closer to seeing it in action in the commonplace? John O'Brien explores the next (for now) big thing…
The headline screams: "Screen technology improves. Get yours now!" We've seen that flash for a long, long time now. I'm ancient enough to remember my family getting our first TV – all 14″ of 4:3 ratio black and white CRT radiance – we'd sit around its magic glow after dinner to share the nightly offerings.
Then, one of our friends got a colour set and we secretly lusted after it. Oh so many others jumped on board and, with my siblings, I kept begging for an upgrade. Sensible parental financial constraints dictated we wait several more years for full chromatic glory.
Looking back with an educated technical eye, what we were viewing then was decidedly average compared to what is available right now.
And that's 8K – the latest and hottest screen tech.
What exactly is 8K?
In broad definition, 8K is any image or display that is approximately 8,000 pixels across. 8K UHD is the widely used UHDTV standard, specifying 7680 x 4320 pixels in a 16:9 format. That is what the bulk of manufacturers use.
8K employs four times more pixels than 4K (3840 x 2160 px), which is 4 times more than the 1080p (1920 x 1080) that preceded it. So, moar pixels = moar awesomes, right? Not really – it depends on a few things, namely viewing distances and eyesight quality. Yep, that's right, us glasses-wearers don't see so good, even with 25 million extra pixels.
What can those with 20:20 vision truly see? There is a point where display resolution outstrips the capability of the human eye. It seems we are either at, or close to hitting, the threshold where extra resolution is indistinguishable.
According to a February 2020 techhive article, a consortium led by Warner Bros conducted a double-blind study that found most consumers could not pick the difference between 8K and 4K. Importantly: "This study supports the notion that 8K is only marginally better than 4K in terms of perceived detail—and only with good visual acuity at a relatively close distance from the screen"
Yeah, get close enough to pull out the magnifier and you will see grains. They key to optimal viewing experience is matching viewing distance, screen size and resolution with ambient light conditions to suit the primary viewing position and the optical characteristics of that viewer. Much like all our screen installs.
Add in HDR (High Dynamic Range) and jumping from 1080p to 4K or 8K makes sense – it adds quality to the pixel quantities. HDR is an end-to-end standard that uses an expanded and more realistic color gamut and contrast ratio. This brings everything closer to what the human eye natively observes. Note that not all content is shot in HDR, nor can all 8K displays show HDR.
Either way, we have a heap of 8K display options ready for sale and more arriving regularly.
What can I watch in 8K?
Here is the hitch – despite plenty of competent end points, there is not much native 8K content available just yet. Why is that? It could be the paucity of 8K capable cameras (inputs) but that is slowly being rectified.
Outside of Japan, there is very little public broadcast content yet to be produced at 8K. Even then, 8K in Japan has had a limited run using dedicated 8K transmission satellites run by broadcaster NHK BS8K. Out of 4000+ broadcastable hours of 2021 Olympics, only 200 were sent out at 8K. Other times, the channel is only aired in restricted times with oft repeated content.
Major movie studios are still focusing on 4K output and they will be a big driver in how long 8K takes to mature in the market. I'm sure they'll transition when they are ready but see no obvious timeline.
Gaming has been touted as a good channel for 8K. Many current hardware platforms are already effective of outputting this high res, but they are also held back by a lack of native 8K content. Game producers have been slow on developing in 8K for now – pretty much all presently acquirable content is produced at lower resolutions and upscaled by the game controller. But it is definitely coming – I'm aware of several major studios with 8K-native works underway.
Now, Apple recently released a phone with an 8K camera, but I'm not very interested in watching selfie vids in UHD. Not when I can't even watch megabuck studio extravaganzas at that resolution. That's what I be waiting for. That and 8K games.
Upscaling is where it's at
With not much true 8K content on the shelves, display manufacturers need a sell point. And that point is: upscaling. Just like the gaming platforms, display manufacturers are leaning heavily on quality upscaling to provide a market difference. And it makes quite a difference.
Start with a good 4K base, scale it up with one of the increasingly powerful and sophisticated real time scaling engines available, and you end up with a rich extravaganza for the eyeballs. Add in HDR and the visual feast is sumptuous.
A few years ago, the jump from 1080p to 4K was more noticeable than the leap from there to 8K. However, pundits like me were saying exactly the same thing – is the quality increase worth the cost? This time around, the scalers are far better so, although they are mining ever invisible pixels, they are doing so with smoothing and predictive algorithms that produce noticeably more luxuriant images.
Streaming or FTA?
To date, there are no local free-to-air broadcasts in 4K, let alone 8K. SD @ 1440 x 1080 is the best that we get here in Australia, not even the ubiquitous 1080p. Why not stream it then, you ask? Bandwidth is the obvious constraint, and with 20Mbps recommended by providers for 4K streams, serious connections of 50Mbps and more will be required for 8K delivery.
Internet bandwidth is another weak point in 21st century Australian techno-connectivity. My quaint rural 4G link struggles delivering 720p, particularly in prime viewing time, so I can't be the early adopter on this tech.
When our information infrastructure catches up with the world, we might all get to stream 8K. Until then, UHD content is best found on disc.
Cost / benefit ratio – is 8K worth it?
Let's face it – it always costs a lot to stay at the bleeding edge. Apart from the upfront capital outlay, there's no guarantee that you'll stay leader of the pack. In fact, it's inevitable that a new and better shiny will be just around the corner. And maybe a new standard to boot – if the UHDTV specs change or another one gets adopted, will the early run sets even be usable? This happened to tons of the maiden 4K sets, so caveat emptor.
Like foodie experiences from insta-packet to Michelin star dining, there are diminishing returns on resolution as the quality and price increase. You will get sustenance from two-minute noodles but that plus and much more from gourmet indulgence. Similarly, you can view grainy old video on an old B&W CRT, but the experience is not the same as with full high definition on a high-end modern screen, 2021 style. So it is with 8K. You spend twice as much as a 4K set, get four times as many pixels, but only a slightly improved viewing involvement.
Technically, 8K is better than 4K, but just how much does that enhance the viewing adventure? That's up to both the viewer's appreciation level and the technical quality of what they are watching. In general, you get what you pay for. Whether the 8K experience represents value to you is entirely subjective.
By the time this goes to print, we'll all be moving around a lot more freely. Why not take some time to head to your favourite screen vendor and have a look at 8K in the flesh? Then you can decide for yourself if this is a must-have upgrade or a pipe dream for techno-fetishism. You could just drool a bit, then wait for 16K. That's already a thing and coming soon enough. Just look for the flashy adverts.