Nortek Control releases feature-rich, software-based ELAN network video recorder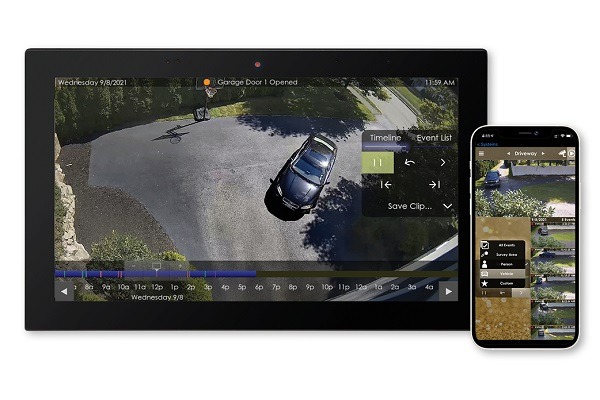 Nortek Control has launched the new ELAN 4-channel onboard network video recorder (NVR), a software-based recording solution for ELAN surveillance systems that are perfectly tailored to mid-market and smaller installations, expanding offerings for custom integrators, builders and homeowners.
With industry-unprecedented features, the new software maximises existing hardware and camera installations, making implementation of advanced surveillance features better and faster. Installers simply download the software license to an ELAN SC-100 or SC-300 System Controller, and the award-winning user interface provides full, native control.
The new ELAN 4-channel onboard NVR (model EL-SW-NVR) also offers superior timeline and event-based recording with playback that can be filtered by motion, people, vehicles and custom events.
Compelling highlights of the unique ELAN 4-Channel Onboard NVR include faster installation, setup and operation; 24/7 remote access and control via the ELAN mobile app; full control of video recording, playback and clip export via the system's intuitive interface; and when used with ELAN surveillance cameras, includes advanced video analytics and customized event tracking.
Use with ELAN cameras delivers the entire new feature implementation, plus the ELAN EL-SW-NVR software will also operate with any ONVIF compliant camera. Because the NVR records locally, this solution also provides privacy and security for homeowners.
"This is a game changer for smaller surveillance projects and expands our builder strategy and award-winning builder program," Nortek Control vice president of marketing Richard Pugnier says.
"The new ELAN 4-Channel Onboard NVR delivers premium features at an affordable price, plus seamless control that rises above any competition. Most builders today want to include a video doorbell in their home package, which typically requires the addition of an expensive NVR. Now they can offer the complete solution for a fraction of the cost.
"Like many of our product categories, this ELAN 4-Channel Onboard NVR gives our partners and Dealers another important opportunity to grow their business."