Newly-updated Modus VR design software platform debuted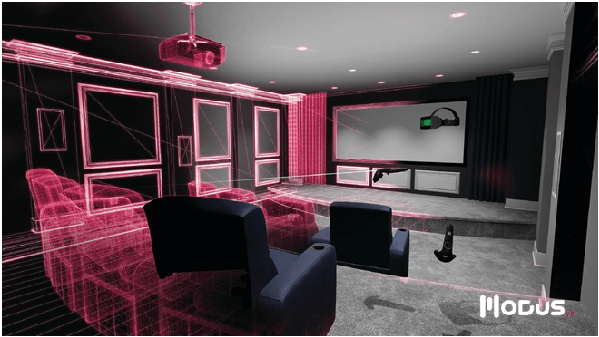 Modus VR, developer of the world's first virtual reality design software for media rooms and home theatres, has revealed an updated version of its design software platform at the CEDIA Expo 2019. All updates are available to all existing customers will no additional charge.
"In just 10 to 15 minutes, participants can experience what it feels like to design their own home theatre or media room –– all in virtual reality!" Modus VR co-founder Ken Brubeck says.
CEDIA Expo visitors in Denver had the opportunity to test out the newly-updated software with features such as an updated CAD export workflow, options for new virtual finishes, support for Windows Mixed Reality headsets and improved organisation of the virtual objects library.
Thanks to the updated CAD export workflow, integrators can export faster than ever. Using a simple interface, they can now create as many different views of the space as they need, and even add a company logo and information to PDFs for the ultimate in professional presentation.
Windows Mixed Reality headsets eliminate the need for external sensors and make setup and breakdown of the VR experience much easier and faster.
Some existing features have had cosmetic and functional upgrades including in-ceiling speakers with smaller bezels, recessed lighting with round and square options in four sizes and the ability to resize and decorate couches and ottomans.
Creating colour palettes has become much easier as well with designers being able to set up their own library of colour swatches, assign them to multiple objects and make sweeping changes in a matter of seconds.