New Zealand PM unveils digital artwork in Auckland's Aotea Centre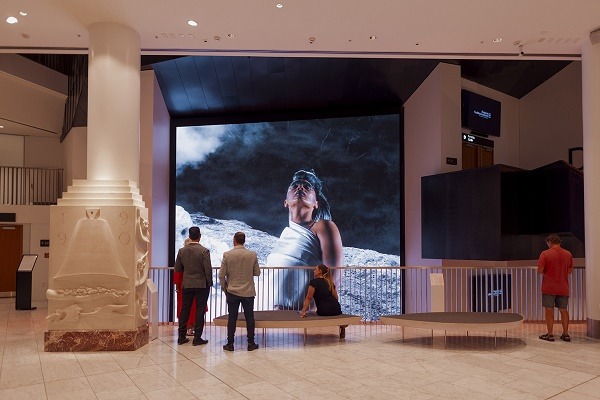 A large-scale digital artwork created by Lisa Reihana has been installed in the Aotea Centre foyer, commissioned by Regional Facilities Auckland (RFA) and unveiled by New Zealand Prime Minister Jacinta Arden.
ULA Group, working alongside the RFA and Auckland Live, delivered two floor-to-ceiling spaces on a 117m² VuePix Infiled digital platforms. Featuring the story of Ranginui and Papatūānuku, it is one of the largest and most significant works depicting Māori art in Aotearoa New Zealand.
"Our team has been working on this project for nearly a year and a half and it was a very proud moment for all of us when this magnificent artwork, displayed prominently in the Aotea foyer, was unveiled by Prime Minister Jacinda Ardern," ULA Group New Zealand branch manager Garth Reynolds.
"It has been a pleasure working with our long-standing client, Regional Facilities Auckland and we have proven yet again that ULA Group is a leader in LED screen technology and is capable of delivering projects of this magnitude and stature."
The two screens feature over 7.5 million pixels in total on 3.9mm QE LED panels which were fully-customisable in order to cater to the specific structural angles and features a perforated mesh screen border to seamlessly fit within the existing space.
The original content for the screen was designed pixel for pixel to match each video wall. It is controlled by Millumin 3 software, running off Mac hardware, connected to a BlackMagic eGPU Pro to integrate with two NovaStar MCTRL 4K processors.
"Our local New Zealand office is key in being able to offer great service and support, backed up by our Australian office, manufacturing facilities and exceptional local subcontractors. Partnering with HTS Group on this installation, the whole team have worked seamlessly to create a phenomenal result," Garth adds.
"Working with a distinguished artist like Lisa Reihana to bring her iconic work of art to life was an amazing experience and a true honour.
"We have appreciated this opportunity to be a part of the team to deliver one of the largest and most significant works of contemporary Māori art in Aotearoa, New Zealand."