Networking for businesses in 'unprecedented times'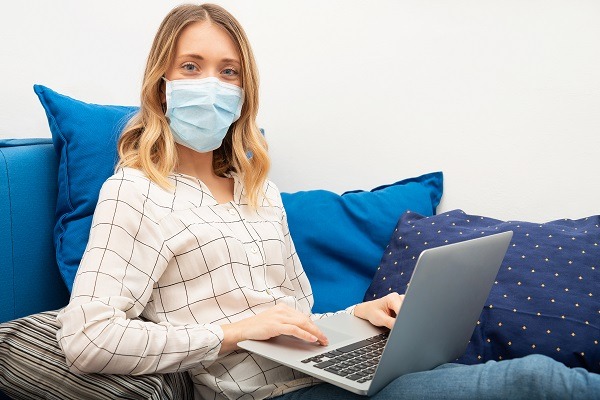 We live in unprecedented times. In lockdown, Geoff Meads looks at how the Coronavirus should be a wake-up call for our business models.
As I sit down to write this month's column, we in the UK are on an 'advised' lockdown thanks to the spread of the COVID-19 virus. Schools are shutting, groceries are in short supply and our daily lives are looking very different to how they were just a few short weeks ago. It's both a health and economic shock of a size that none of us have ever seen and it will inevitably take its toll on the finances of many businesses as well as the lifestyles of individuals.
While short, medium and long terms effects of the COVID-19 pandemic remain unclear it has already proved, if there were ever any doubt, that humans now turn to internet services to help us in times of crisis.
No more so than when seeking solid news and entertainment to pass the time.
At time of writing several countries such as China, Spain and Italy are in complete lockdown. Others have travel or group gathering restrictions. Workers are being encouraged to work from home, where possible, using cloud services and remote connections. Schools are closing, meaning whole families are spending their weekdays at home rather than at school or at work. Students and teachers are connecting from home to home via the internet for lessons.
All this connection means the networks that were designed and installed for 'normal' domestic use are experiencing higher than usual traffic.
In addition, the usability of our systems are under closer security as they are used at times and by users that, perhaps, they were not intended for.
Press coverage is already suggesting that mobile phone networks are experiencing issues relating to extra traffic and we expect broadband connections to be seeing the same pressure. So, let's consider what might be happening on the home network and, in turn, internet connections during the rather different lifestyle that we're currently experiencing.
Additional bandwidth
Firstly, home dwellers are making a wider use of video conferencing. Professionals working from home are attending more conference calls and families in isolation are turning to services, like Skype and Facetime, to keep in touch with friends and relatives. Where these conversations would normally be for physically distant parties, even those close by are resorting to video calls to maintain medical isolation.
Secondly, cloud file storage services like DropBox and Google Drive will see additional use as remote files such as company files are moved and synced between the remote devices of home workers. While these services are often tagged as low-priority in terms of network importance they will still be syncing over time and provide a continuous amount of traffic on the local network and internet connection.
Next, let's think about TV and film. With the whole family at home we can expect almost constant use of multiple TVs (especially for news feeds) plus Netflix and other IPTV services, online gaming and social media use. Basically, anything to pass the time while we're in isolation will likely come from the internet!
Impact for integrators
So, what does this mean for the integrator? Well one thing is for certain, we will receive an increased number of network-related service calls. In a well-planned network there should be plenty of internal bandwidth to support normal activity for a normal use-case. But this is not a normal use-case and some systems could potentially develop issues as a result.
Let's also think about the mental and physical state of our clients. Some will be sick, and it is at these times where our systems can really help our clients keep in contact with friends and family and provide assistance in some tasks. Some clients may also be frightened, especially those who are in high-risk groups, such as, the elderly or those with long-term health conditions. These factors mean dealing with our clients and their needs may become more fraught than normal.
Finally, integrators are staffed by human beings that can also become sick. Our contact with clients must change just
like our interactions with the general public must change. Distancing, avoiding casual contacts, such as, handshakes
and wearing additional barrier clothing, such as, gloves represents our 'new normal'.
What should we do?
Firstly, we should consider remote access systems to access a client's network to be an essential part of any install, not an option. These provide physical separation of client and integrator for medical reasons but also a quicker,
more ecological way to service systems. They give technicians an opportunity to diagnose and possibly fi x networks that aren't functioning optimally, especially when just a remote reboot of a device or two is required. If deeper fault finding is needed, remote access often gives us a lot of options for those times too.
Secondly, we should construct and sell a sensible care plan for all systems. This is one of those things we all know we
should do. However, relatively few integrators actually have them in place with clients. A service plan guarantees a certain service level for a fixed cost offering surety of service to a client but also a guaranteed income stream for integrators during difficult business periods.
Thirdly, we should keep a close eye on product updates, firmware upgrades and new installable product features.
These give us further opportunities to revisit client systems, either remotely or in person, and be proactive in looking
after them. These opportunities are a perfect way to keep in touch with a client once a system is completed and generate additional revenue.
Finally, consider fitting proactive network monitoring systems. There are plenty to choose from and clients just love it when the integrator calls or emails to let them know they've fixed a problem the client didn't even know they had yet!
Every problem and opportunity
For many integrators the current health crisis will be a huge worry. But with a little thought and creativity it could also be the wake-up call that is desperately needed to move their business to the next level.
In the meantime, please stay safe and healthy everyone.