NAV products bring benefits of fibre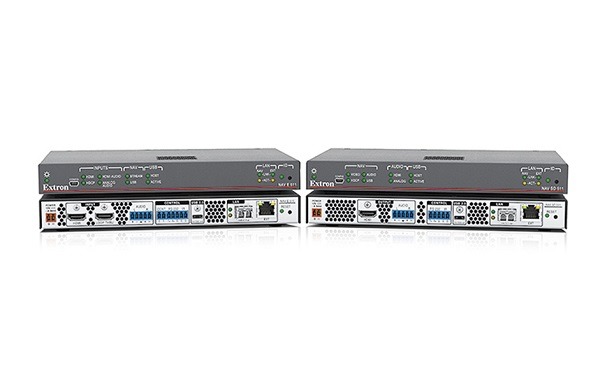 Extron has introduced two new NAV products that will enhance 1G NAV installations.
The NAV E 511 and NAV SD 511 fibre Pro AV over IP encoder and scaling decoder transmit ultra-low latency, visually lossless video, audio, USB and Ethernet signals over standard 1Gbps optical Ethernet.
Using the Extron patented PURE3 codec, the NAV Series delivers groundbreaking performance with real-time, lossless video at resolutions up to 4K @ 60 Hz with 4:4:4 chroma sampling. NAV 511 endpoints are fully compatible with NAV 1 and 10 Gbps encoders and decoders, increasing the flexibility, range, and scalability for large deployments.
Support for embedded digital HDMI and AES67 audio over IP facilitates flexible integration with DMP Plus DSPs or other IP-enabled audio components. Purpose-built to support demanding professional AV applications, the highly scalable and powerful NAV platform enables secure deployment of AV signals to thousands of endpoints.
Extron vice president of worldwide sales and marketing Casey Hall says: "We recognize the many benefits fibre installations provide in our popular NAV systems. That's why we created our new NAV 511 which offers the price point of a 1G system while supporting the increased range, noise immunity, security, and robust reliability of fibre optic transmission."