NAD CI 8-120 DSP Multichannel amplifier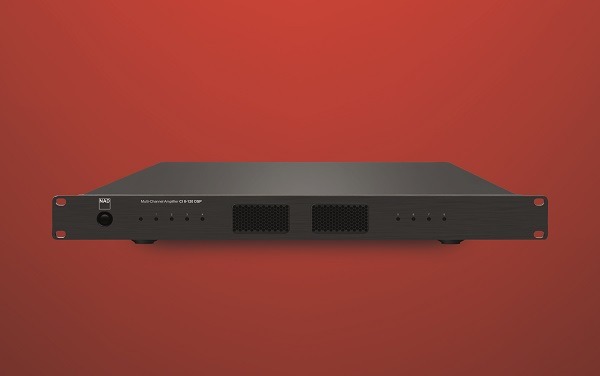 When you need a versatile, high performance amplifier, you can't go too far wrong with this sleek, effective option, writes Stephen Dawson.
Sometimes product names obscure. Sometimes they reveal. It's the latter with the NAD CI 8-120 DSP multichannel amplifier.
What is it?
At first glance, the NAD CI 8-120 DSP multichannel amplifier is a straightforward 8-channel analogue amplifier of the kind that's useful for multiroom installations, or perhaps for multichannel home theatre use. It certainly looks like it. It is designed for rack mounting. Indeed, the side ears are part of the front panel. It won't use too much space in the rack, though, standing 1U rack height.
(In the box, four feet and mounting screws are included in case you want to go for shelf or bench mounting.)
But let's look at that model name and see what it does reveal. NAD started in the early 1970s in the UK. Its founding trick was to design equipment with UK sensibilities, but have it built in low-cost countries with close quality assurance supervision. NAD was short for New Acoustic Dimension. (I know a little about this because for quite a few years I used a NAD 1020 preamplifier in my system.)
I'd say that the CI from CI 8-120 DSP doesn't stand for Australian distributor Convoy International, but for "Custom Install", since we'll see there are features that do suggest professional involvement in putting this unit in place. "8"? Eight channels of course. "120"? That's the headline power output of the unit. We should dwell on that for a moment. That 120 watts is an honest figure. That's the per-channel rated output of the unit into eight ohm loads, with all eight channels being driven at once, across the full audio bandwidth, at just 0.05% total harmonic distortion. The headline power rating for the usual home theatre receiver or amplifier is typically, at best, for just two channels driven.
There are indeed eight channels of inputs, eight loudspeaker outputs (via Euroblock terminals).
And there's more. The NAD CI-8-120DSP uses modified Hypex amplifier modules. These are highly efficient, wasting a relatively small amount of energy, and are very comfortable with lower impedance loads. Into four ohm loads the unit is rated at a modestly higher 135 watts into all eight channels. But, clearly, that's a power supply limitation. With only two channels running into four ohms, the unit is rated at 230 watts per channel.
And there's still more. Pairs of amplifiers can be bridged. You get to choose whether it's one, two, three or four pairs. As is usually the case, bridge mode outputs are restricted to a minimum of eight ohm loudspeaker loads. This unit can deliver 200 watts into that load with all four bridged channels running. If only a pair of bridged outputs are going, the output is a very impressive 320 watts per channel.
And that brings us to the last element of the model identifier: "DSP". A digital signal processor suggests that there's more going on here than a simple eight channel power amplifier. And indeed there is.
I suppose the general performance is the killer functionality of this amplifier. But so is the DSP flexibility. I'll get further into that below.
Of course, that kind of DSP stuff requires control. There is only one – just one! – physical control on this amplifier. That's the on/off switch on the front. All the other controls are accessible via the built-in web interface. That includes an individual 5-point parametric equaliser for each of the eight channels and extremely flexible signal routing.
There are two types of inputs. The simple ones are channels one to eight, which map by default to outputs one to eight. You can change these via the web interface to pretty much anything you like. Want input channel one to come out of all eight outputs? Easily done.
Then there are two sets of stereo "Global" inputs. Select Global A, and these will come out of all channels, overriding the individual inputs. Global B also overrides all the other inputs, except for Global A which overrides it.
You can set individual gain levels for all inputs – -6dB to +6dB in half-decibel steps – and individual gain offsets – same range – for all outputs.
Setting Up
The main manual isn't included with the unit, but you can easily download one – if you need it – from the NAD website. What is included is a quick setup guide which shows the basics on wiring and connecting the unit to your network. It even has a table showing the heat output of the unit at various power levels, so you can make sure there's adequate ventilation or active cooling in your equipment rack.
Connecting to the network did turn out to be rather harder than made out in the Quick Setup Guide. Remember, the unit works with Ethernet only, so there's no Wi-Fi hassle. You control it using a web interface built into the unit. So the only thing you need to do is plug it in and then type in its IP address into the web browser of a device on the same network. But how do you find the IP address? There are a couple of dozen active devices on my network, so it can be hard to work out which IP address belongs to which device.
The Guide says to "Use any network IP scanner to find your CI 8-120's Network ID (listed as the product name (NAD CI 8-120 DSP) immediately followed by the last six digits in the MAC." Unfortunately, the unit is not listed under any product name at all, at least in a way that my network could determine. I used the "Clients" listing of my router and two different IP scanners and it wasn't there.
The way to find the IP address is to use an IP scanner as the guide suggests, and then search for the MAC, which is printed on the back of the unit underneath the network port. (The MAC – Machine Access Control – number is unique to each individual product.) IP scanners typically display that. Or if you've only got one unit, you can look for the manufacturer, which is Lenbrook Industries Limited. Lenbrook is the parent company of NAD Electronics, as well as Bluesound and PSB Speakers.
If you install several units, once you've installed them its easy to differentiate between them. A switch on the front page of the web interface makes all the front panel lights flash continuously. You can enter a name for each unit (they're also identified by serial number). You can also type in a Project Name, Installer, Contact Number and Date of Installation. That's useful for custom installers.
Settings can be saved to a computer and reloaded so once you've achieve a satisfactory installation, you can experiment further, confident that you can restore your previous best effort.
In Use
As is often the case with devices offering real flexibility, it can take a little while to get your head around what's on offer here. It certainly took me a little while. I read through the manual a couple of times with the web interface up on a computer screen so I could play with things. It was worth it.
The main two pages are the one for setting the inputs and outputs, and another for adjusting the DSP. The Input/Output panel allows you to select (or not) either of the two Global inputs, which will be routed to all outputs, or individually assign to each of the eight outputs whichever input channels you want. You can set each pair of input channels to summed mono, which would be useful for many distributed audio systems. It is also on this panel where you can set pairs of output channels into Bridge mode. Since the setting is for each pair, you can do things like have two bridged channels and four unbridged. Finally, on this panel you can assign one of nine presets to each output channel. A preset contains DSP adjustments set in the DSP panel. So each output can have its own individually tailored sound corrections.
In this panel, as in the DSP panel, you adjust controls by clicking on a small dot on a control knob. That can be quite fiddly. But you can also directly key values into text boxes as well. Once I became familiar with the settings and ranges of settings, I found that the easiest way to make precise settings.
The DSP panel has a parametric equaliser with five bands, plus a low pass and high pass filter. Each parametric equaliser band has gain controls from -12dB to +12dB, a selectable centre frequency from 20 hertz to 20,000 hertz, and a controllable "Q" – which is the width of the effect. The low and high pass filters can likewise have their effective frequencies set across the full audio range, and can also have the slope of effect set to 6dB per octave, 12, 18 or 24dB per octave. All these changes – except for the steepness of those two filters – is shown in graph on the screen.
The setup panel includes a diagnostics section which shows, amongst other things, the unit's temperature and the status of the two cooling fans. The fans did produce a little noise so it's best not to install this amplifier in the actual listening space.
The amplifier drove all my speakers – including the low impedance ones – to produce quality sound. The results were clean and authoritative.
Conclusion
The NAD CI 8-120 DSP is an effective, high performance, and extremely flexible amplifier. It's hard to think of too many installations where it wouldn't be useful.