Digital displays are, more and more, becoming part of our everyday experience. Whether it's an info board at a train station, or an office display that we need to connect to, wireless collaboration is now in high demand. Anna Hayes found out more about new solution, Ditto.
Almost every aspect of our lives has migrated to a screen. We write letters to each other and send them instantly – on a screen. We order a burger at a fast-food restaurant – on a screen, either in the venue or from the comfort of our home. We get lost… we consult a screen.
Of course, all of the above could be our phone but they could also be in-house digital signage that provides the function of wayfinding, retail orders, etc.
To that end, sharing content to these screens needs to be a simple process, whether it's loading advertising content or information onto a public display, or connecting to an LED display for a class or a meeting.
That's where Ditto comes in.
Australian distributor SAI Technology Group has recently acquired a suite of wireless collaboration solutions, chief among them being Ditto, an easy-to-use screen mirroring and digital signage entirely software-based solution.
SAITECH Systems' managing director Troy Streat says the company aims to inspire digital workplaces for all environments, offering solutions that anticipate the future needs of businesses and education providers.
He adds: "The requirement for simple-to-use, easy-to-deploy and easy-to-manage screen sharing and digital signage is proven and now needs to scale."
Ditto is a versatile product, aimed towards schools, enterprise and hospitality locations worldwide.
Share the love
Ditto offers a robust set of features in the area of screen mirroring, allowing users to share content easily, including the ability to share up to four devices to the same display at the same time. In an education space, it will let the user mirror a device to multiple displays simultaneously, perfect in a large lecture hall or a 360° learning space.
Troy says: "Ditto allows users to fully utilise all displays in the desired space to ensure optimal viewing of the shared content, while multi-device mirroring eliminates the need for device switching, allowing for better real-time collaboration with side-by-side sharing."
Ditto is compatible with all of the main operating systems allowing for a complete and consistent screen mirroring experience across all systems.
Using Squirrels Streaming Protocol, Ditto also offers greater stability than native protocols like AirPlay, Google Cast and Miracast.
Organisations can also add their own branding and backgrounds to end-user Ditto apps in order to deliver a personalised collaboration experience.
At the moment, a lot of stock is being placed in data and analysing how spaces and devices are used as we continue along the path of hybrid working environment. To correspond, Ditto offers in-depth reporting metrics that can highlight the true impact it brings to an organisation.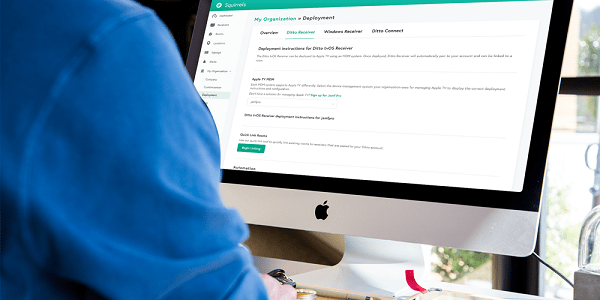 Give me a sign
In the digital signage space, Ditto also aims for simplicity and efficiency – it offers a wide range of templates for digital signage creators and runs on common devices like Apple TV and Windows, with no special hardware required.
Troy remarks: "Users can quickly and easily create digital signage without any graphic design skills. And Ditto lets you use devices you know and trust, meaning you can avoid acquiring, deploying and having to periodically replace signage-specific hardware."
The software lets you set up a signage schedule, upload your own media assets, display signage with audio (which is more impactful and memorable to an audience), and send emergency notifications to all displays in such situations.
Ditto's account portal features: remote centralised management, MDM compatibility, simple setup including a setup wizard, access control through account users, and management by location settings.
The best part about all of this is that all of these features are included in one price – in most cases, solutions with extra functionality would cost extra.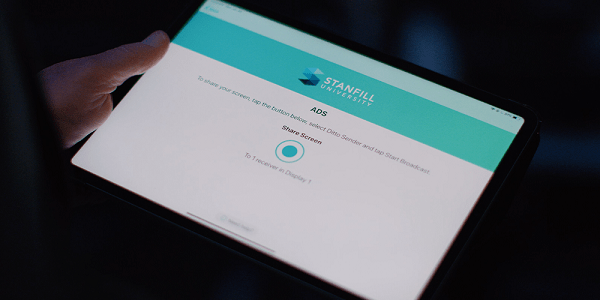 Walking the walk
To get a true picture of the impact that Ditto can have on a collaboration space, users need look no further than Mount St Benedict College in Sydney where screen mirroring and display had become an issue. HDMI cables limited teacher mobility and wireless technology was often inconsistent.
The school's ICT desktop and server administrator Janet Wilson says: "Teachers need to be able to roam around a classroom and teach from any location in the room. They can't be tied to their desk with an HDMI cable."
The school went to market for a wireless solution that was cost effective and met four criteria: stability, simplicity, consistency, and efficiency.
The first step was choosing the hardware – Apple TVs were selected as each classroom's screen-mirroring receiver. However, in selecting screen-mirroring software, network congestion became a big issue due to the number of receivers at the school (over 100 Apple TVs).
Janet explains: "As teachers moved from room to room, the screen-mirroring software on their Windows devices searched for available Apple TVs. Quite often, the TV for the room they were in wasn't listed. We needed something much more stable because teachers can't spend the first five or ten minutes of class trying to establish a connection."
With Ditto, the connection issues disappeared because each receiver unit is assigned a unique room code during setup. This meant devices did not need to search for the correct receiver, simply input a code that would pair the two together.
The school now has more than 100 Ditto-enabled rooms and will establish an estimated 100,000+ wireless connections per year using the software.
Janet remarks: "What we found through the first term of this year is virtually no calls to the service desk for connection issues. That was unheard of, there were always problems in the past. Our staff now has a reliable wireless mirroring service, and a significant amount of teaching time has been reclaimed."
To find out more about Ditto's wireless collaboration solutions, log on to: https://saitech.systems/ditto/ or email: [email protected]
ADVERTISEMENT

ADVERTISEMENT
ADVERTISEMENT

ADVERTISEMENT