Midwich teams up with Fusion Signage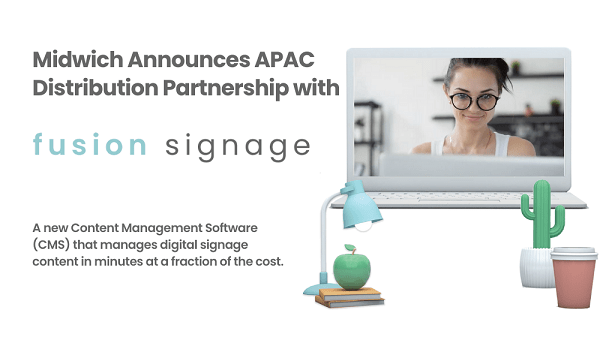 Midwich Australia has announced a new distribution partnership with Australian digital signage and content management software (CMS) company, Fusion Signage.
Based in Brisbane, Fusion Signage is the brainchild of husband-and-wife team, James and Emily Ingram, who co-founded specialised digital signage and design agency, Prendi, almost ten years ago. Six years later, they now offer a way for businesses to manage digital signage content in minutes, at a fraction of the cost.
"After years of building custom solutions for clients, we recognised a gap in the market for a stripped-back CMS that offered the functionality clients frequently used, without the clutter. We founded Fusion Signage to be the cost-effective, simple and intuitive software platform that makes digital signage easy for small and large businesses," explains James Ingram, managing director, Fusion Signage.
Fusion Signage CMS offers exact and streamlined tools to assist businesses with elevating their relevance, customer experience and bring excitement to audiences in an affordable, flexible solution with an emphasis on functionality.
Designed with ease-of-use in mind, Fusion Signage is a cloud-based product with features based on feedback from end users and an intuitive interface built to be simple, yet powerful. Businesses may schedule content in advance and deliver automatic updates, as required.
Flexibility is delivered via no lock-in contracts and a variety of subscription license options with annual, three-year or five-year licences available. The software is compatible with a range of platforms such as Android, BrightSign, ChromeOS, Linux, Tizen, WebOS and Windows.
Midwich managing director Michael Broadbent says: "Digital signage is an exciting and dynamic way for businesses to inform, entertain and delight individuals across a wide range of industries and facilitating its deployment in a way that is simple to navigate is business-critical. Retail, hospitality, medical, education – even real estate and aged care – all sectors are embracing this technology and Midwich is delighted to be supporting Fusion Signage who are an Australian success story."