Meridian Audio now certified by Works with Sonos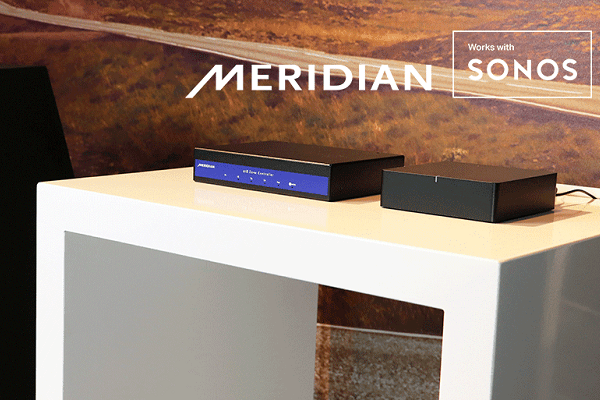 Meridian Audio is now certified by the Works with Sonos program which offers integration for its premium audio equipment to seamlessly connect with the Sonos sound system.
The integration makes it easier for customers to use Meridian's audio quality while streaming from more than 100 music services available through the Sonos app. The Sonos app can also instantly wake and change inputs by pressing play.
Works with Sonos certifies products that seamlessly connect with the Sonos home sound system. The integration is available by simply pairing a Sonos Port or Connect with a Meridian 218 or 251 controller, and any loudspeakers that are connected to the controller.
"I'm delighted that we have added a certified Works with Sonos integration to our award-winning zone controllers," Meridian director of sales Barry Sheldrick says.
"This is a key move in enabling integrators to easily connect a high-performance zone from Meridian, whilst offering the client the Sonos user interface that they know and love. Sonos is an incredibly popular platform that supports so many streaming services. Combining this flexibility with our resolution enhancement technologies and incredible loudspeakers is a perfect partnership."
To set it up, integrators must connect Sonos Port or Sonos Connect to the coax digital input on the Meridian controller. By setting the Sonos product to 'Pass Through' in the Sonos app, it ensures a fixed digital output that will provide maximum resolution at all times
Once set up, the Meridian system can be grouped with other Sonos devices on the network using the Sonos app or it can be enjoyed independently.
Any product that is plugged into the Meridian controller and compatible with higher resolution audio benefits from a full suite of resolution enhancements. This means that the audio that is streamed from the Sonos S2 app will benefit from de-jittering, Fifo, upsampling and apodising, which is designed to take a standard resolution source and increase that resolution.
"We've already had fantastic feedback from integrators who have been on our beta test program," Barry adds.
"They see this as a great opportunity for their clients and their business. A simple, scalable solution, offering the best possible audio quality from Sonos' great user experience."