McIntosh releases the MCD85 two channel SACD/CD player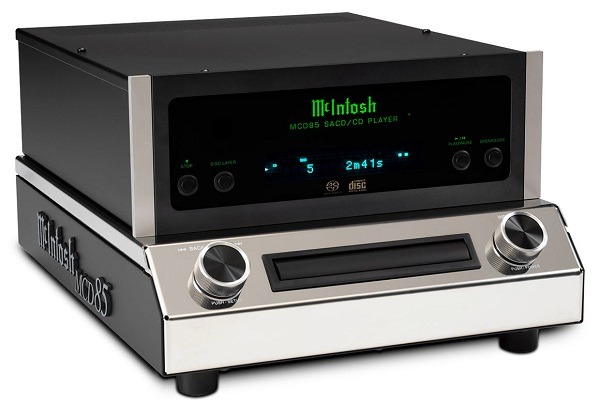 McIntosh Laboratory has released the MCD85 SACD and CD player which plays a number of file formats including AAC, AIFF, ALAC, DSD, FLAC, MP3, WAV and WMA.
The USB Audio input supports up to DSD256 and DXD 384kHz and can be used to stream digital music from a computer or other digital storage device. There are two coax and two optical digital inputs that support PCM signals up to 192kHz.
Conversion of the digital data stored on the discs or in the digital music stream into an analogue signal for playback is performed by a quad balanced, eight-channel, 32-bit/192kHz digital-to-analogue Converter (DAC).
Four DAC channels are dedicated to the left audio channel, and four to the right audio channel to ensure exceptional stereo sound reproduction.
The MCD85 employs a two-times read speed allowing data to be stored in a buffer memory for better error correction and tracking.
The tray features a new, custom front bevelled nose to match the angle of the chassis and provides smooth and quiet disc handling.