The world of finance, whether it's in the corporate office or the home office, is a fast-paced one and employees need the right technology to ensure they're up to the pace. Anna Hayes found out more about ATEN and its KVM solution.
The days of walking into your office and finding a corner desk with a single, solitary computer on it are gone – long gone. Especially when you consider that very few of us have walked into our office lately but that's a different issue.
The point is that office spaces have evolved tremendously in recent times – we've got desks that will electronically rise or lower to suit the user, standing desks, ergonomic chairs to help our posture and, most notably large, clear screens to allow us to better see what we're doing.
In many cases, there's a number of large screens in addition to a laptop and/or a handheld device as well.
But how do all of these items work together? They might be different brands, different models and, as mentioned, entirely different types of devices.
Since 1979, ATEN has been pioneering devices that abide by their mission statement and motto, 'Simply Better Connections', providing innovative solutions for seamless connectivity in the professional and personal space.
ATEN product manager Matthew Jones says that just the introduction of the PC into an office space changed things forever: "The realisation that computers could increase our productivity in such a way has had a snowball effect on our expectations of technology, where pushing the barriers in terms of what can be done in how much time has resulted in faster and more capable computing power."
With centralised file servers, work today is flexible and can be done from everywhere. This has become possible through the internet and network switches which entered the workplace towards the end of the last century. Data centralisation came later.
This evolution, Matthew says, has led to an increased capacity to perform complex tasks and calculations, as well as the need to use multiple applications.
In ATEN's small/home office and small to medium sized business spaces, it has championed a series of cable KVM, desktop KVM and LCD KVM solutions and that's where its newest product, the 3-Port USB-C DisplayPort Hybrid KVMP Switch, the CS1953, comes to attention.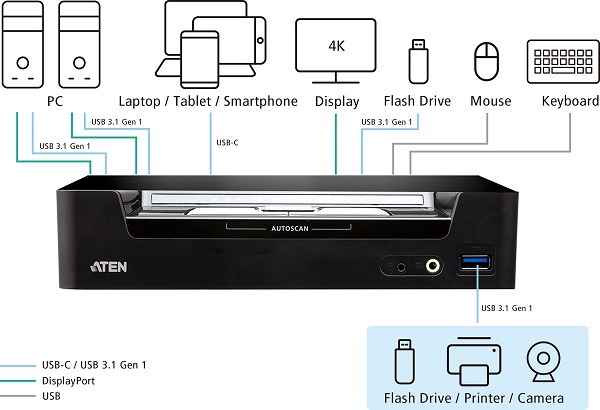 The CS1953 is the glue that holds all of the previous components together, creating one highly-functioning, top-quality desktop experience for the user, and a more productive working environment.
Matthew remarks: "The CS1953 KVM switch answers the need for increased productivity by facilitating the use of up to three computers simultaneously."
The CS1953 is a first for the industry, boasting unique USB-C capability to combine mobility and ergonomic desktop style. By connecting to PCs and a display unit through DisplayPort connections, users can enjoy a high-performance viewing experience with fast switching between the computers.
With the USB-C connectivity, you can also connect your mobile phone and let it charge while you power through your tasks which, with numerous screens attached, can all be displayed together.
"The USB-C interface is becoming increasingly popular on devices such as laptops, tablets and smartphones. The interface itself supports high data throughput and boasts a small physical footprint, which makes it perfect for devices where space comes at a premium," Matthew says.
The DisplayPort connectivity also brings superior 4K viewing quality to your desktop, revealing all of your visual content, text and numerical digits in outstanding precision.
As a compact, plug-and-play unit, it is easy to set up and is very space-cost efficient, meaning you don't have a glut of wires stretched across your workspace.
The CS1953 also features SuperSpeed data access, clocking up a superb 5 Gbps data transfer to connected USB 3.1 peripherals, including cameras, printers, USB flash drives and more.
Switching is a breeze too, with options to use a hotkey, the mouse, a button on the unit itself or a remote port selector.
Matthew adds: "As modern workplaces continue to evolve, and workers become increasingly mobile and fluid in the way they work, further development in this space will be seen across all market verticals. Key features will include support for audio, video, large data throughput as well as provision for power charging."
The CS1953 is a great addition to anyone who needs increased productivity and high precision for multitasking between computers to monitor diverse data and indicators in trading and sales charts, such as financial and market analysts. In addition, these multi-computer setups can serve as a backup to avoid downtime and financial losses caused by potential equipment failure.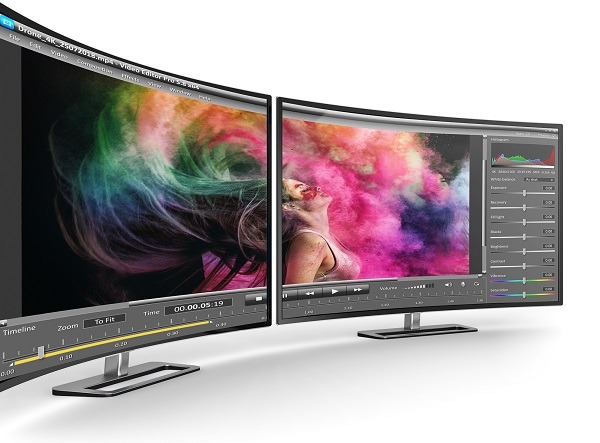 The CS1953 was designed with the finance market in mind but can be applied across any verticals where there is a need to have access to multiple computers immediately, such as architecture, graphic design, etc.
Matthew says: "It is ideal for those who need to be able to switch quickly from one device to another to handle heavy data processing such as government contractors or staff, marketing professionals, engineers, etc. In addition, in the context of finance, these multi-computer setups can serve as a backup to avoid downtime and financial losses caused by potential equipment failure."
One of the big plus factors of this advice is the ability to support mobile devices while underpinning compatibility with traditional computers. Many might prefer to use a mobile device but these devices have yet to oust the laptop or desktop in the work place.
Matthew says: "Support for the two technologies is the difference that ATEN sought to achieve by producing the CS1953. It's this flexibility to permit use with the latest technology as well as workstations that gives the CS1953 the edge over conventional KVM switches.
Feel free to give the ATEN team a call on 02 9114 9933 or email: [email protected]
ADVERTISEMENT

ADVERTISEMENT
ADVERTISEMENT

ADVERTISEMENT