Luxul Presents New 18-Port/16 PoE+ and 12-Port/8 PoE+ Managed Gigabit Switches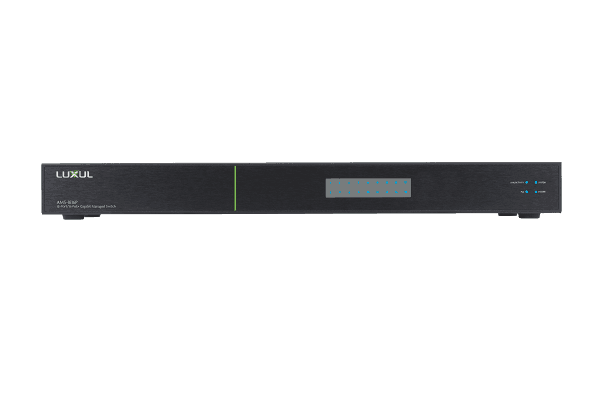 Luxul, has introduced its family of managed Gigabit switches with two new solutions that bring enterprise-level performance and features to the CI industry: the 18-port/16 PoE+ L2/L3 AMS- 1816P and 12-port/8 PoE+ XMS-1208P.
The AMS-1816P and XMS-1208P combine plug-and-play installation, QoS and VLAN support, and fast switching capacity. Both switches also include port auto-recovery and power scheduling, ensuring system reliability and uptime.
Port auto-recovery allows the switch to power cycle unresponsive PoE devices, and port power scheduling allows switch PoE ports to be turned on or off on a schedule. With 18 ports, the AMS- 1816P is ideal for mid-size AV applications and system expansions that require a switch with more than 12 ports and fewer than 26. With 12 ports, the XMS-1208P is optimized for smaller security
and VoIP systems, where it can function as a stand-alone device or an add-on switch.
For network expansion in larger installations, the AMS-1816P is equipped with two 10 Gigabit RJ- 45/SFP+ combo ports, allowing for high-speed interconnection between SFP+ compatible Luxul
switches. The XMS-1208P features two Gigabit RJ-45 ports and two SFP ports, which enable integrators to connect devices or to additional switches via an Ethernet cable or a fiber-optic cable
when using SFP modules (sold separately).
In addition, the switches' PoE+ ports are suited for expanding networks using PoE-enabled devices such as touchpanels, VoIP, IP cameras, and wireless access points. To simplify installations, PoE+ allows integrators to use standard Ethernet cables to deliver both power and high-speed data to 802.3/af/at-compliant devices, with a total power budget of 185 W for the AMS-1816P and 130 W for the XMS-1208P.
The AMS-1816P features rear panel ports; user-selectable, front-facing green or blue LEDs; variable speed fans for quiet operation; and a compact design with a depth of 8.25 inches in a 19-inch rack-mount enclosure. The XMS-1208P offers front-facing ports, a fanless design, and can be mounted in a rack or on a flat surface.