Lightware announces new and upcoming products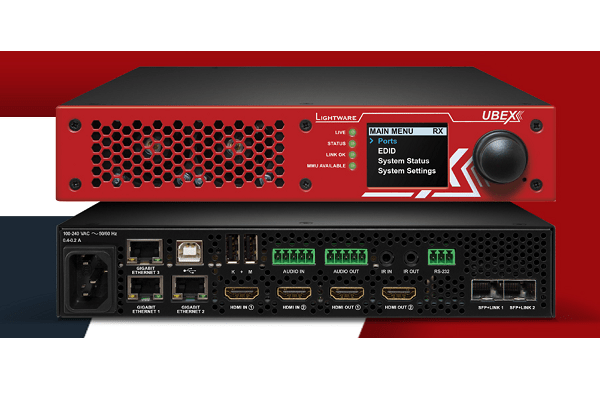 Lightware has announced a range of new and upcoming products, which includes new matrix switchers, rack-mountable powertrays, bandwith extenders, matrix management units and floorplates.
New Matrix Switchers
Two new matrix switcher models, the MMX8x4-HT420M and MMX8x4-HT400MC, have 8×4 HDMI crosspoints that offer more options for embedding and de-embedding audio with the help of the user-selectable bi-directional analog audio ports. Another model in the series, the MMX8x8-HDMI-4K-A, features 8×8 HDMI I/O ports, front panel crosspoint selector buttons and analog audio ports, while the IR, RS-232 and Ethernet ports serve the built-in Event Manager room control feature.
Rack-mountable PowerTray For 16x OPTJ Optical Extenders
Lightware's new PowerTray is a 1RU size housing accessory which can enclose up to 16 HDMI20-OPTJ- TX/RX90 units, also providing a power source for every installed device. The optical fibers can be connected to four Neutrik OpticalCON Quad connectors, each carrying four signal fibers from four of the extenders.
The HDMI tail cables of the extenders are accessible directly at the back of the PowerTray.
UBEX Ultra Bandwidth Extender
UBEX is an optical fiber based AV Over IP video system product line, designed to transfer 4K UHD @ 60 Hz 4:4:4 signals uncompressed on a 10 Gbit Ethernet network.
UBEX can operate both point-to-point and also as a networked AV system. Each UBEX can operate in sender or receiver modes, and also as a transceiver unit, and switching among these operation modes can be performed by a firmware change.
A virtual matrix system can be built using UBEX units as input and output endpoints and by including a standard Ethernet switch as a crosspoint. The device has dual, field-replaceable SFP+ optical modules, with extension distances ranging between 400 m with MultiMode (MM), and 80 km with Singlemode (SM).
UBEX Matrix Management Unit UBEX-MMU-X200 is a Matrix Management Unit (MMU) for the UBEX AV Over IP optical extender product line.
With a standard Ethernet switch installed as crosspoint, a virtual matrix can be created with UBEX devices connected to the IP network as input and output endpoints. The established virtual matrix requires control and management by the MMU, which must also be connected to the Ethernet switch.
MX2-16X16-HDMI20 Series & MX2-24X24-HDMI20 Series
Soon, 16×16 and 24×24 crosspoint versions will join the MX2 lineup, with optional audio embedding and de-embedding capabilities in the case of MX2-16×16-HDMI20-Audio and MX2-24×24-HDMI20-Audio.
The models without the audio add-on, MX2-16×16-HDMI20 and MX2-24×24-HDMI20 are designed for the Rental and Staging segment, featuring front panel crosspoint selection buttons.
UMX Series Floorplate for VGA, HDMI and DisplayPort
The FP-UMX-TPS-TX130-MKM is Lightware's flagship model in the Lightware TPS (HDBaseTTM Transmitter) product family. The device can transmit universal video, audio and control up to a 170m distance over a single CAT cable in dynamically changing environments such as small board rooms and classrooms.
The extender was designed to handle digital and analog video and audio signals: VGA, YPrPb, HDMI1.4 and DP 1.1 with analog stereo audio from local inputs or embedded 7.1 HBR audio. Analog signals (both audio and video) are converted into digital formats. The audio and the video signal can be transmitted separately from each other.
The unit offers bi-directional and transparent RS232 and Ethernet transmission and unidirectional and transparent IR transmission. The RS232 connection supports command injection. Remote powering is available through a single CAT 5e – CAT 7 cable, but local power supply can also be used. FP-UMX-TPS-TX130-MKM is compatible with both the HDBaseTTM extenders and matrix switchers.
Powered Rackmount Cage for 16 Extenders
PRC-16-205 is a rack mount cage accessory enclosing up to 16x VINX-120-HDMI-ENC or VINX-110-HDMI- DEC units in any combination, also providing power source for every installed device.
Reliable, safe and secure operation is assured by numerous built-in protections against short circuits and overloads.
6x GPIO Trigger Button Panel for Event Manager Built-in Control
TBP6-EU-K Button Panel was designed to be used with the Event Manager built-in control feature in select Lightware matrix switcher and extender products.
The button panel can be installed in meeting rooms to perform basic system control actions like input selection, switching the system on/off, increasing or lowering the volume, etc. This product has a status LED and a backlight, which are fed from the 7th pin of the GPIO connector. The backlight can be switched off, or its intensity can be set to two levels with the help of traditional jumper switches.