LG expands suite of health protocol solutions for reopening businesses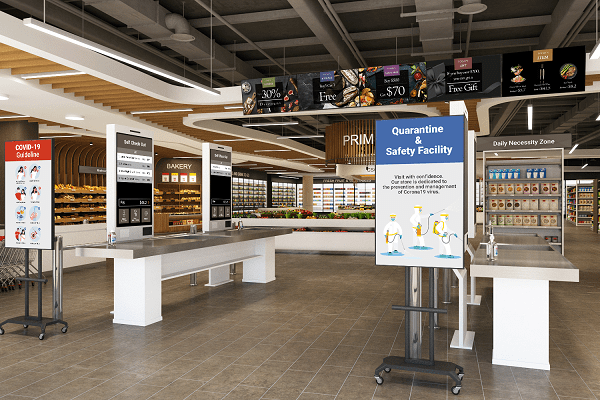 As businesses around the world reopen amid the COVID-19 pandemic, LG Business Solutions has expanded its suite of health protocol solutions with new digital signage packages that businesses can use to create eye-catching platforms to provide information, guidance, wayfinding and interactive experiences.
LG partnered with other technology providers to offer an array of new options including wellness kiosks, occupancy management systems, portable battery-operated solutions and even contactless interactive digital signage displays.
"Digital signage solutions are enabling businesses to be flexible and accommodating while the nation responds to changing public health guidance and varying in-store regulations," LG Business Solutions USA vice president of business development Dan Smith says.
"These purpose-built digital signage solutions combine LG's leading displays with the industry's top sensors and software.
"They're designed to help retail stores, schools, transit centers and public venues address specific needs that are unique to the current consumer environment, including greater information sharing, customer health monitoring and occupancy tracking."
The new Wellness Kiosk solutions provide information, health equipment and peace of mind to customers in any type of physical store environment. The upright, rectangular system includes a thermal scanner for temperature readings integrated with a 22" or 32" LG digital webOS Signage display for displaying health information.
The system has a motion-activated hand sanitiser dispenser along with slots to hold boxes of gloves or masks. As a compact all-in-one solution, no additional components are required.
Many retail stores and public venues are tracking real-time occupancy to abide by local and internal policies. The LG Occupancy Management solutions aim to reduce staff workload by automatically tracking when customers enter and exit while also providing guidance to incoming customers.
The systems are 49" and 55" LG displays  married with a separate media player that helps manage inflow by updating arriving customers to wait times or current store occupancy.
More information on these solutions and others that LG are offering including health protocol signage, contactless interactive solutions and more, can be found on the website.