Legrand | AV's flexible rack solution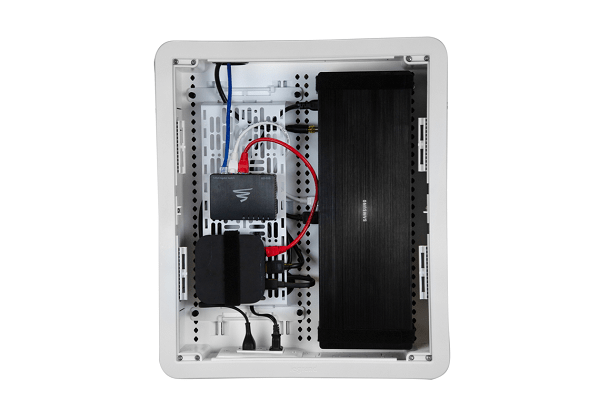 Legrand | AV is now shipping its new CTA 2021 Mark of Excellence award-winning On-Q Dual-Purpose In-Wall Enclosures.
Offered in nine-inch and 17-inch form factors, the enclosures can be used for AV storage behind a TV or as enclosures for structured wiring.
When placed behind a TV, the enclosures are designed to conveniently house cable boxes, streaming players, and more. The 17-inch solution is also compatible with the popular 4K and 8K Samsung One-Connect Box, while its split cover was designed for use with split-rail TV mounts, allowing integrators to access components after the TV mount is installed.
Additional access is provided by open channels at the top and bottom of the enclosure, which also provide passive ventilation.
When used as enclosures for structured wiring, the Dual-Purpose In-Wall Enclosures provide a centralized area to store video, voice, and data components, such as Luxul's new compact 4-port SW-100-04P and 8-port SW-100-08P Gigabit PoE+ switches. The in-wall boxes' WiFi-transparent ABS plastic construction ensures a strong signal from ISP modems/wireless routers.
The 17-inch solution's split cover accommodates tight installations — such as behind closet shelving — enabling users to access components without obstructions. The boxes' top and bottom channels can be sealed with included inserts to keep out debris and dust.
For installation flexibility, the 9-inch and 17-inch solutions are available with a 5-inch mounting plate. The solutions are compatible with both On-Q structured wiring modules and those from other manufacturers.
Legrand | AV On-Q product manager James Rutherford says the new enclosures represent the next step in the evolution of plastic enclosures and the role they play in bringing the connected home to life.
"Whether used for storage behind the TV or as structured wiring enclosures, the units combine unmatched flexibility with convenient features — such as a split cover and included trim ring — that have made On-Q the go-to brand for installers."