LASER announces new longer HDMI cables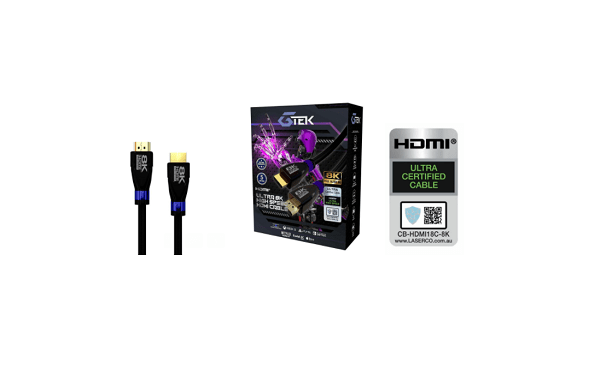 The Australian-owned consumer electronics company LASER has announced two new additions to its Gtek-branded range of Ultra Certified HDMI cables.
The HDMI 2.1 cables will now be available in 3M and 5M lengths.
Be it for gaming consoles, the latest televisions, projectors and other home theatre equipment, the newest cable lengths mean more convenience than ever before especially for installations that require additional length, while still delivering the maximum 48Gbps bandwidth between devices, almost triple the bandwidth of non-HDMI 2.1 cables.
It means support for 4K@120Hz and 8K@60Hz video, Dynamic HDR and all other HDMI 2.1 features is certified and guaranteed.
With Ultra High Speed 2.1 Certified cables, consumers can enjoy higher resolution and refresh rates, Enhanced ARC (eARC) as well as more bandwidth to carry Dolby Atmos and DTS:X uncompressed.
Such performance and value are backed by a lifetime guarantee and also a connection guarantee. This gives consumers the ultimate peace of mind that the latest technology will work be it the latest Xbox Series X, Sony PlayStation 5, the latest Foxtel IQ box or any other technology benefiting from HDMI 2.1 moving forward.
LASER managing director Chris Lau says they know that consumers and the industry alike have been waiting for the ability to deliver HDMI 2.1 Ultra Certified cables in longer lengths.
"It is a frustration we have heard many times over so we are delighted to be the first in Australia to offer HDMI 2.1 at lengths that will solve a real headache for consumers and ensure more people than ever will realise the true potential of their technology through very affordable cables that come with a lifetime performance warranty," he says.