Larry Pexton to be inducted as CEDIA Fellow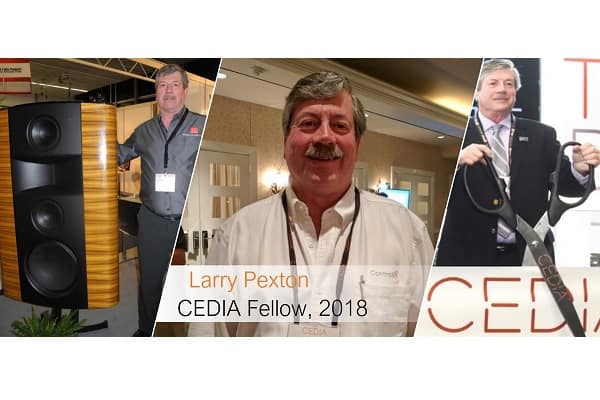 CEDIA has announced Larry Pexton will be inducted to the CEDIA Fellows program at CEDIA Expo 2018.
The CEDIA Fellows program honours long-time CEDIA members and volunteers who have contributed significantly to the association's success. Larry will be recognised at the CEDIA Awards Celebration hosted at Petco Park on Wednesday September 5 2018.
"During his tenure as Chairman of the CEDIA Board, Larry oversaw a number of important projects and initiatives that have had a lasting impact for the CEDIA community, including the CEDIA rebrand in 2015, the expansion of CEDIA into new global markets, and initiating the research process for the new global headquarters," says CEDIA chairman Dave Humphries.
Larry is well known as the founder and only CEO of Triad Speakers based in Portland, Oregon. The company is a founding member of CEDIA and has been manufacturing custom loudspeakers since 1982. The company grew out of Aspen Recreational Products which manufactured a pre-Walkman cassette player designed for skiing.
In 2017, Triad was acquired by Control4 Corporation. Larry remains part of the Triad team, consulting on strategic issues and product development.
Larry was part the CEDIA Board from 2009 to 2016 and served as Chairman for the 2014 and 2015 term while being a part of the CEDIA Technology Advisory Council from 2014 – 2016. He continues to serve on the CEDIA Building Committee.
"It is very satisfying to see how well the CEDIA Board and staff continue to perform. Having seen the organisation grow and develop from its earliest days, I am very proud of how far CEDIA has come and I have nothing but great anticipation for future success," says Larry.
Tickets for the CEDIA Awards Celebration are available through the CEDIA 2018 registration system. CEDIA Expo will be held September 4-8 at the San Diego Convention Centre. The show floor will be open September 6-8.