Kramer releases new versatile switcher/scaler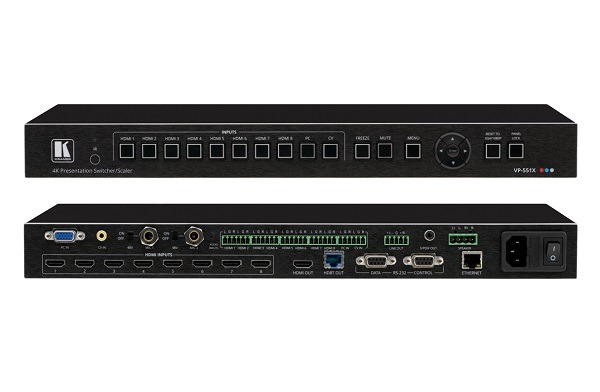 Kramer's new VP-551X is a versatile, professional presentation scaler/switcher for 4K@60 (4:4:4) HDMI, VGA, and composite video signals.
The unit scales the video and provides options to use the embedded HDMI audio or to select the companion audio channel from one of ten analog audio input signals. After processing and scaling, the embedded AV signal is sent to the HDMI and the HDBaseT outputs simultaneously, and the audio is also sent to a balanced stereo audio output, S/PDIF digital output and a pair of loudspeakers.
In terms of video, the unit complies with HDCP 2.2, supports HDR10, CEC, xvYCC colour (on input), Dolby TrueHD/DTS-HD Master Audio (by-pass), as specified in HDMI 2.0.
It also provides selectable aspect ratios and includes built-in ProcAmp for colour, hue, sharpness, noise, contrast and brightness control. It also supports PixPerfect.
From an audio perspective, it provides versatile options including a companion analogue audio input for each of the ten video inputs, enabling the user to embed a separate analogue audio channel into each video signal or to bypass an embedded audio input (for example, to support multi-channel, compressed audio formats like Dolby and DTS).
Two independent microphone inputs on 6.3mm connectors are also included for mixing, switching, or talk-over. On the output, besides the audio embedded on HDMI and HDBaseT outputs, the audio signal is also extracted (de-embedded) and output as balanced stereo analog audio, and as digital audio through an S/PDIF connected device, as well as amplified to 20W per channel for connection to loudspeakers.
The VP-551X is ideal for projection systems in conference rooms, boardrooms, hotels and churches, as well as home theatre up-scaling setups.