Extron introduces new USB extenders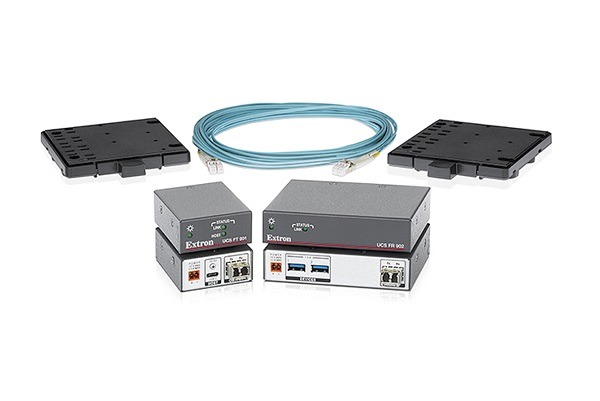 Extron has unveiled the UCS 900 Series of fibre optic SuperSpeed USB extenders that extend USB data signals from peripheral devices to a host computer over fibre optic cable.
These extenders are compatible with all USB standards up to USB 3.2 including previous standards, and support data rates up to 5 Gbps.
The UCS FTR 900 Kit includes a transmitter, receiver, 10m (32.8 foot) multimode fibre optic cable, power supplies, and ZipClip mounting brackets for easy, secure mounting of the transmitter and receiver in furniture, behind a display, or under a desk. The transmitter features a USB-C host connection and can be powered by the host computer. The receiver features a two port USB hub for connecting remote peripherals. The UCS 900 Series easily extends USB cameras, conference systems, and peripherals such as mass storage devices, keyboards, and mice in pro AV environments.
Extron vice president of worldwide sales and marketing, Casey Hall says the rise of unified communications has resulted in more spaces requiring USB camera extension.
"Extron has responded to this need with our new SuperSpeed USB extenders. We've also made these powerful extenders simple to set up, with our new all-in-one kit that includes everything you'll need for a quick and easy installation."
The UCS 900 Series supports USB peripherals such as annotation devices, interactive displays, keyboards, mice, mass storage devices, cameras, headsets, and speakers, along with other USB devices. It is ideal for a wide variety of environments including huddle and presentation rooms, conference and meeting spaces, courtrooms, classrooms, and lecture halls.
ADVERTISEMENT

ADVERTISEMENT
ADVERTISEMENT

ADVERTISEMENT