Hybrid is here to stay, and Kramer is working hard to ensure that no matter where you attend your meeting from, your voice will be heard. Anna Hayes finds out more.
There are two certainties in life as we know it at the moment – meetings will always be held, but the way in which we attend those meetings has changed forever.
Gone are the days of crowding into either a too big or too small boardroom, having to shout across the table or being squashed into the space. Where a meeting might once have had one or two remote participants, the balance has well and truly tipped and looks unlikely to tip back anytime soon, if ever.
To that end, businesses will need robust collaboration solutions, boasting versatility and ease of use.
And that's where Kramer comes in, with its newly launched product, the VIA Connect², the latest addition to its popular VIA range of products.
This compact device is designed to facilitate hybrid working and learning in this new 'hybrid generation'.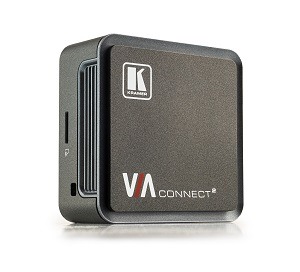 Michael Eastgate, Managing Director at Kramer Electronics Australia says: "With the global workforce now settling into a new hybrid routine of working between homes, offices and on the road, collaboration solutions that help teams connect and maintain their digital workflow are shaping the future of modern office and learning environments."
VIA Connect² has been designed with both wired (HDMI) and wireless connectivity options and it enables infinite ways to engage and turn any room into a collaboration space.
Michael says: "End users need a solution that allows them to easily and intuitively host meetings and lectures that give the people in the room, and those joining remotely, the same great audio and visual experience."
One of the big buzz phrases of the past few years has been 'bring your own meeting' (BYOM), something that will continue to gain ground as people try to limit exposure to communal controls and devices. With BYOM and Kramer's new product, you can bring your laptop, MacBook, phone, or tablet and connect using the VIA application or by using AirPlay or Miracast.
Michael says: "Touchless solutions are seeing a rise in popularity with wireless, automated, BYOM environments now a priority. Our solution negates the need for dongles, cables or to touch any shared buttons, helping to keep environments hygienic."
Users can simply connect using a web browser and Kramer's intuitive user interface, something that saves significant time in getting a meeting set up.
The wired connection includes HDMI input with automatic switching when a new device is connected. Alternatively, the Teams or Zoom client can be launched through the device directly.
Once connected, users benefit from professional in-room equipment including displays, cameras, microphones, and speakers, to deliver the best audio and visual performance for in-room and remote participants. Collaboration features include a live chat as well as whiteboard functionality to share any size file and then view, edit and comment on documents simultaneously.
Michael points out: "Up to four screens can be shown simultaneously on the main display and participants can display or stream full, uninterrupted video up to 4K@60Hz from their device, and even play YouTube videos in full frame rate."
VIA Connect² can run on a localised network, making it the ideal solution for sharing in sensitive environments with enterprise grade security.
And maintenance is a breeze too.
Michael says: "VIA Connect² can be centrally deployed, managed and configured using the VIA Site Management (VSM). This advanced software management platform takes the management into the cloud or can be controlled on premises networks, so IT administrators or integrators can maintain the hardware remotely."
So where does the VIA Connect² belong on the market?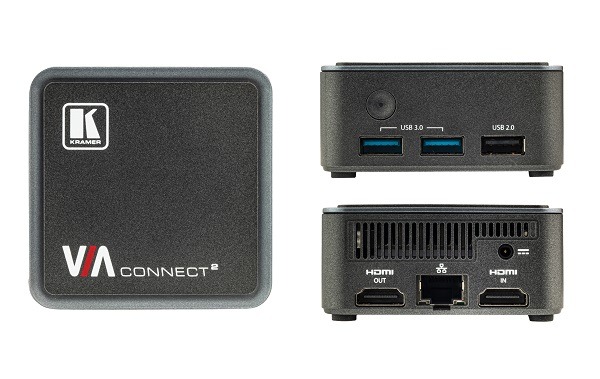 Over the past 12-18 months, we've all had to change how we go about our days – whether we're working in a corporate environment, or desperately trying to engage in school or university classes. It's safe to say that we're all suffering a little bit from digital fatigue and a lot of that comes down to the type of experience we are having as remote workers/learners.
Blurry video, interrupted audio, a meeting participant appearing upside down in their window… it's not a leap to say that better solutions make better meetings.
Michael remarks: "VIA Connect² provides businesses and organisations the flexibility they require for employees, clients, and consultants to engage with one another, collaborate, and maintain productivity in hybrid work environments."
He adds: "School districts and universities have similar need to create smart, wireless hybrid education classrooms for in-class and remote learning to strengthen student participation and engagement."
For more information on the VIA Connect², check out the Kramer website or contact the team on 07 3806 4290 info@krameraustralia.com.au