Kordz releases the PRO and PRS SlimCat Network Cabling System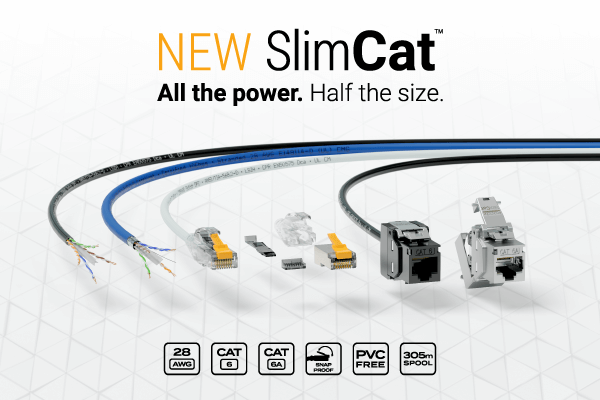 Kordz has released its PRO Cat6 and PRS Cat6A SlimCat Network Cabling System to ensure fast, reliable connectivity.
Being half the size of ordinary Cat6 and Cat6A cable and PoE++ compliant, the PRO and PRS SlimCat Network Cabling Systems combine powerful performance with installation ease.
"Both our PRS SlimCat and PRO SlimCat systems were developed to minimise the complications integrators often encounter when installing networks, especially in high-density and retrofit situations, but without any compromise in performance," Kordz managing director James Chen says.
"This unique combination of performance and installation ease fills a very important void in the commercial integration marketplace. We want to make integrators' jobs easier and provide customers with the trouble-free network experiences they expect.
With its bulk-reducing, ultra slim diameter 28AWG 4mm U/UTP Cat6 and 5mm F/UTP Cat6A cables, SlimCat makes installation quicker without compromising on performance, delivering PoE++ at 100W and 1Gbps/10Gbps network connectivity up to 50m.
In addition to supporting high-performance networking for bandwidth-intensive applications, the SlimCat Cat6/6A Network Cables and matching Cat6/6A RJ45 Crimp Connectors and Keystone Sockets offer unprecedented space-saving advantages in dense rack installations and challenging retrofit applications.
Like all Kordz products, each component of the SlimCat Network Cabling Systems are meticulously tested during each phase of production for quality assurance, allowing for a lifetime warranty and compliance with both EU and US fire rating standards.
ADVERTISEMENT

ADVERTISEMENT
ADVERTISEMENT

ADVERTISEMENT