Kordz launches Category cabling components range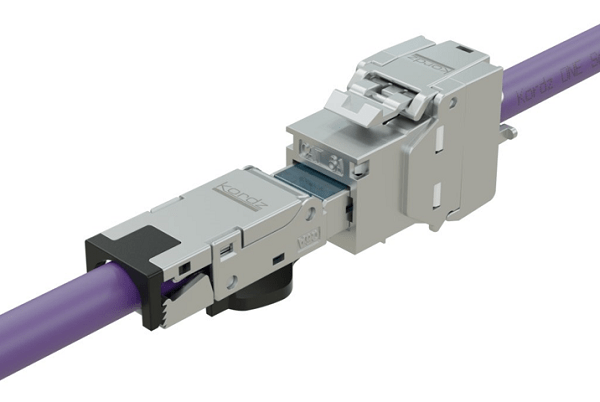 Kordz has launched an end-to-end solution for Category cabling with its new components range.
The launch comes as use of networked devices increases year-on-year, and so does the requirement for professional integrators to deliver a reliable network infrastructure as the backbone for AV and networking systems.
Networks, HDBaseT and PoE devices all require a Category cabling infrastructure.
The range includes a tool-less Kordz PRS Cat6A Keystone RJ45 Socket and a Field Termination Cat6A RJ45 Plug to give installers a full Kordz engineered ecosystem which delivers on the Kordz promise of 'Connectivity Assured'.
The Kordz PRS Keystone RJ45 Socket and Kordz PRS Field Termination RJ45 Plug are made with a robust shielded metal construction and engineered to work perfectly with Kordz ONE Series Cat6A F/UTP Cables.
Kordz also launched the PRO Keystone RJ45 Socket designed for use with the Cat6 UTP Cable for unshielded applications. In addition to the new components, Kordz has extended its range of accessories with the new Kordz PRO Hook and Loop Cable Tie to help installers manage cables in racks and installations.
"Communication over structured cabling has become the fourth utility in the home," says Kordz Managing Director, James Chen.
He added: "To access the full features and benefits of this technology, and to gain the maximum performance between hardware devices, consumers need reliable infrastructure. We have a proven track record of helping AV and networking professionals to deliver on promises to their customers, so adding these components to our range strengthens our ability to deliver connectivity assurance for any device that communicates using CAT Cables. We now offer a full end-to-end solution that complements our unique and ever popular Kordz PRO Series Cat6 and Kordz PRS Series Cat6A patch cords"
James says that Kordz recognises that the last 10% of a job is what separates an amateur from a professional.
The Kordz components range features the high-level quality and finish, manufactured using safe materials and advanced manufacturing methods.
For stock availability, consult Kordz Australia.