Just add speakers to Bluesound's POWERNODE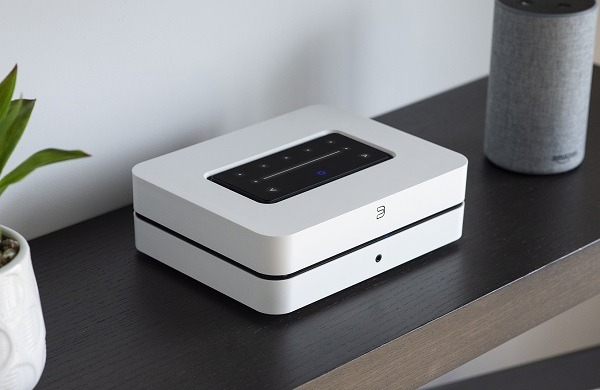 Bluesound's new hi-fi amp, the POWERNODE has been reinvented for the streaming age, combining audiophile-grade components and multi-room music capabilities to create an intuitive sound system.
Source, control, and amplification come packed into the compact and minimalist POWERNODE. Get the most out of your favorite speakers with an award-winning, audiophile-grade amplifier that features 80 watts per channel of zero distortion power, tested in real-world listening conditions and not just in a lab.
A high-grade DAC delivers up to 24-bit/192kHz of hi-res, studio-quality music, including support for FLAC, MQA, and other popular file formats. Access all the music ever recorded through the BluOS Controller app, connecting you to popular streaming services like Spotify, Tidal, Qobuz, SiriusXM, and dozens of others, or from your own music library through Apple AirPlay 2, aptX HD Bluetooth, or even a network-connected drive or USB hard drive.
It can be placed either as a freestanding unit or as part of a custom installation rack. The BluOS Controller app allows the user to toggle back and forth between a number of listening set-ups with just a few taps.
The unit is diverse and can facilitate a 2-channel listening experience or something more to suit a home theatre experience. For a multi-room audio solution, just add a Bluesound player to the location of choice.
The POWERNODE is equipped with an array of digital and analogue inputs and outputs to give you ultimate connection flexibility. It supports HDMI eARC, dual-band Wi-Fi and Gigabit ethernet, Apple AirPlay 2, aptX HD Bluetooth receiver and transmitter, RCA, Toslink optical, 3.5mm jack, and USB Type A connectors.
With BluOS built-in, easily create a DIY multi-room hi-res audio system with a few taps of the BluOS Controller app. Additional hands-free controls are available through voice assistants like Siri, Google Voice, or Alexa. For professional smart home installers, full-feature drivers are available for Lutron, Crestron, RTI, Elan, and other popular control systems.
Bluesound product manager Matt Simmonds says that Bluesound has always set out to provide a modern hi-res multi-room streaming experience with a focus on audio quality.
"We have seen the NODE and POWERNODE quickly become the go-to streaming components for discerning music lovers, because of our focus on high quality listening and on the software features that make the products – all the way back to our first generation – even better over time. This latest generation, once again, sets the bar for performance and value in their respective categories."