It's plain sailing for Crestron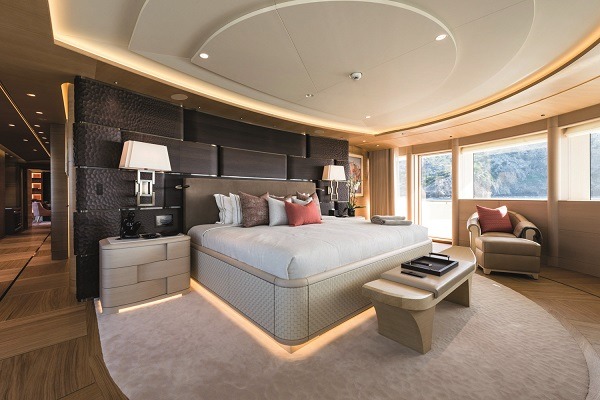 Smart automation for luxury yachts is a growing market such to the extent that Crestron has set up a new marine division. Anna Hayes spoke to its new director.
There's something fitting about the fact that Crestron's director of Marine Business is based in Holland, a country battling for existence with the sea – what better person to put in charge of the growing market of super yacht automation than the guy who might end up needing one?
All joking aside, the appointment of industry veteran Daniel Kerkhof signals Crestron's intent to consolidate and grow its position in what is a hugely lucrative market. As regional manager Benelux at Crestron EMEA, Daniel played an integral role in helping Crestron to capture a dominant share of this very market.
Traditionally, Crestron is set up in regional divisions but Daniel explains that this particular area is not bound by regions.
"You could have an owner from the US, a shipyard in Germany, a consultant from the UK and the system integrator from Italy; this could be a very standard marine project. In the old situation, all of these people would have different contact persons and that obviously is not the best way to work. It's better to have one global department supporting the people who are active in this specific space."
The result is a centralised department supporting dealers, consultants, electro-technical officers (ETO) and captains, and all others involved in these high-tech projects.
Crestron has been active in the marine space for many years and Daniel says that the new department will provide more dedicated training and support on specific marine solutions.
He points out how regional offices often organise training or days where regional sales managers get the chance to promote new products. However, in most cases, the local Crestron representatives were not that familiar with the marine space and focused primarily on commercial or residential spaces.
"That's where the marine department will come into play. We are also looking to support captains and ETOs to make sure that they have the knowledge of, and feel comfortable with the Crestron system that they have on board."
The new department also aims to make those professionals who work in this niche market more visible through a database to ensure more streamlined project collaboration. Crestron already engages with a number of dealers around the world who specialise in the marine business and they will be authorised with Crestron Authorised Marine Dealer status.
Daniel says there is a lot of value in a program like this, not just for the process of carrying out new projects but also in cases where owners might require assistance.
"There are situations we want to prepare ourselves, together with our marine dealers, to make sure that if somebody needs support in products or spare parts, we can supply them quickly from local stocks rather than sending equipment all over the globe."
The owners of these luxury yachts come from all over the world although there are larger concentrations of owners in the Middle East and Russia, followed by the US and the rest of the world. Many are privately owned boats that are chartered out for anything between $700,000 and $1 million per week.
Marine automation is a different beast to what most integrators work with – Daniel says there is a more commercial approach to these products and two big factors to consider.
"It's based much more around stability and flexibility. For the charter prices, people working on it want to be very sure that everything on board works exactly in the way it's supposed to. That's where the stability comes in. The system also needs to be flexible to be able to adjust to those changing customers with different backgrounds, different language and those kinds of things."
Standard functions installed on these vessels include, for instance, systems that show information about current position, water temperature, details on the voyage, or highlighting places of interest nearby. Another typical part of a yacht system is call solutions which allow the owners and guests to call for crew members if they require service.
One big factor for Daniel is to ensure that everything learned as part of this new venture is fed back to Crestron's research and development department.
"Traditionally, these guys would get input from the residential and commercial side but never really from the marine side. So that's also one of the things we are looking to do, to get more information to R&D and develop more marine-specific solutions for us in the future."
Daniel says that while owning a super yacht might seem like a pipe dream to many, the number of people who have the money to own a yacht is growing every year, especially in Asia.
Crestron has always had a very strong market share in 60-70m yachts. But the market just below those, for 30/40m up to 60m presents a considerable growth opportunity.
"We do see more and more of them being equipped in a way that, traditionally, only the really large vessels are."
Stephan Goodhue, director of Liquid Automation in New Zealand says that while many of the luxury boats are getting bigger, the market for smart automation on smaller boats is also growing.
"We've just finished a local boat here that was about 18 to 20m and that had full Crestron system on board."
He explains that the Crestron system has become more affordable in recent years and that has opened up the market considerably.
"When we first started installing Crestron, it was extremely expensive and only the mega rich could afford it. For a decent size wireless touch screen panel you were looking at $8,000. Now, you can use and iPad which is $300 to $400."
Liquid Automation has been specialising in marine business for 17 years, installing Crestron systems in both new builds and retrofit projects. The boats, Stephan says, have doubled in size from the time that they started out from an average of 30m up to 60m but, otherwise, the main objectives have stayed the same.
"The products have changed – everything in the old days was on proprietary cable. Today, we have more and more equipment connecting to networks on board the yachts. But they've still got a user interface that we have to program and that's our main point of difference. We won an international Crestron award last year for the best GUI and we also won the Best Crestron Marine project award."
Liquid Automation's team travels all over the world for marine jobs, jetting off to Malta, the Caribbean, America, Australia and Asia, to name just a handful, in the past few years. Their programming house is home to a number of certified Creston professionals including programmers, digital engineers and designers.
Stephan says that while there is a lot of competition in this market from other control providers, he dislikes the template-driven nature of many of them.
"We can't really customise them simply or have them talking to the navigation system without doing a lot of extra programming. And that's where Crestron really excels in the marine market. It's got a lot of flexibility in terms of programming and hardware, and the reliability factor is fantastic on the boats."