It's #Gymlife but not as we know it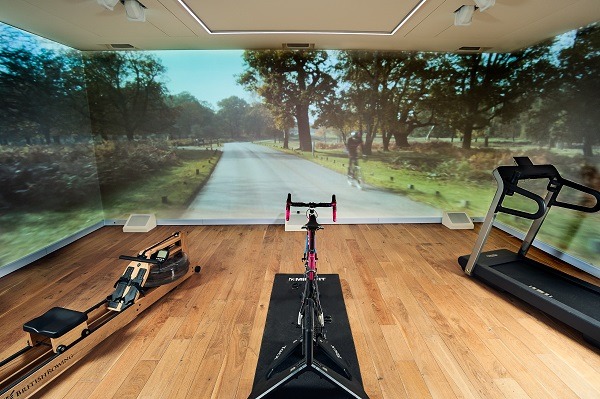 UK company Immersive Gym has created the next digital evolution of the standard gym. Sean Carroll spoke to the company founder and learned about how it can be more than just an exercise space.
Imagine you're sitting in your Coburg home, somewhere in Melbourne's northern suburbs. It's a nice place but when you go to exercise, you've been running around the same streets for ages.
Fear not, because this afternoon, you'll be running along the streets of Paris. The next day, jogging next to the Swiss alps. Following that, along the base camp of a Nepalese mountain.
Typically, for that to be possible, you'd want to know what I was smoking but with the Immersive Gym and its AV solution, it's all possible.
"Back in 2009, I spent hours on a turbo trainer, training for the Land's End to John O'Groats cycle ride in the United Kingdom. I was looking at a computer screen thinking, 'I wish I was riding on some of the routes I'll be riding on in real life'," Immersive Gym founder Charles Pearce explains.
"I knew that there was this beautiful valley down to my right on the actual track and I knew that there was this gorgeous mountain to my left, I couldn't see it because I was riding with blinkers limited by the standard screen format.
"I thought, 'wouldn't it be great to be able to be doing this inside, but being able to look over there, look down into the valley and look up into the mountain'."
Immersive Gym creates exactly that, it's the next evolution of the traditional gym room and fitness experience and it brings AV and integrators into a space that hasn't seen a technological evolution since the TV was plonked in front of the treadmills.
The Immersive Gym platform is a software and content Platform that processes content in different formats and displays this in ultra-wide and optimises the content of third-party content providers such as Les Mills and Zwift that comes in a standard 16:9 format. This content is displayed across three walls using projectors or LED screens.
"Our platform is contained in a rack server or a PC depending on the requirements of the integrator," Charles says.
Immersive Gym works with several leading high-end integrators across its UK base and the world through CEDIA and is part of the CEDIA Propel programme.
"Integrators are the experts at installing projectors, LED panels, speakers and all hardware, which isn't really our bag. What we're about is the player, the platform, the content and the experience," he adds.
"The one thing that integrators were looking for was other avenues of revenue generation where they could go and this space, the gym or studio, hadn't changed for about 40 years."
Through this platform, integrators can give end users the ability to cycle, row, run or walk through a range of beautiful scenes. They can get out of the boring gym and immerse themselves in the sights of the world.
On top of that, the platform also brings another level of engagement when it comes to activities like Pilates, yoga and so on. It also lets users display popular fitness apps, including Asana Rebel, Zwift and Peloton on the screens.
With our own ultra-wide content and selected apps for cycling, the bikes adapt to the environment on the screen. As users ride uphill, the exercise bike increases resistance. With all activities the content responds to the user so the faster you move the faster the content moves with you.
Yes, users will be able to meditate or exercise in a rice paddy field or on top of a mountain, but they can also have life-sized instructors on one or more of the ultra-wide screens, helping them assume the correct movements or positions.
Charles mentions that while one of the benefits of the pandemic was people exercising and working out more at home, one of the downsides was the lack of instruction and people were hurting themselves by not doing the exercises correctly.
The goal of the platform would be able to integrate with all the popular coaching platforms as well as in-house training platforms too: "The whole system is completely agnostic. People can put in what they like, but when they do, we'll make it the best it can be," Charles says.
It's all controlled by a touch screen interface.
"You can log in and see your last five rides or activities. The idea is that within a minute of turning up in the studio, you can be doing the thing you want to do so the technology doesn't interfere with the experience."
Building on the exercise component, end users will have a gym/studio with three surrounding walls with plenty more uses than just exercising.
"You can literally just put in a gaming PC and do gaming on a massive scale at home," Charles says.
"We've got a car racing simulator, now you can go for F1 racing or rally car driving and you've got this massive screen to do it on and an amazing sound system."
When using this technology, similar to the bikes for exercise, there's the potential for one of the best consumer racing simulators the brain can think of.
"You could turn it into a medium for informal media and put your bean bags down, watch a movie, watch a sporting event, put on a YouTube video or the Red Bull channel and just hang out and watch whatever it may be.
"It's a really versatile space. And what I mean, this wasn't around when we first set up."
He adds that Immersive Gym is now having conversations about using the space for virtual concerts. With three walls, there's nearly a 360° view and with some of the video content out there now, the entire experience can be incredible.
The best part is there's no need for a headset or headphones. The technology for high-quality screens and audio is already out there in the integrator space.
"The platform will be ready for all those future activities and future events. Really, all we're doing, in effect, is creating a channel motivated through fitness and health but then it has all the benefits of becoming a versatile multi-media environment," Charles says.
"I recently saw a big Van Gogh exhibition that was showing massive works of art, augmenting it and making it work through technology.
"It brings to the forefront the topic of 'how do you create an event today?' and 'how do you make it more engaging to a broader audience?'"
Operas, theatre, and ballet were being shown at home, even before COVID-19, to broaden their reach.
"People are realising this and producers are realising it too. We can create this immersive experience and it's out there. But we are starting with fitness and wellness."