Intesis launches new multi-indoor unit integration through Chowmain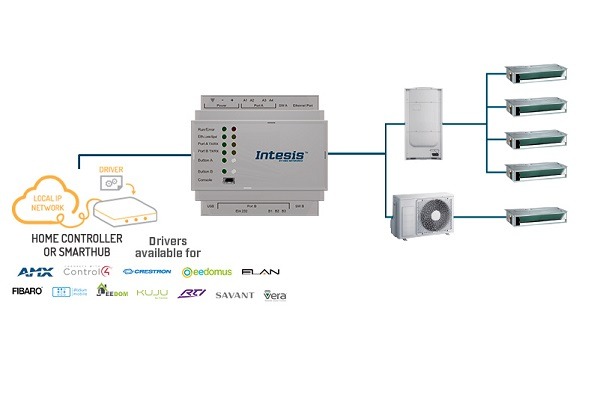 Intesis, through Chowmain Software and Apps, has launched new multi-indoor unit integration which draws power from the HVAC indoor system and makes use of WiFi-based gateways.
Without the need for additional cables, Intesis can integrate a number of HVAC systems including those from manufacturers like Daikin, Fujitsu, LG, Mitsubishi, Panasonic, Toshiba and more.
When Intesis released this product a few years ago this provided a method for integrators to easily support HVAC in their installations. A drawback on this is that users needed a WiFi IntesisBox per indoor unit, adding to the costs for larger installations.
With this in mind, Intesis has been working on a range of products that enable multi-indoor unit control with the outdoor unit's communication bus. The IntesisBox Chowmain driver for ELAN has been upgraded to support these new models and is available immediately.
The new IntesisBox models provide the following support:
Models

Mitsubishi Electric City Multi systems to Home Automation Interface
Panasonic ECOi, ECOg and PACi systems to Home Automation Interface
Samsung NASA VRF systems to Home Automation Interface
Fujitsu VRF systems to Home Automation Interface
Hitachi VRF systems to Home Automation Interface
Hisense VRF systems to Home Automation Interface

UL Certified
Direct access to outdoor unit's communication bus.
Automatic identification of the units present on the VRF system
Din rail mounted
Ethernet communications
9-36vDC or 24vAC powered