Infocus announces PixelNet 2.0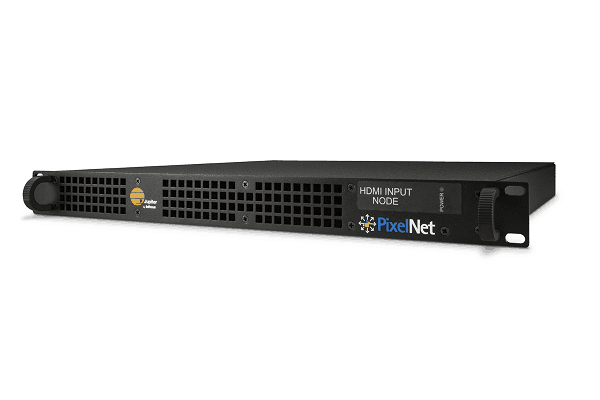 InFocus Corporation has announced the first showcase of its distributed display wall system, PixelNet 2.0, in North America at InfoComm 2018.
Updated from the Jupiter PixelNet solution, PixelNet 2.0 aims to provide increased processing power and the ability to connect a virtually unlimited number of displays and
video and data sources, across a campus or around the world. PixelNet Domain Control (PDC) software provides centralised control of real-time HD or 4K content in conference rooms, lobby displays, offices, and classrooms.
The new distributed display wall system aims to increase the density of processing power, connecting more sources and displays to a single input or output node to yield a per channel price reduction of 30-40% over its predecessor. Users in enterprise, government, and education markets will benefit from reduced project costs and the ability to expand projects within a given budget.
PixelNet 2.0 input and output nodes can be configured with fibre optic connections via SFP+, or with Ethernet, and the fibre network capabilities allow it to support very large
distributed systems with an unlimited number of sources and displays across multiple locations and vast geographies.
PixelNet 2.0 systems can scale to suit any requirement to connect and distribute video across buildings, campuses, or global networks to support applications including redundant control room display walls in multiple locations, manufacturing and process management, digital signage, law enforcement and security monitoring, and instructional networks.
Users can drag and drop sources across a display wall as well as control multiple connected video walls using the self-configuration feature of PixelNet Domain Control.
The new system is also backwards-compatible with existing, first-generation PixelNet systems.
Four 4K or eight 1080p inputs can be connected to each PixelNet 2.0 Input Node, and Output nodes provide two 4K or six 1080p outputs, all rack-mounted. PixelNet 2.0 features high bandwidth networking for real-time streaming sources, pixel perfect visual quality using uncompressed video, and resolutions ranging up to 4K. New data-centre- grade Jupiter by InFocus switches support up to 100GB Ethernet connections.