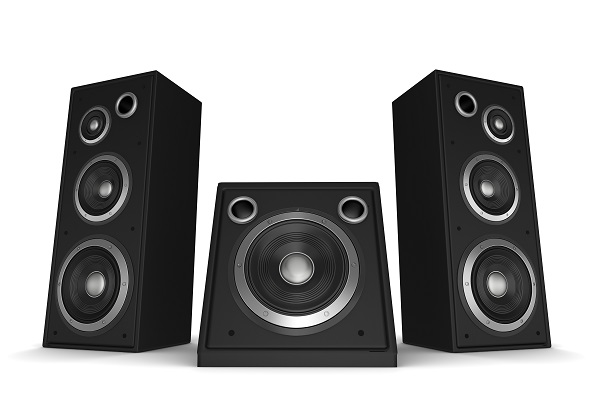 Designing centre channels that will allow you to hear dialogue is a tricky business. Anthony Grimani continues his exploration of central processing.
Last time around, I talked about the importance of dialogue clarity and how challenging it can be to reproduce centre channel dialogue when you are building out a home cinema with a large, fixed display. We definitely do not want anyone to have to turn on the subtitles because of the screen!
This raised some questions about overall dialogue intelligibility challenges even when using actual centre channel loudspeakers. A lot of clients are complaining about not understanding the words, so it's time to address the main issues here.
For starters, I think it would be helpful to know how dialogue is actually monitored during film sound mixing. It is typically done with a large, baffle-mounted horn-loaded speaker behind an acoustically transparent screen. The speaker is tuned for smooth frequency response on-axis and off-axis, and the room's reverberation times are usually pretty low. The centre speaker is the same model as the left/right speakers, all three are in a line (no vertical offset), and they are in similar acoustic environments.
These conditions represent a nearly ideal situation for dialogue clarity. They bear very little resemblance to most HiFi or home cinema setups!
Recognising that centre speaker placement is essentially compromised from the start in any system with a TV or video wall, you can begin to understand why it is important for the centre speaker and the room acoustical environment to be well engineered.
A prevalent problem is that horizontal driver configurations are not the ideal way to design a speaker for dialogue clarity. While a listener in the middle of the room may receive a full and even direct "axial" frequency response, the early reflections are still going to exhibit the midrange depression associated with driver interactions and beaming. This results in a directivity error that seriously messes with dialogue clarity. Off-axis listeners have to further deal with the midrange-compromised listening window response in addition to the problematic early reflections.
Some of you may be wondering if you can absorb the early reflections with acoustic treatment. This can help summing issues, even if the sum of the early reflection and axial response causes a cancellation dip. However, if the speaker is not producing any midrange energy off-axis to begin with, acoustic treatment cannot add that back.
2.5-way (with one woofer rolled off in the midrange) and 3-way horizontal speakers are both improvements over the standard M-T-M (Mid-Tweet-Mid) 2-way. However, the wider baffle is still not ideal. If you look at detailed measurements of horizontal speakers – even well-engineered 3-ways – they are rarely as pristine as their vertical counterparts.
There are a growing number of independent individuals and organisations that measure popular centre speaker models and post the results along with analysis and explanations of how to interpret the measurements. I would encourage you to look these up. If the particular centre speaker you want to use hasn't been measured, you may be able to send them a sample to measure for you. At the very least, you can pick out similar models and see how they fared. For the most part, we're talking about physics limitations, so most centre speaker designs are going to exhibit relatively comparable horizontal directivity measurements/issues.
So, what are we looking for in a centre speaker to produce clear dialogue?
The same as any speaker: linear axial response, similar listening window response, and early reflections that follow the same curve shape, only reduced in level. The beamwidth should be very wide at all frequencies, and not get narrower in the midrange and expand back out in the treble. I also feel that the centre speaker should have some focus in its vertical directivity to avoid reflections off the floor and ceiling. Since this is remarkably hard to build without a directivity error, evaluation criteria are typically limited to the more-important horizontal beamwidth. Pity, but we are not Harry Potter.
I don't want to sound too harsh on speaker companies and integrators for using horizontal configurations, because I know they're in quandary how to make the best of a bad situation. My point is to recognise and acknowledge that it is already a bad situation, and we don't want to do anything to make it worse.
In that spirit, please manage the centre speaker boundary conditions as well as the room acoustical reflections. I talked about this before, so I don't want to belabour it. I know we have to build this stuff in, so people don't see it, but there are good and bad ways to hide speakers.
Slamming them up in hollow cabinets with no baffle or stuffing is a bad way. Placing them very close to the floor or ceiling (even if you aim them) is also bad. These types of boundary conditions cause acoustic problems that cannot be fixed with EQ or acoustic treatment and are, thus, unrecoverable. Unrecoverable means poor dialogue clarity and upset client, guaranteed. You don't have to wonder about it; it's going to happen!
You should approximate, as closely as possible, baffle loading conditions where the speakers are flush (or at least surface) mounted with wide surfaces on all sides. And not close to the floor or ceiling.
But Anthony! That's not possible! The TV. The video wall. You're right; it's not possible. That's why we have dialogue clarity problems.
You must include equalisation. It cannot solve every problem, but it will help with some and give you a fighting chance. It's also helpful to do it yourself because automated systems seem to stumble when presented with the difficult-to-reconcile acoustic issues presented by centre speakers. Automatic systems try to make everything perfect. Since that's not possible sometimes with centre speakers, intelligent compromises must be made. Automatic systems, even good ones, do not usually shine in the intelligent compromise department.
What sort of things may you not be able to fix with EQ? This is a complex question, but I will give you two examples from which you can interpret others. The first is problems related to decay time. For instance, if there is a low-end build up in the steady-state (longer sounds), when you pull it out with EQ, the impulsive content will sound thin.
A second example is narrow, deep dips due to boundary interference or other acoustic cancellations. These can be perfect, meaning you can't fix them no matter how much you boost, and any tight-Q boosts place tremendous demands on speakers and amplifiers. Fortunately, if they are narrow enough, these types of dips aren't audible although they can reduce dialogue clarity.
What is objectionable is a really narrow boost filter that rings. Don't be the person who tries to make the plot look perfectly smooth. A notch is OK, as long as there aren't too many (i.e. not comb filtering).
And then there is the age-old challenge of applying the right amount of absorption and diffusion to a room, so as to reduce and control the reflection patterns. I have covered this extensively before, and I acknowledge that there are aesthetic considerations that get in the way. Just do let the client know that without some amount of acoustical damping on the walls, floor and ceiling, they risk losing a number of the lines in a movie.
Dialogue clarity is vitally important to customer satisfaction, and it's not a rosy picture right now. The screen and the centre speaker are in conflict with each other, and you're going to have to compromise one or the other. The centre speaker is going to get the short end of that stick, unless you can do an acoustically transparent screen with a projector.
Do the best you can and be prepared to live with the consequences!
Chase Walton ([email protected]) contributed to this article.
ADVERTISEMENT

ADVERTISEMENT
ADVERTISEMENT

ADVERTISEMENT