HoverCam solves online teaching concerns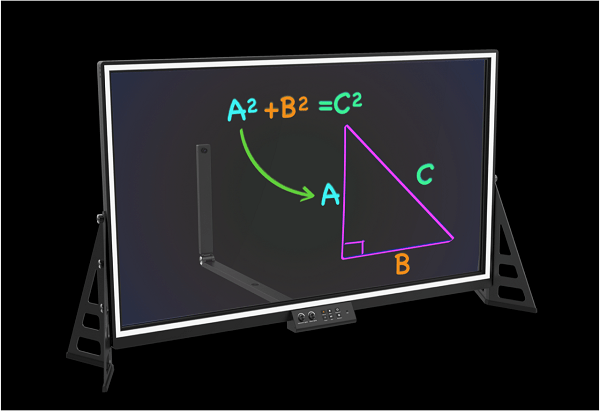 At the Future of Education Technology Conference, which is being held online, HoverCam shows off its award-winning eGlass, an all-in-one, transparent writing glass, built in partnership with San Diego physics professor and Learning Glass chief executive/president Matt Anderson.
eGlass is an innovative, all-in-one, transparent writing surface with a built-in camera and adjustable lighting that is ideal for remote, hybrid, and traditional classrooms. eGlass all-in-one, fully integrated, transparent writing glass allows students to see their teacher's face as they write. With teachers looking toward the camera and, by extension, at their students while writing, students are able to see the teacher's facial expressions and gestures.
As the instructor writes on the glass, HoverCam's built-in software automatically flips the image so the writing reads left to right for students. The surface's embedded LEDs intensify the pen ink with an eye-catching glow that is highly visible on-screen and in person.
Available in 35-inch and 50-inch models, eGlass is easy to set up and use. Instructors simply plug it into their PCs, Macs, or Chromebooks with a single USB cable. It comes with intuitive software built around HoverCam's robust and powerful Flex 11 camera software. The eGlass software features Zoom integration, allowing users to schedule, launch, or join Zoom calls without leaving the software. It's also compatible with other remote conferencing programs, including Microsoft Teams, Skype, and Google Meet.
In addition, the solution features image insertion, allowing users to drag eye-catching visual aids, slideshows, browser content, and other documents directly onto the screen, allowing them to use eGlass to annotate on top of the content.
HoverCam's director of marketing Bayley Pierson says there is an immense engagement problem in education that is impacting learning, especially online.
"This problem stems from teachers not having a simple and effective solution for engaging their students while writing on the board or presenting on-screen. eGlass transforms the learning experience by providing a glass surface that instructors can write on without ever turning their backs to their students. Students are able to see nonverbal communication cues and perceived eye contact that help them retain information."