Educate with Extron SMP Series upgrade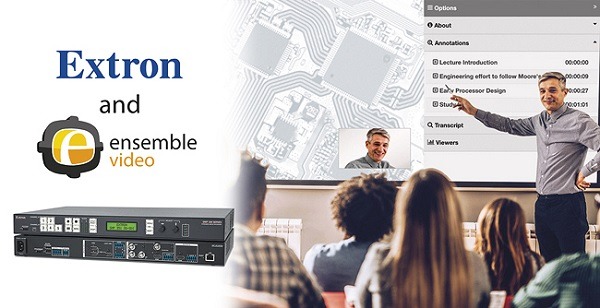 Extron's SMP 300 Series now seamlessly integrates with the Ensemble Video platform, a development that will simplify learning and teaching processes.
A new LinkLicense upgrade will facilitate streaming and publishing of live and on-demand video content by enabling SMP 300 Series devices to ingest recording and live stream schedules. The Ensemble upgrade provides automated publishing workflows that empower users to create engaging experiences that meet the rising need for online learning, lecture capture, flipped classrooms, and virtual meetings.
Extron vice president of worldwide sales and marketing Casey Hall says they recognise that educational facilities are finding it necessary to prioritise digital engagement for online learning by using live and on-demand video.
"Deploying the right solution to help instructors and students have the best experience is paramount. With our new LinkLicense upgrade, customers using the Ensemble Video platform will have a truly seamless capture and streaming experience."
Extron LinkLicense is a quick, cost-effective way for people to add even more powerful capabilities to Extron products. Each LinkLicense unlocks a unique set of features that add convenience and expand the functionality available in your system. It is applied per-system, enabling you to enhance the capabilities and performance where and when you need it.