Ground control to Major Tom: AV in control rooms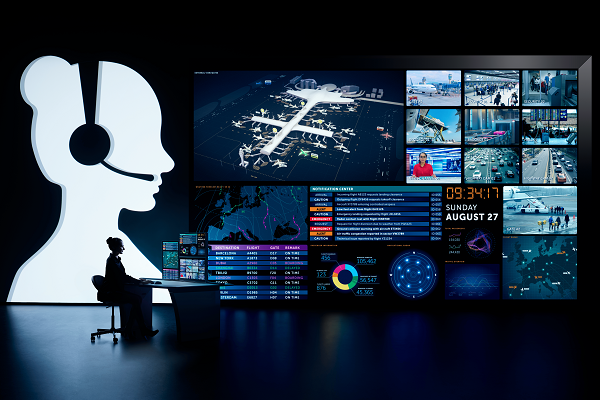 Once confined to putting men on the moon, control rooms have come a long way and are now ubiquitous in a variety of industries. Anna Hayes looks at the trends and opportunities in this lucrative market.
Does anyone remember Die Hard 4? Yes, there was a fourth one, and no it wasn't really that great. How about the remake of The Italian Job? Yeah, ok, not helping my case here – there's only one Charlie Croker and he's very adamant about only blowing the bloody doors off…
Anyway, my point is – if you've seen either of these movies, you will have seen scenes where control rooms full of people suddenly start looking panicked because all the traffic lights are suddenly green and there's a heap of flashing lights on every screen in the place.
Control rooms, once the mainstay of spaces like transport and manufacturing hubs, are becoming more and more ubiquitous as the notion of a 'mission critical operation' continues to evolve.
The basics
At Integrate 2022, InSight Systems' director of technology, Myke Ireland, chaired a discussion on the control room of the future and has operated in this space for a number of years now.
He cuts the idea of a control room down to its bare bones: "Loosely defined, a control room is a centralised facility that will funnel data from various locations for means of observation, monitoring and management."
This data can come from a variety of locations and in a host of different ways – audio, video, network information, triggers from public cameras, police bodycams, and more: "If you scale that up to smart cities and you can essentially observe the city from one place."
One company that works heavily in this space is VuWall, which provides high-tech and large-scale visual solutions.
The company's chief executive, Paul Vander Plaetse, says: "A control room is a place where operators monitor data coming from complex systems and use that data to make critical decisions. Its purpose is to centralise operations, provide real-time monitoring and control, facilitate decision-making, enhance efficiency and ensure the safety and smooth functioning of complex systems or processes."
Paul also stresses the fact that the technology for such applications has become far more affordable, making it accessible to a range of new and different markets.
Mission Critical
Jordan Heldrich is the segment marketing manager for control rooms for Barco says that, traditionally, mission-critical environments were those where, if something went wrong, there was the possibility of catastrophes.
She adds: "What's interesting is now mission-critical operations have expanded to also monitor areas that disrupt the monetary value that's highly important to companies. I see companies and departments building control rooms for social media monitoring spaces, financial investments/stocks, cybersecurity operation centres and network operations centres."
Part of the reason for this is the reduced costs of incorporating such a space – as technology evolves and new players come into the market, previously unaffordable functions and solutions become more ubiquitous.
Paul remarks: "Historically, building a control room was very expensive and only applications with very high stakes and a high level of complexity could justify the expense of such a centre.
"With the affordability of technology today, almost all sectors of the economy can benefit from a control room. It doesn't have to be big; as soon as there are more than two people working live situations with the need to share data and make good decisions based on this data, the investment in a control room can be justified with a gain in productivity in the decision-making process."
Double screen solutions
The video wall/central display is primarily the centrepiece for most, if not all, control rooms, but there's a lot more tech at play in your standard control room than a big display.
Datapath product manager, Matthew Tibbit, says that while control rooms have common characteristics, each room needs to be designed for the unique circumstances of the environment and people working in it.
"The layout should include ergonomic workstations, communication equipment, and sufficient space for personnel to move around and access equipment easily," he says, adding that, "considerations should be given to what information the operator needs, and how it is presented and used. This will determine how many screens will be needed and in what configuration."
Once workstations are designed, video walls will need to be positioned to ensure the right people can see the information that they need.
Myke says these spaces are all very bespoke, depending on the sector that they are in:
"If we observe many video feeds, then we'll obviously need a big visual display with matrixing and picture-in-picture so that we can stack multiple feeds, move windows and bring new windows up. If it's a facility more focused on monitoring audio feeds, then it'll have smaller real estate for screens and more focus on headsets and microphones."
Quite simply, he says: "A control room is very much about its purpose, and it's designed around that purpose."
As technology evolves, there will often be new data sources or points in play.
Paul says that flexibility, in terms of chosen room technology, is key here: "This entails creating a system that can manage different types of signals and allow operators to easily create new operational scenarios by customising layouts and presets as their needs change. It also means giving operators the ability to combine various signal types on the video wall for viewing while also being able to easily share ad-hoc content on their desktops."
The AV Connection
It could be argued that elements of AV have found their way into control rooms more and more in recent years, but Jordan feels that AV has always been part and parcel of these spaces, due to the requirement for a video wall/large visual display.
She stresses that control rooms, as a technology space, are very much a mixture of AV and IT which, in some cases, have been instances of forced coming-togethers.
She remarks: "One of the biggest gaps for integrators is understanding IT networking. Being able to have the necessary IT conversations to make sure all applications, APIs, and security needs are met is needed to demonstrate expertise in control room designs."
Other instances of control room technology include KVM and AV-over-IP.
Matthew believes that AV has become increasingly critical to the control room: "KVM systems allow operators to remotely control any networked system quickly and easily. A centralised database of all sources, users and capabilities ensures that only the right people can access and control the right information.
"With AV over IP, sources can be shared to multiple places at once ensuring critical information is seen by complementary teams of workers who can then collaborate to agree a plan of action."
The best of trends
Like any sector, the technology in the control room space is always updating and developing. At its simplest, that might mean a move from one type of product to another.
Myke says that projectors have been seeing their way out of such spaces, with many favouring LED visual displays: "They can be built to any size, shape, resolution, viewing distance. You can have custom designs; you can wrap them around walls or put them on the ceiling, you can take advantage of a lot more real estate because you're not beholden to that 16:9 aspect ratio."
Myke is aware of one project where an LED globe features a real-time overlay of weather pattern across the Earth.
There is also a move to virtualised operating systems, he points out, referencing a Barco product called OpSpace which allows users to observe various networks as if they were their own: "So if it's a smart city, for instance, I can traverse into the Board of Works for Water and see what's going on in the control room at their facility. Then I can move over to council and see what's happening in this week's council assembly."
He says that being able to access various networks instantly is important because it's becoming the case that less emphasis is put on having a physical present in a building, and more on catering for people remotely.
"Because we've now got usable public internet, we can shuttle more of that data off-site where, historically, those purpose-built networks could only reside in an enterprise facility."
The prevalence of AV-over-IP technology is another big trend in the space.
Paul says: "Where traditional control rooms needed all the information on premise, today, operators in a control room can work on live data coming from anywhere in the world. It changes completely the way control rooms are designed. Thanks to this technology, large control rooms can be replaced by a network of interrelated distributed control rooms."
Matthew agrees, adding: "As control rooms evolve, the amount of informational data that needs distributing to walls, workstations and users increases year-on-year. To manage that, AVoIP is the go-to method of ensuring that the data gets to the required endpoint with maximum quality and minimal latency."
Staying with the theme of data, Jordan feels that the most interesting trend in the space will both become the biggest trend and the most complicated – artificial intelligence.
With the sheer wealth of data being provided to control rooms, the onus is on the operators to analyse that data and monetise it for their employer. Disruptive technologies like AI and machine learning will be vital in these spaces.
Getting in the door
For integrators keen to flex their muscles in this space, there are a few key criteria, not least of which is knowing the main manufacturers in the space – some of whom have been represented in this article.
Other non-technical but equally vital requirements include having the right paperwork.
Myke remarks: "It's really about having the right credentials, the right certifications and accreditations, particularly if you're in government or government security. If you're in air traffic, those spaces are airside, so you need clearance to get out there and that's governed by Federal rather than State police. You've got have all those clearances."
Jordan points out that security is a huge factor and that knowing your local regulations well can help to differentiate you as a subject matter expert in that particular location.
Otherwise, she feels that many integrators don't showcase their talents in this space, considering that they can be multi-million-dollar projects.
Paul feels that those branching into the space need to have a good mix of IT and AV integration experience.
"They also need to look for manufacturers that are specialised in control room solutions and that will be available to offer full assistance during deployment because every control room project is different."
Paul adds: "As a manufacturer, we see new control room applications in unexpected fields every day. It is a very exciting market where the affordability of the technology gives room for offering creative solutions in many different industries. These are very exciting times for the control room market."
ADVERTISEMENT

ADVERTISEMENT
ADVERTISEMENT

ADVERTISEMENT