Gallo Acoustics A'Diva SE & RoomSub 10 2.1 Combo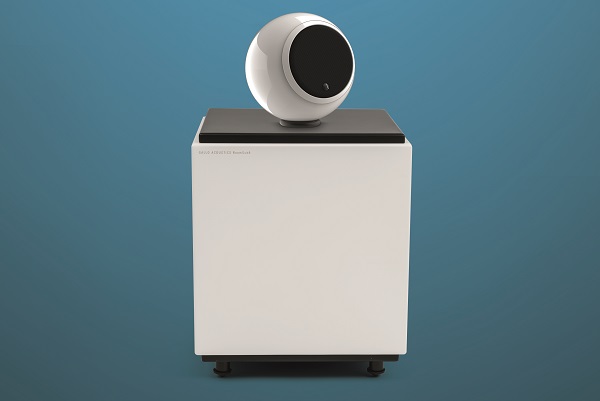 Versatility is the name of the game for Gallo's sub/sat combo that is as functional in a home theatre as it is on a bookshelf. Liam Power took the system for a test drive.
With their novel design, it could be possible to dismiss the Gallo Acoustics A'Diva SEs as touting style over substance. But when paired with Gallo's RoomSub 10 they punch well above their weight in terms of sound and performance.
The A'Diva SEs are the performance version of Gallo's base model A'Diva Speakers, with the SE's offering an extended high-end frequency response and 4Ω impedance when compared with the 8Ω base model. The new RoomSub 10 and 8 join Gallo's subwoofer line-up which includes its TR-3D and ProfileSub ranges.
Build and Aesthetics 
The A'Diva SEs have a striking visual design, bridging the gap between minimalism and a vintage space-age look. Gallo Acoustics have sought to establish a reputation for its innovative round speaker designs, with the A'Diva SE's sharing design elements with the Micro and Micro SE speakers as well as the base model A'Diva series.
The SEs are perfectly spherical and compact at 5" diameter, with a small silver emblem adorning the cloth speaker grille. This emblem does double duty: acting as an offset to the all-white design of my review models and helping to visually confirm the speakers are level on your stands or mounts. The speaker grille covers the 3" flat-diaphragm aluminium honeycomb transducer, with Gallo claiming an ultra-wide dispersion characteristic despite its size.
They weigh in at a hefty 963g, giving them a surprising weight and a quality feel and ensuring they won't shift around in use.
As the name suggests, the RoomSub 10 boasts a 10" downward-firing polypropylene woofer with a rubber surround and is the beefier big brother of the RoomSub 8. My test unit, supplied in a white satin finish to match the speakers, has an internal Class D power amp rated at 300W with a frequency response of 32-150khz +/- 3db.
The RoomSub 10 weighs 19kg and measures 32.5 by 38.1cm, with four pointed legs on the bottom serving to isolate the RoomSub from the floor. The exterior is free from unnecessary adornments save for some small lettering on the front panel. The unit supplied for review has the same stark, white finish as the A'Diva SEs, but is also available in a black satin colour to match your desired aesthetic.
As a combo, there is a consistent design language used across the A'Diva SEs and the RoomSub 10. Both models sport minimal branding and a smooth finish. As a 2.1 sub/sat combo they would integrate well into a variety of home theatre or listening room setups, with a range of colours available to match your preferences.
Setup & Installation 

My test rig consists of a Rotel RA-10 Amp driven by a Focusrite Scarlett 6i6 DAC in a home studio treated for mixing.
The A'Diva SEs' box contains an owner's manual, Isolation2 decoupling ring, and the speaker itself. If mounting on a tabletop, media unit, or bookshelf, the supplied isolation ring helps to minimize the speakers' vibrations from being transmitted through the surface they are placed upon. For maximum decoupling it is advised to use a set of speaker stands (sold separately).
Connecting the A'Diva SEs to your amp is straightforward: connect your speaker wire to the screw in binding posts on the rear of the speaker, using banana plugs or bare wire according to your preference. Gallo Acoustics notes that the SEs have been upgraded with redesigned terminal connectors, allowing a choice between banana plugs or speaker wires as well as taking heavier gauge speaker wires up to 4mm in diameter. Take note of the polarity of your wires, screw them down or plug in your bananas, and you're done.
The RoomSub 10 comes supplied with a power cable, owners' manual and plate for covering the controls once you have tweaked them to your taste and setup.
For installation I ran the sub from the pre-outs of my Rotel amplifier, allowing the built-in crossover on the RoomSub to convert full range to low range output. The top panel houses controls for Level, Phase and Crossover.
The Phase control is used to adjust the phase output by the speaker depending on your chosen placement in the room. The owner's manual advises a zero-degree phase setting if the sub is in front of the listening position, and a 180-degree setting if behind.
This allows the RoomSub to be adjusted for a wide variety of positions within your setup, and as bass frequencies are non-directional, it is really up to your judgement and the sound of the room as to where best to place the RoomSub in your system.
On the back panel are line-in and AC power inputs as well as a handy USB power output that can provide 1A 5V DC power to an external wireless audio dongle for untethered operation.
The RoomSub can take a mono LFE output from a surround receiver or a stereo line from a preamp out on your amplifier. While playing music or pink noise through the subwoofer, adjust the Level and Crossover controls to taste. As I was using the A'Diva SEs on their supplied Isolation2 rings, I set the crossover on the RoomSub to around 100HZ to fill out their low-frequency response.
The Level control may need some tweaking to get the right amount of bass for your listening style, room, and setup. I settled with a level a touch under 12 o'clock for my system. Once you are happy with the controls you can place the provided plate on top to hide them. The power control can be set to ON, OFF or a convenient AUTO mode which automatically switches the RoomSub on when a signal is supplied to the inputs.
Sound
The A'Diva SEs are a 4Ω design rated at 60 watts output full range. Their power output extends to 125 watts if you are running from an active crossover with a high pass filter such as from a surround sound amp in a home theatre. The SEs host a single transducer, eliminating the need for a crossover that can introduce unwanted peaks and resonances in the speaker's response.
When placed on wall or floor stands the SEs are rated 80-22Khz, while with the included Isolation2 ring their low-end response shrinks to 100HZ. This frequency discrepancy may not be a problem if you have a subwoofer to flesh out the low end or if you plan to use the SEs on their own.
In use as desktop or nearfield speakers the A'Diva SEs perform admirably at comfortable listening levels. However, where these speakers start to shine is at a medium level, around 80dB where, to me, the low-mid and midrange became more defined. The SEs excel at high-end detail and sparkle, with cymbals, shakers and vocals being translated with startling clarity.
Judging by their diminutive size it would be easy to expect a tinny or bandlimited sound out of the A'Diva SEs. However, in my tests running without a subwoofer, as a nearfield pair the frequency range and dynamics possible are more than acceptable for everyday use. The high-end is smooth and detailed, without any harshness or noticeable resonance to the sound.
This is particularly noticeable on tracks such as The Endless Sea from Iggy Pops' New Values (1980). Vocals in the high-mid range are front and centre on this track, with the heft of the snare and the airiness of the cymbals shining through in a fairly minimalistic mix. The stereo image and separation are impressive given the wide dispersion of these speakers, with a wide, vivid soundstage and phantom centre appearing with the speakers placed at around 2m apart. Possibly due to their circular design, they seem to be affected less directional than a traditional rectangular speaker. The owner's manual states that both A'Diva SEs require a burn-in period of 60-80 hours for their internal filling material to settle, so there is every possibility that their sound quality would further increase with age.
The addition of the RoomSub 10 unsurprisingly adds a more fleshed out low-end. I found myself needing to push less volume out of the system to get the bass extension that I wanted. With the crossover set around 100hz to compensate for my usage of the ring-mounts, I began to hear the full frequency range of my test material. While dialling in subwoofer levels, it could be helpful to run some pink noise through the system and tweak the Level and Crossover controls on the RoomSub to find a balance between low and high frequencies that suits you.
I conducted frequency response testing of the A'Diva SEs and the RoomSub 10 with Room EQ Wizard. My test rig is a Sonarworks XREF20 Calibrated Measurement mic running into a Scarlett 6i6 audio interface. I ran multiple sine-sweeps through each speaker and analysed an RMS average of their averaged response.
My testing confirmed a lot of the opinions that I had formed about the A'Diva SEs. The frequency response had a smooth roll-off on the low end starting around 150hz, with a slope down around 6db before dropping sharply at their rated low-end cut-off point. The low-mid to mid-range of the SE is mostly flat, giving body and depth to the speakers while minimising any muddy resonances in the mid frequencies.
Testing revealed a ~3dB bump from 2-4khz which explains why snare drums and voices are really front and centre with the SEs. This little bump helps with vocal intelligibility in movies, with its smooth peak mitigating any harshness in this area. This peak is followed by a small dip from 5 to 10 khz, then a ~3dB peak right at the top end. This explains why the cymbals, shakers and crispness of vocals were so apparent in these speakers as they usually appear in this range.
In testing, the RoomSub performed well. It has a fairly large bump in frequency response kicking in around 40hz which peaks at around 100hz and subsides at the sub's crossover frequency. The frequency response drops sharply around 160hz, very likely due to the internal active low-pass filter. Overall, my testing of the RoomSub 10 came in very close to Gallo's rated response for the speaker.
Conclusion
As a 2.1 sub/sat combo, the RoomSub 10 and A'Diva SEs both look and sound great. They would integrate well into a home theatre system or dedicated listening room. If an extended bass response is not required, the A'Diva SEs could also work as high-end desktop or computer speakers.
In any configuration, the combo would help to bring detail and clarity as well as rumbling bass to your setup. Their design marks a refreshing departure from the rectangular, boxy design of most bookshelf speakers on the market.
Overall, the A'Diva SE's and RoomSub 10 work together seamlessly as a combo: their straightforward setup, innovative design, and truthful sound make them a solid choice for anyone looking to up the sound quality and aesthetics of their home theatre or hi-fi system.
ADVERTISEMENT

ADVERTISEMENT
ADVERTISEMENT

ADVERTISEMENT