Fujitsu General Australia launches anywAiR for smart building solutions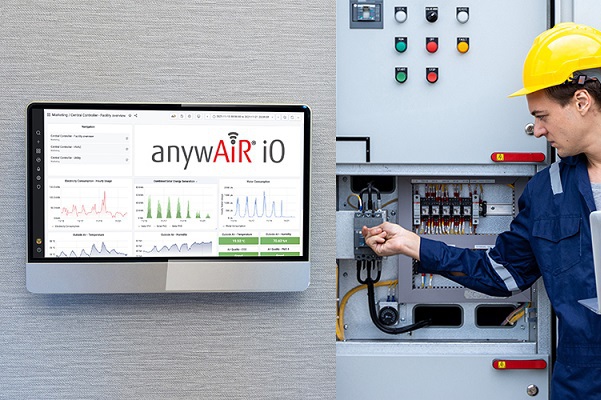 Fujitsu General Australia has launched anywAiR for smart building solutions, making a significant advancement in the relationship between technology and indoor comfort.
Developed in partnership with Nube iO, anywAiR iO is a state-of-the-art WiFi and Internet of Things (IoT) offering that represents the next wave of smart building technologies, merging the best of Fujitsu General's air conditioning prowess with Nube iO's pioneering innovations.
"As we witness the increased demand for smart building technologies, we are proud to present anywAiR iO. This solution is our commitment to enhancing building automation and energy efficiency, giving building operators the tools they need to create more sustainable, comfortable environments," Fujitsu General Australia head of product ANZ Kyle Rafter says.
The anywAiR iO solution is an advanced control system tailored for the commercial and industrial building sectors that optimise HVAC operating periods and maintenance cycles, reducing costs and improving efficiencies.
At the core of anywAiR iO is the Rubix Compute, a multilingual IoT gateway. This hub aggregates data and seamlessly connects to a diverse range of sensors, both wireless and wired. Additionally, the system integrates Rubix iO modules, Micro Edge and Droplet Sensors, ensuring continuous data acquisition and the empowerment of smart, data-driven decisions.
Diving deeper, anywAiR iO showcases proficiency in HVAC control and optimisation, adeptly handling everything from VRF systems, rooftop package units and split systems to exhaust fans, valves and car park exhausts. Its state-of-the-art sensors not only detect anomalies but actively contribute to slashing energy consumption, proactively sending essential notifications to pre-empt potential inefficiencies or disruptions.
Leveraging non-intrusive monitoring methods, the solution can capture occupancy trends, door state alterations and even assess levels in bins and water reservoirs. Armed with such insights, facility managers can now streamline maintenance cycles and strategise optimal operating periods.
Additionally, the anywAiR iO dashboard provides a bird's-eye view of the entire building management system. Without the need for any software installation or updates, users can access the dashboard from any browser, at any time, from anywhere.
anywAiR iO features also include the fostering of sustainable environments and indoor air quality monitoring connecting to a plethora of sensors, ensuring the best air conditions to uphold optimal working environments and meet Green Star or Nabers requirements.
It's also a low-cost installation with its LoRa-enabled monitors, with an efficient setup, reducing risks and disruptions. It's also easily scalable to support easy expansion, empowering the integration of new sensors as the building's needs evolve.
ADVERTISEMENT

ADVERTISEMENT
ADVERTISEMENT

ADVERTISEMENT