Front row seats for everyone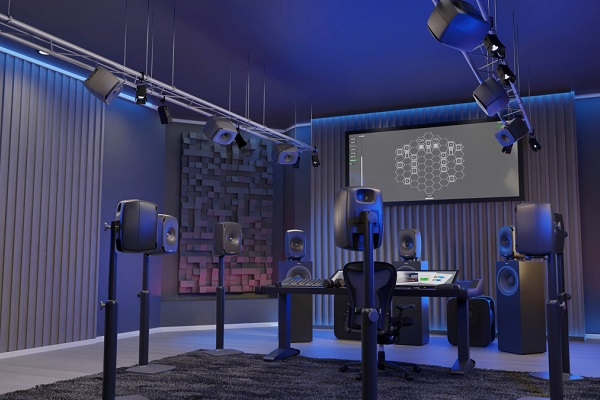 The pandemic accelerated a move to virtual, but some companies are carrying on with the trend by enhancing their virtual showrooms. Anna Hayes found out more.
In the height of the Melbourne lockdowns in 2021, I was in Las Vegas touring through an expansive, technology-rich mansion, being regaled with tales of the hidden devices and circadian rhythm and any many of other wonders.
Of course, I was actually sitting at a desk in my share-house bedroom, with a teacher entertaining prep kids on one side of me, and a customer service representative tearing her hair out on the other side.
The house in question was Savant's Vegas Modern 001 experience centre and it was quite the experience indeed.
Many manufacturers turned their thoughts towards virtual showrooms during the pandemic, some still have these facilities but are less inclined to push them front-and-centre, preferring instead to plug in-person experiences.
After all, virtual was only a back-up, right?
Better than nothing
Make no mistake: demo spaces, showrooms and houses are an expensive beast – if you build one, you want to be damn sure it's going to get the footfall and the return on investment. Faced with being unable to do either, companies were forced to improvise.
Savant's vice president of marketing for professional solutions, Ian Roberts, says that their virtual showrooms were born out of necessity rather than design.
"Four years ago, nobody was thinking about doing anything that looked like this [virtual showrooms]. We were used to meeting with people in the space and taking them on a tour through it. Everyone was busy, there wasn't a problem to solve."
Ian says that the pandemic prompted them to reimagine the ways that they connected with customers and their clients and that, in the aftermath of that time, some of those new ways have stuck.
At present, Savant has two virtual showrooms (which are also in-person showrooms for those inclined) in New York and Las Vegas. These, Ian says, were designed to showcase the impacts that technology could have on a home and how it might enhance a person's experience of their home. The New York centre opened first, in 2009 while the Las Vegas home was built, from the ground up, incorporating over US$1m of technology in the process.
"With the pandemic, these spaces became largely unavailable but people were still building homes and still wanted technology to support those projects. We were missing that experiential element so our aim was to allow people connect to this space by bringing in mixed media to show the dynamic elements, rather than them just looking at pictures."
Savant's virtual tours are curated and a representative of the company takes the client through the experience, pointing out the various functions and solutions at play in each part of the building – this could range from a motorised mount in the floor to a video depicting circadian lighting and how surfaces look in response.
"It gives a sense of what can be accomplished in your space through use of tools like this."
Another company that has used a virtual showroom to its benefit is audio manufacturers, Genelec, a brand that already has a number of physical experience centres across the world. The showroom invites users to explore three different sections: Pro-Audio Monitoring; AV Installation; or Home Audio.
Genelec business development director, Ken Kimura, says the showroom was prompted by the pandemic and "a search for an alternative and interactive approach to physical shows and traditional demo locations."
Hosted on the Genelec website, the showroom is a self-guided 24/7 digital tool that lets users access product information, video content and a range of valuable learning resources.
Ken says: "Obviously, with the pandemic restrictions we had to find new and creative ways to convey our key technologies and loudspeaker solutions as trusted audio tools across professional studios, commercial AV installations and audio listening at home."
The building blocks
To the uninformed, a virtual showroom might sound like a cheap alternative – surely you just take some pictures and add some focus points, right?
Well, yes, but it's a bit more complicated than that even if there are simplified options through phone apps and things like that.
Ian explains: "The whole thing comes together through a series of 3D photos of the space. It's a bit like a spinning panorama of the area and the whole point is to capture the space at multiple points throughout so there's a way for you to navigate and transition through the space and give different points of view."
For lighting in particular, this is key as you want to give virtual tourists the chance to see the impact of different lighting effects on different materials in the space. And, you want to be able to do this with the flick of a button, the same as you would if it was an in-person walkthrough.
Once the initial photography is done, the team at Savant goes back and creates content to supplement the experience.
Ian says: "We took a lot of care, creating videos, shooting additional content in the space, bringing in extracts from the website and other materials that we've created in the past, as well as new, dedicated material just for the virtual experience."
Full virtual
While Savant has used physical spaces as foundations for creating their virtual showhouses, Genelec went a slightly different route, taking advantage of virtual reality.
Ken says: "Having a clear idea or concept of what to convey to the relevant audience was crucial from the get-go. Once this was established, then it was all about collaborating closely with a VR studio that was able to understand our band and the industry that we are operating in, so as to reach targeted audiences with relevant content in a captivating manner that resonates with the visitor."
The feedback to the Genelec experience, he says, has been very positive with very busy site traffic since it went live.
Ken adds: "I believe that in a hectic workday, filled with an abundance of promotional impressions, the interactive visual showroom format really cuts through and is seen as a welcome and interesting change by many."
Ian says that while Savant has investigated the idea of building a rendered home or space, purely in CAD etc, but says that the whole process is extremely design intensive.
"In some cases, it almost requires more thought than just letting the home build itself with partners that do that and we focus on our technology. At the moment, we're leveraging space that we already have."
The limit does exist
Of course, there are certain experiences that cannot be conveyed through a virtual showroom – you might see how a speaker or a soundbar looks in a space but you can't really get a sense of the sound that will come out of it.
Ian remarks: "Obviously the visual experience is coming through a visual platform; the one thing that is challenging, and it's the next nut to crack, is how do I express audio quality through a virtual experience?"
It's a tricky challenge, one that is perhaps not helped by limitations of the internet at present. In the future, perhaps, it may be a case that you can put on your headphones, or a VR headset, and hear the sound in a virtual showroom in the same way that the person standing in it does.
But Ian thinks that there is always going to be a hybrid approach to the showroom experience; Savant's approach is that, whether it's online or in-person, the user is guided through the experience by an expert who can explain, in real-time, the various features and effects.
Now and into the future
Like anything in the AV space, an entity is old the minute you launch it, such is the constant evolution of technology. Ken understands this better than anyone and says that as new technologies emerge and/or mature, showrooms will advance.
He stresses that the end result needs to align or improve upon what was initially conceptualised to make the showroom "unique and value-adding for the viewer".
To that end, there is a lot of excitement around VR and AR, technologies that can further enhance the user's experience of a virtual showroom.
Ken says: "Whatever VR experience that is developed to represent brands and their products should reinforce the communications on other platforms and real-life events and shows. We've already seen this in the automotive and interior/furniture industries and it's sure to grow into many other commercial areas."
Ian agrees with this, saying that while the Savant showrooms are VR-capable, they have not been overly vocal about this just yet. While VR technology is probably still a little high in price to become ubiquitous, Ian sees no reason why a company couldn't deliver a headset to a prospective client, in the same way that a colour book or shade fabric book gets sent out.
He also thinks that there are great opportunities in the future for AR, currently a more accessible technology given that most people own smartphones, whereby the person can see the technology in their physical space.
The long haul
The overriding sentiment is that virtual showrooms are here for the long haul and will continue to evolve with the technology that drives them.
And while there will always be a need and a desire for the in-person space, the virtual showroom can serve a purpose for both the company and the user.
Ian remarks: "I think people latched on to the value and accessibility of an experience like this. If you come to New York, I can show you that space and tell you about the Las Vegas space, but virtually, I can show you everything. We've made everything out of this experience and squeezed all the juice out of it."
ADVERTISEMENT

ADVERTISEMENT
ADVERTISEMENT

ADVERTISEMENT