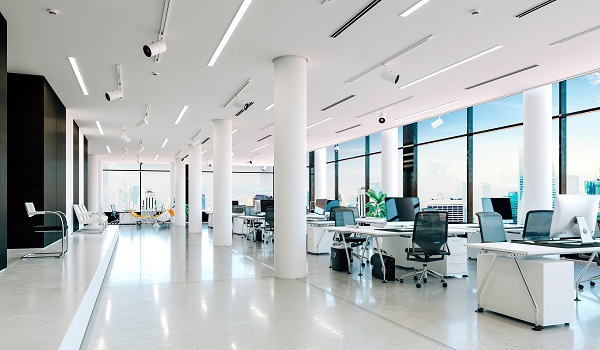 With the increase in open plan design for workplaces, noise distractions from nearby conversations have become a daily annoyance for employees. Anna Hayes explores sound masking as a solution to these annoyances and how it can keep the office airwaves clear of disruption.
Office spaces have changed dramatically in recent years, with an increased focus on collaboration, be it in-person or in a hybrid format. Modern workplaces are being designed to be more open and inviting, built with vast space and human connectivity at the forefront.
High walled cubicles, once ubiquitous in corporate spaces, have been replaced by huddle spaces, standing desk areas, communal work tables, and desk spaces that encourage eye contact and discussion without ever having to leave your chair.
However, if you walk around one of these modern office spaces, you're also likely to see something else that's become commonplace – workers wearing headphones. Yes, some might use them to work more effectively, but many are using them to block out the ambient noise that results from having such an open plan office.
Noise distractions at work are a big problem and it's something that offices all over the world are seeing. The results are dissatisfied employees, lost productivity and, in some scenarios, even legal ramifications.
The Centre for the Built Environment at UC Berkeley surveyed over 25,000 workers in more than 2,000 buildings to determine that speech privacy was the issue they were most concerned about. Further research at the University of Sydney backed up this complaint and the University of California Irvine found that employees are interrupted once every 11 minutes, with it taking up to 23 minutes to fully reengage with work after said interruption.
In a study presented to the International Congress of Noise, researchers found that, on average, employees wasted 21.5 minutes per day due to conversational distractions, making lack of speech privacy the number one cause of reduced productivity. An additional 2014 Steelcase/Ipsos study found that employees lost as much as 86 minutes per day due to noise distractions.
Even when using conservative estimates, this loss of productivity adds up to create large monetary losses for a company.
Some sectors need to be more watertight than others when it comes to confidentiality and privacy. Failure to provide these things can result in HR nightmares and even legal ramifications. While thinner, glass walls may look great, companies run the risk of having employees and co-workers overhearing conversations they never should have.
The question is: how do we fix these problems? And the answer is relatively simple and cost effective.
Sound masking is, essentially, the process of adding a low level, unobtrusive background sound to an existing area which makes it harder to understand what a person in your vicinity is saying, thus reducing noise distractions. It doesn't 'cancel' speech but shortens the distance from which the speaker can be overheard. In many offices, speech can travel 50-100 feet – sound masking cuts that distance to approximately 15 feet, with the speech less intelligible and potential listeners not being able to understand what's being said, even though they can still hear it, leading to less distractions.
But how does adding more noise make an area less distracting, you might ask. The introduced masking sound is specifically tuned to the frequencies of human speech to cover up, or 'mask' excess speech noise and make the acoustical environment more comfortable.
In conjunction with the sound masking system, it's important to properly zone an office space. The system must be flexible enough to accommodate varying architectural spaces, taking into account the room size, ceiling height, furnishings, acoustic treatments and more, while also changing levels in order to provide a consistent sound field.
Masking systems generally fall into two types. There are "direct field" systems, where speakers are installed into ceiling tiles (or mounted to beams and posts for open ceilings) that emit sound directly into the environment. These systems incorporate a larger number of small speakers and require less tone adjustment since the sound plays directly into the occupied space.
There are also "in-plenum" systems, where speakers are installed above the ceiling tiles and sound is reflected off of the ceiling deck and into the environment below. These systems generally use a smaller number of larger speakers but require more tone adjustment since there are lots of obstructions in the plenum space (HVAC, cable trays, etc.) that affect the sound that pushes through the occupied space.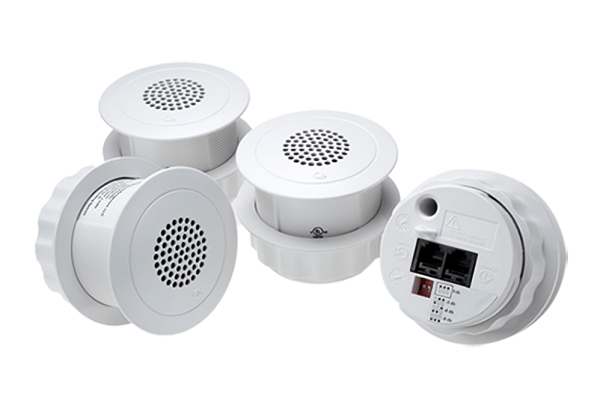 One product in this space is Biamp's Qt Emitters, which are the backbone of its Qt Quiet Technology Sound Masking System. Qt emitters are wide dispersion direct field speakers with 1.25" (3.17 cm) drivers and are smaller than a coffee mug. All Qt emitters come in the adjustable format. These emitters deliver four uncorrelated audio channels, which provide uniform, unobtrusive sound masking. This feature, along with plug and play installation and easy configuration capability, make Qt systems the most intelligently engineered and most effective sound masking systems on the market today for reducing noise distractions and protecting speech privacy.
And the reviews for Biamp's system are certainly stellar:
Dan Kloha, partner at 415 Group says: "Sound masking met our office's needs perfectly. It keeps the noise level down between the cubicle areas and also helps prevent speech noise from permeating through the private offices and conference room walls."
Similarly, Matt Johnson, client services manager at Accudata Systems remarks: "Employees had a chance to experience the office before and after the system was installed and the difference is really apparent – the office feels much quieter and comfortable now."
Sound masking solutions are perfect for call centres, open offices, receptions, hospital receptions and waiting rooms, shared workspaces and compact businesses.
To get started on your sound masking project, contact a sound masking specialist at Jands for more information and a free quote: www.jands.com.au/speech-privacy-and-sound-masking#jands
ADVERTISEMENT

ADVERTISEMENT
ADVERTISEMENT

ADVERTISEMENT