David Meyer… the 2019 Golden Paul in profile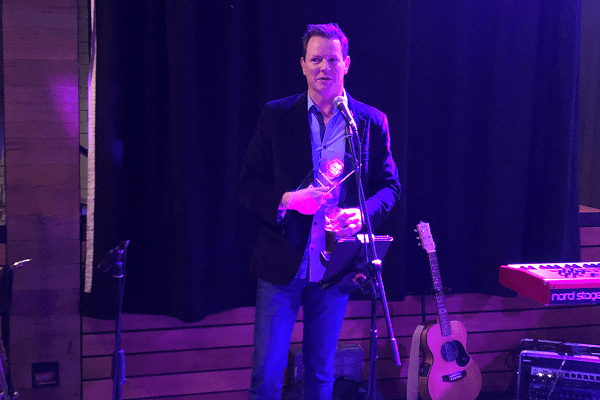 From humble beginnings, David Meyer has taken out the industry's highest honour. Anna Hayes talks to the most recent winner of the Golden Paul.
This industry loves awards, and it seems like the annual Integrate expo offers the ideal platform for various organisations to dish them out. But, one award stands above the rest… Connected magazine's very own Golden Paul Award for the most influential person in the industry.
Named after beloved industry icon and collector of B*Witched albums on vinyl Paul Skelton, who also edits Connected, the award is now in its fourth year and has quickly become the single most sought after award in the industry, globally.
This year, the very deserving winner is CEDIA's director of technical research, David Meyer, who against a field of very strong competition received the highest vote in the peer-voted competition.
David was presented with his Golden Paul Award by the award's namesake in front of a packed crowd during Connected's annual Shindig event, which took place at Melbourne Public in the city's South Wharf neighbourhood.
David is a veteran of the industry with over 25 years' experience in every area from retail to wholesale and now research and development. But, for a guy who always has plenty to say on a multitude of topics, he admits that the announcement of his name left him speechless.
"It was a genuine surprise and the first time in some time that I actually really didn't know what to say. So I probably said something stupid, I actually can't remember," he says.
David says that to have his work acknowledged by his peers in the industry is a very special honour.
He admits that in the run-up to this year's event he was preoccupied so paid no attention to the awards campaign. Aside from being struck with the flu, he was also working tirelessly on CEDIA's education offering for the Expo in Denver, with a number of new courses being offered.
"The education schedule we laid out for this year included a lot of new courses. I made some big commitments and wanted to make sure we could maximise on the education we were offering. I was distracted and hadn't given the award much thought so it really did come as a surprise."
Over the years, David has experienced almost every side of the industry. His interest in AV began as a teenager when he was very much "an audio guy" with huge speakers and a 21" TV in his bedroom.
"I was a noisy, obnoxious teenager and I was very much into big sounds, not so much about the picture. If anyone came to visit me, my parents would say 'just follow the noise down the hall' and there I was."
A career in technology was always destined to follow but his first role ended up being in imaging, photographics and later video with a number of retail outlets. It was during that time that he hit upon a simple way to enhance connectivity.
"Just changing the cables was sometimes the cheapest and most effective way of upgrading and enhancing a system and improving reliability and performance. So I started looking into that more and more, and becoming a bit of a cable nerd. Most of the industry doesn't get excited about cables; rather, they're just one of those necessary things."
His interest in cables and connectivity lead him into his next venture, the founding of cable company Kordz, where he subsequently became an adopter of the HDMI Specification when it was still relatively new in the mid-noughties.
"I got a quantity of HDMI cables and thought 'this thing could go somewhere' and it was very successful. At that point, I thought that if I was going to do it, I had to do it properly and sign up to the standards, get the spec, and do it right."
However, as HDMI became commoditised, it became harder to shout above companies with bigger marketing budgets than that of Kordz. A flood of inferior  products saw failures starting to happen throughout the industry and HDMI became despised by integrators.
"We were making cables properly, to spec, because you can't build a product if you don't know what it's supposed to do – that's flying blind. And yet, it's amazing
how many manufacturers and brands out there were doing exactly that.
"For us, the question was 'how do we get the message out there that we're actually doing it right when others have massive marketing budgets and they're
outselling us, even though we know that their stuff is inferior. The answer for me was education."
In 2007, David wrote and presented his first course on HDMI as a volunteer subject matter expert at the CEDIA Expo on the Gold Coast, a move that set him
off on a journey in education and training that he could never have imagined. He admits that, at the time, he became a volunteer with a little element of self interest as it was his method of marketing against other companies.
"I became an evangelist for the truth to explain what was happening and hopefully people would gain some trust, and then some confidence in the product and want to use it because they realise there's actually some engineering science gone into it rather than just marketing."
More recently, after 13 years in Kordz and gaining more interest in research and education, David accepted a fulltime role with CEDIA.
"It all started with HDMI but it grew into something a whole lot bigger, and I just wanted to share what I learned. People ask me what I do and I tell them 'I'm a
technology distillery' – I read, what would be to most people, super boring white papers and specifications and distil it down to what people need to know."
David says that keeping a finger on the pulse of standards is relentless as it is an area that is changing dramatically and is, in certain respects, struggling to keep up with technology rather than paving the way for it.
"The curve in technological advancement is going at breakneck speed – it's hard to keep up with what's happening. Infrastructure cabling is a big one. You could be pulling cable in a building that won't be plugged in until next year but is expected to work for the foreseeable future. It could well be that, at the standards level, it could be out outmoded by then. This is actually happening right now."
David says that by volunteering with CEDIA he has gained so much in terms of connections, rapport and friendships, adding that it has enabled him to turn
what he liked to occasionally into a fulltime job.
"I don't feel like I'm working. I do what I enjoy and what I actually want to do. And now I feel like I'm being honoured for really just doing what I enjoy."